Pricing:
| Project | Estimated Pricing | Contest Pricing |
| --- | --- | --- |
| Book Cover | C$359.00 - C$1,279.00 | C$399.00 - C$1,599.00 |
| Business Card | C$219.00 - C$509.00 | C$269.00 - C$1,299.00 |
| App Design | C$889.00 - C$2,559.00 | C$799.00 - C$3,299.00 |
| Web Page Design | C$809.00 - C$3,849.00 | C$799.00 - C$3,299.00 |
| PowerPoint Template | C$379.00 - C$1,539.00 | C$269.00 - C$1,299.00 |
| Logo Design | Contest only. | C$399.00 - C$1,699.00 |
Users of 99designs have a wide range of design categories to choose from, and, for most of the categories, can decide to work with a freelancer or run a contest. Whereas freelancers charge their own rates for designs, contests come in four fixed packages with fixed pricing.
99designs charges users and designers platform fees that range from 5% to 15%.
Review:
99designs offers a large range of design services, and users can work directly with freelancers or run contests. Employers can access freelancer profiles, which have all the right information to help employers make better decisions about who to work with. The platform also offers a money-back guarantee.
However, contests do sometimes take a long time and designers have been accused of submitting stolen designs, which could be problematic down the line. 99designs has a built-in alert system for such infringements, which shows they must be a common behavior.
Pros:
The website is easy to use.
99designs offers a very broad range of design services.
There are multiple payment packages to choose from.
Canadian users have expressed strong satisfaction with the variety and quality of the designs.
Profile information includes response time, repeat clients, number of contests won, and project history.
Users can work directly with a designer of their choice — unlike Communo — or run a contest.
The platform offers a money-back guarantee.
Designers go through a rigorous application process, which guarantees a higher quality of work and level of professionalism.
The platform has a reporting system that can be used to report designers who have stolen designs or used stock images.
Users can search for freelancers based on the design category, industry, designer level, and language.
Cons:
Contests could take up to a month to finalize.
The different pricing models can be complicated because pricing depends on the project and designer.
There have been complaints of stolen designs.
99designs' website does not have a French translation.
FreshGigs.ca is better for finding local creative freelancers.
Reputation:
99designs has mixed reviews. It has a rating of 4.7 out of 5 on Website Planet, 3.3 out of 5 on Sitejabber, and 3.9 out of 5 on Trustpilot. However, Reddit users have complained about stolen designs and too many entries, the quality of designers, and the contest process.
How to Create a Contest on 99designs: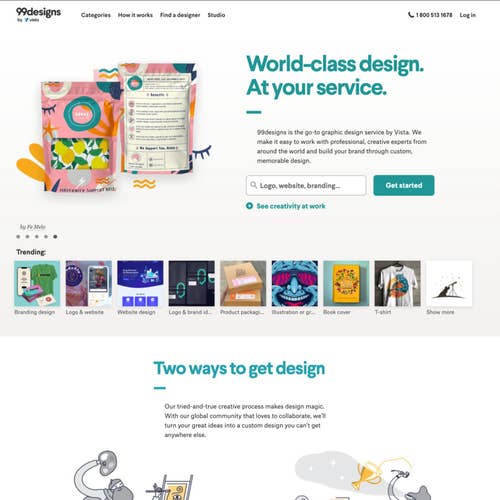 Eight easy steps for posting a project on 99designs.
1.
Creating a contest on 99designs.
1.1
Navigate to the 99designs home page.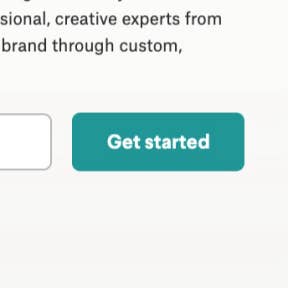 From the home page, click on the "Get Started" button next to the search box in the center of the page.
1.2
Search and select your design category.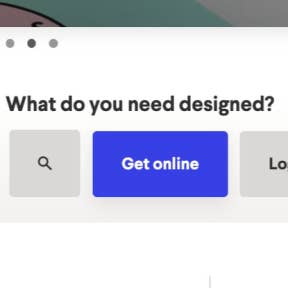 Choose between various design categories, including websites, logos, apps, merchandising, and more. Each design category will have a subcategory with different packages to choose from.
1.3
Click on "Start a contest."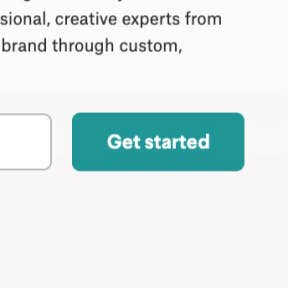 99designs works by taking the details of your design request and turning it into a contest for designers around the world to submit their ideas. Your task is to choose the design you like best.
1.4
Create a design brief.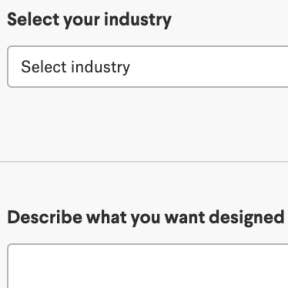 Fill out a design brief to give designers an idea of what you are looking for in your design. Go through a selection of design styles, colors, shapes, and more. Once you've completed the design brief, click on "Continue."
1.5
Select a design package.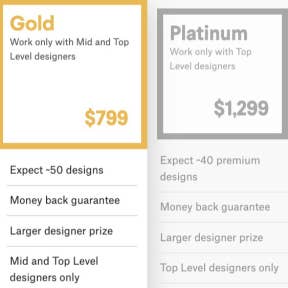 Next, you can choose from a selection of design packages. Consider how many designs you want to receive and how much you are willing to spend. Then, enter a contest title, select a contest option (guaranteed or private contest), and click on "Continue."
You also have the option to promote your contest with paid add-on features to boost the number of designs you receive. Paid add-ons include having your contest featured at the top of the list of projects, highlighted in orange to make it stand out, and having it listed in the 99designs blog.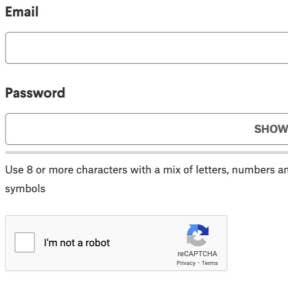 You will be prompted to sign up to 99designs and create an account.
Fill in your email address.
Complete the CAPTCHA test.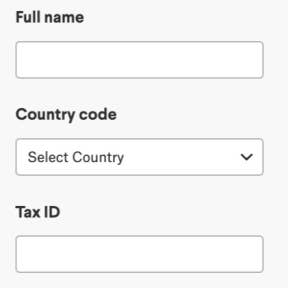 Fill out the online form with your details. Complete the short questionnaire and click on "Continue."
1.8
Complete the payment and post your contest.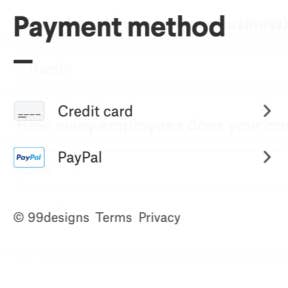 Select a payment method and complete your purchase by following the onscreen prompts. Once the payment has been processed, your contest will be posted to 99designs.
99designs vs. DesignCrowd:
DesignCrowd and 99designs offer many of the same services and have many of the same features and processes. 99designs, however, is more costly. While 99designs has slightly better ratings, both platforms have complaints against them around the quality of designers available.
99designs vs. Communo:
Both Communo and 99designs are closed networks of pre-vetted freelancers, but Communo charges a monthly membership fee, while employers pay for each service on 99designs. Communo also matches freelancers to projects, whereas 99designs offers access to freelancer profiles. 99designs is design-oriented and Communo is more for marketing and sales.
99designs vs. FreshGigs.ca:
While 99designs is limited to the creative industry, FreshGigs.ca caters to both the creative and tech industries. FreshGigs.ca is essentially a basic job board for the Canadian market and, in comparison with 99designs, lacks a searchable candidate database. For one-off creative projects, 99designs is the better choice.
Key Information
| | |
| --- | --- |
| Legal Name | 99designs Pty Ltd. |
| Founder | |
| Founding Date | Jan 01, 2008 |
| Address | 2201 Broadway, Ste. 815, Oakland, California 94612 USA |
| Telephone | |
| Website | |
FAQs:
What is 99designs?
99designs is a freelance creative platform and project posting site that makes it easy for designers and clients to work together to create designs.
How much is 99designs?
99designs' plans cost between C$269.00 and C$3,299.00.
How can I create a 99designs account?
From the 99designs home page, click on "Log in" and then "Sign up."
How can I edit a 99designs project posting?
99designs contest details are managed by the account manager. You won't be able to reduce the prize money once entries have been received. You are also allowed to ask the winning designer to make changes to their design, but they are not obligated to make any.
What kind of freelance projects can I post on 99designs?
There is a range of design categories on 99designs to post to. Some of them include book covers, business cards, characters or mascots, infographics, and magazine covers.
How do I find the best freelancers on 99designs?
The best freelancers on 99designs can be found by running a design contest and selecting your favorite design from the contest entries.
Is 99designs free?
No. 99designs offers fixed-price design contest packages and a 5% platform fee (for clients) for one-to-one projects. For one-to-one projects, designers are charged a 20% client introduction fee in addition to a platform fee which varies depending on the experience level of the designer.
What are some 99designs alternatives?