Pricing:
| Plan | Pricing |
| --- | --- |
| Business Card | £119.00–£289.00 |
| Book Cover | £199.00–£719.00 |
| Character or Mascot | £239.00–£649.00 |
| Infographic | £289.00–£859.00 |
| Magazine Cover | £179.00–£429.00 |
| Car, truck, or van wrap | £239.00–£649.00 |
| App design | £239.00–£1,439.00 |
| Webpage design | £449.00–£2,159.00 |
| Contest add-on: Feature | £65.00 |
| Contest add-on: Highlight | £15.00 |
| Contest add-on: List contest on the 99designs blog | £15.00 |
| Contest add-on: Private contest | £49.00 |
| Personal creative consultant (dedicated support) | £105.00 |
1-to-1 Project Fees:
| Type | Fee |
| --- | --- |
| Client introduction fee (for designers) | 20% |
| Top level designer platform fee | 5% |
| Mid level designer platform fee | 10% |
| Entry level designer platform fee | 15% |
| Client platform fee | 5% |
Review:
99designs offers a large range of design services and multiple packages to choose from. Users can work directly with freelancers or run contests. The freelancer profiles have all the right information to help employers make better decisions about who to work with. There is also a money-back guarantee.
However, contests take a long time and there have been complaints about designers submitting stolen designs, which could cause problems later on. 99designs's built-in alert system to such infringements indicates the fact that this must be a common behavior they're trying to curb.
Highlights:
The website looks amazing and is easy to use.
Offers a very broad range of design services.
In reviews, several U.K. users reported good quality designs and praised the user-friendliness of the platform.
Multiple packages to choose from.
Profile information includes response time, repeat clients, number of contests won, number of one-on-one projects completed, etc.
Users can work directly with a designer or run a contest.
Offers a money-back guarantee.
Many helpful resources are available.
Designers go through a rigorous application process.
The platform has a reporting system that can be used to report designers who have stolen designs, used stock images, etc.
Users can search for freelancers based on the design category, industry, designer level, language, etc.
Shortcomings:
Contests could take up to a month to finalize.
The different pricing models can be confusing.
There have been complaints of stolen designs.
Some reviews suggest that the lower-cost contest packages tend to yield lesser quality designs.
Easier to find local talent and freelancers with job boards like If You Could and Worksome.
Reputation:
99designs has mixed reviews. It has 4.7/5 on Website Planet, 3.95/5 on SiteJabber, and 3.9/5 on TrustPilot.
However, there have been complaints on Reddit about stolen designs and too many entries, the quality of designers, and the contest process.
How to Post a Job on 99designs: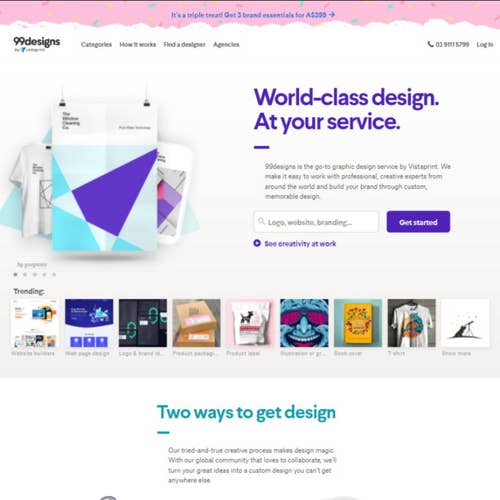 Eight easy steps for posting a job on 99designs.
1.
Posting a Job on 99designs.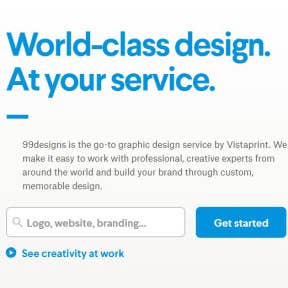 Go to the 99designs home page.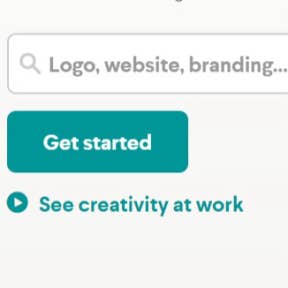 The "Get Started" button is located next to the "I need a" search box in the center of the page.
1.3
Search and select your design category.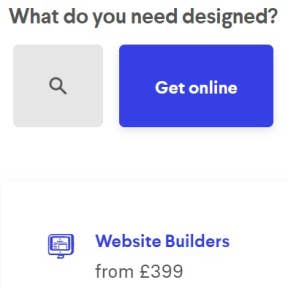 Choose between various design categories, including websites, logos, apps, merchandising, and more. Each design category will have a subcategory with different packages to choose from.
1.4
Select "Start a Contest."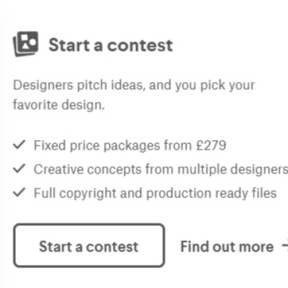 99designs works by taking the details of your design request and turning it into a contest for designers around the world to submit their ideas. Your task is to choose the design you like best.
1.5
Create a design brief.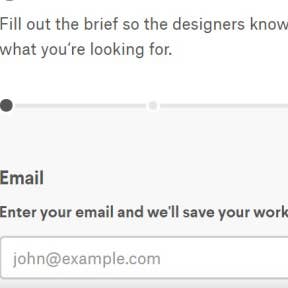 Fill out a design brief to give designers an idea of what you are looking for in your design. Go through a selection of design styles, colors, shapes, and more. Once you've completed the design brief, click "Continue."
1.6
Select a design package.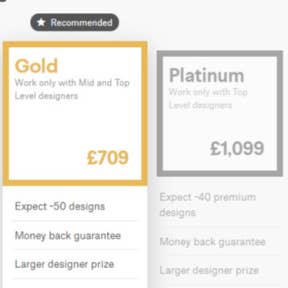 Next, you can choose from a selection of design packages. Consider how many designs you want to receive and how much you are willing to spend. Then, enter a contest title, select a contest option (guaranteed or private contest), and click "Continue."
You also have the option to sign up for dedicated support at additional cost and promote your contest with paid add-on features to boost the number of designs you receive. Paid add-ons include having your contest featured at the top of the list of projects, highlighted in orange to make it stand out, and having it listed in the 99designs blog.
1.7
Sign up or log in to your account.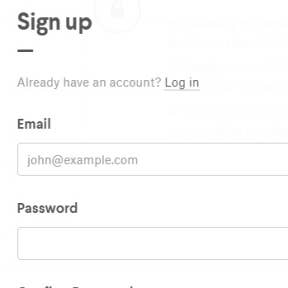 You will be prompted to enter your details to create an account or log in to your existing 99designs account.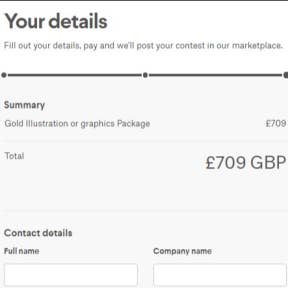 Once you have filled out your contact billing details and made the payment, your contest will be posted to 99designs.
99designs vs. DesignCrowd:
DesignCrowd and 99designs are very similar, offering many of the same services and having many of the same features and processes. However, 99designs is more expensive. Both platforms have complaints against them around the quality of designers available. 99designs has slightly better ratings.
99designs vs. Fiverr:
Fiverr is a better option for finding a wider range of freelancers. 99designs is only for design projects. Both have one-on-one work options, but 99designs also gives users the option to create contests and receive more designs. 99designs is more expensive. They have similar reputations.
99designs vs. If You Could:
While 99designs is truly a marketplace for creatives where users can find designers or post fixed-price design projects, If You Could is more of a traditional job board. If You Could does not feature a candidate database, but is, compared to other niche job boards, an affordable U.K.-focused creative job posting site.
99designs vs. The Dots:
The Dots is a professional networking and job posting site for creative professionals in the U.K.. Similar to 99designs, users can browse designer profiles on The Dots. While 99designs charges a platform and client introduction fee for 1-to-1 projects, it is free to post part-time and freelance jobs on The Dots.
Key Information
| | |
| --- | --- |
| Legal Name | 99designs Pty Ltd. |
| Founder | |
| Founding Date | Jan 01, 2008 |
| Address | 41–43 Stewart Street, Level 2, Richmond, VIC, 3121, Melbourne, Australia |
| Email | |
| Telephone | |
| Website | |
News & Activity:
| Date | News or Activity |
| --- | --- |
| October 5, 2020 | |
FAQs:
What is 99designs?
99designs is a freelance creative platform and job posting site that makes it easy for designers and clients to work together to create designs.
How much is 99designs?
99designs plans cost between £119.00 and £2,159.00.
Is 99designs worth it for designers?
It depends on your designing needs. The platform offers a range of features and plans, ranging from book covers, business cards, magazine covers, and more.
How do I verify identity on 99designs?
Verify your ID.
Select the ID type.
Scan the front of your ID.
Take a selfie.
Wait for your verification to process.
How can I create a 99designs account?
From the 99designs home page, click "Login" and then "Sign Up."
How can I edit a 99designs job posting?
99designs contest details are managed by the account manager. You won't be able to reduce the prize money once entries have been received. You are also allowed to request the winning designer to make changes to their design, but they are not obligated to make any changes.
What kind of freelance jobs can I post on 99designs?
There is a range of design categories on 99designs to post to. Some of them include book covers, business cards, characters/mascots, infographics, and magazine covers.
How do I find the best freelancers on 99designs?
The best freelancers on 99designs can be found by running a design contest and selecting your favorite design from the contest entries.
Invite designers whose work you like by going to their profile and selecting "Invite to Work."
Plan the contest duration, outlining the qualifying round, shortlisting, final round, and contest winner.
Give your feedback to contestants by using the feedback-rating feature. A contest with a high feedback rating will attract more designers.
Use star ratings to rate submissions.
Be sure to guarantee your contest. This ensures that your contest will result in a win, even if you're unhappy with the results. Guaranteed contests attract more designers.
Is 99designs free?
No. 99designs offers fixed-price design contest packages and a 5% platform fee (for clients) for 1-to-1 projects. For 1-to-1 projects, designers are charged a 20% client introduction fee in addition to a platform fee which varies depending on the experience level of the designer
Is 99designs free for designers?
Designers are charged a platform fee (percentage depending on level of experience)as well as a 20% client introduction fee.
What are some 99designs alternatives?