Pricing:
On Freelancer, it is free to post a project, receive bids from freelancers, and review freelancers' portfolios. Employers will only be charged once they award a project and the freelancer accepts. For fixed-price projects, the fee is 3% or £2.00 GBP (whichever is greater). For hourly projects, you will be charged 3% of each payment made to the freelancer.
If employers are interested in learning more about Freelancer's fees, advanced features, and add-ons, such as sealed bids, IP and NDA agreements, and more, read through Freelancer's fees and charges breakdown.
Posting Upgrades:
| Project Upgrade | Price |
| --- | --- |
| Featured | £8.99 |
| Urgent | £8.99 |
| Sealed | £8.99 |
| Recruiter | £9.99 |
| NDA | £19.99 |
| IP Agreement | £19.99 |
| Private | £19.99 |
Review:
Freelancer is a freelance marketplace that targets over 50 million freelancers and employers across the world. Here, U.K. employers looking to hire freelancers from various industries and job categories, such as graphic designing, software development, and marketing, can ensure that their online hiring process runs effortlessly.
Compared to local job boards Reed.co.uk and Totaljobs, Freelancer offers the most affordable option and the best features, including bidding and project tracking.
Pros:
Freelancer does not charge employers to post a project.
Employers can browse through candidate profiles, live chat, view bids, compare proposals, and track projects' progress.
Freelancer helps connect employers and job seekers in over 247 countries, making it the ideal platform for those looking to hire short-time and/or remote workers.
Employers can choose to pay according to set goals or for complete projects.
Job categories include law, logistics, sales, marketing, and design, among others.
Cons:
Employers have highlighted that some freelancers are unqualified.
Freelancer's head office is based in Australia, which may impact customer support response time.
Customer support is only available through email and their hours are not specified on the website.
Freelancers are also warned to be vigilant about scam activity and only work with employers who have been verified.
Reputation:
We found more than 9,000 user reviews on Sitejabber that awarded Freelancer an average rating of 4.7 stars. The majority of reviewers were satisfied with the company's excellent customer support and employer features.
However, some customers have complained about wrongful deductions and scam behavior from unverified employers and freelancers. Freelancer also has more than 7,000 reviews on Trustpilot with an excellent rating of 4.3 stars.
How to Post a Project on Freelancer: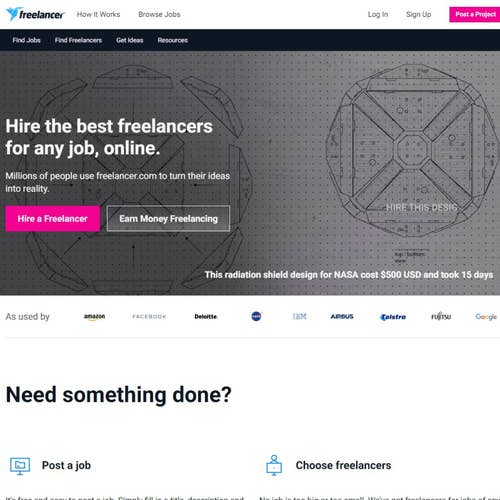 Eight easy steps for posting a project on Freelancer.
1.
Posting a Project on Freelancer.
1.1
Click on "Post a Project" on the home page.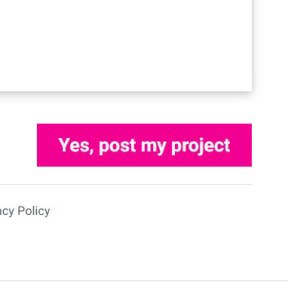 You'll find this in the top right-hand corner of the home page.
1.2
Enter all of the details about the project.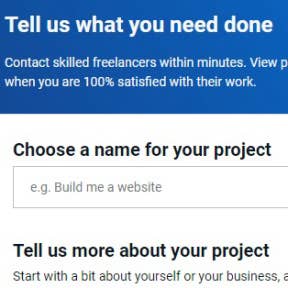 Fill in your project name and a basic description of what you need to be done. You can also upload any files or images. When you have completed these details, click on "Next."
The system will automatically detect and add skills based on your project. You can add or remove skills as needed.
1.3
Post a project or a contest.
You can choose to post your project and receive free quotes, or you can post a contest and crowdsource ideas. For this example, we have chosen to post a project.
1.4
Choose how you want to pay.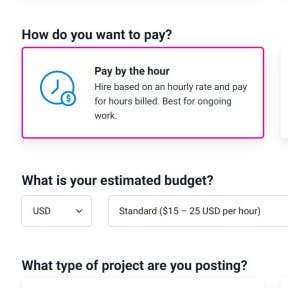 You have the option of paying by the hour or paying a fixed price. Click on the option that suits your needs.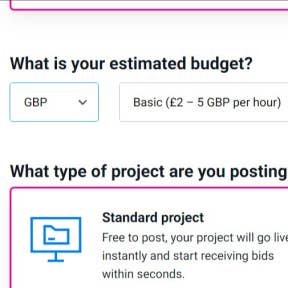 Using the dropdown arrows, choose your preferred currency, then select your estimated budget.
1.6
Select the type of project you would like to post.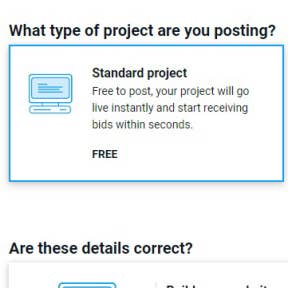 You can post a standard project for free or pay £9.99 for a Freelancer consultant to help you find the right fit. Once you have made your selection, you can review the details of your post.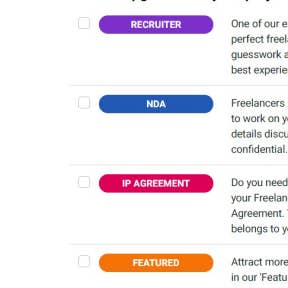 You have the option of upgrading your post. Click on the button next to the upgrade to select it. If you don't want to upgrade your post, click on "Next."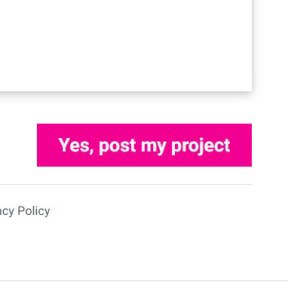 After reviewing your project details, click on "Yes, post my project." You will then need to register or sign in to your Freelancer account.
Freelancer vs. Reed.co.uk:
Reed.co.uk is a popular job board for employers and job seekers in the U.K., while Freelancer is an international marketplace for freelancers. Between the two competitors, Reed.co.uk offers standard features and the best local exposure. Freelancer, on the other hand, is more affordable and perfect for employers who are recruiting freelancers.
Freelancer vs. Totaljobs:
Totaljobs is more expensive, with prices ranging between £89.00 and £169.00 for six-week job postings. However, unlike Freelancer, Totaljobs offers the best U.K. exposure, thanks to its general job categories and popularity. Comparatively, Freelancer is an affordable platform that will benefit employers looking to hire freelance or remote workers.
Freelancer vs. Indeed:
The primary differences between Freelancer and Indeed are their target markets and employer features. While Indeed is a free, high-traffic site that attracts both freelancers and permanent job seekers, Freelancer only caters to employers who want to hire freelance workers and provides features like progress tracking, bidding, and live chat.
Key Information
| | |
| --- | --- |
| Legal Name | Freelancer Technology Pty Limited |
| Founding Date | Jan 01, 2009 |
| Address | Level 37, Grosvenor Place, 225 George St., Sydney, New South Wales 2000 Australia |
| Email | |
| Website | |
FAQs:
How do I create a Freelancer account?
To create an account where you can manage freelancer.com projects, click on "Sign Up" on the home page. Enter your email address to create an account.
How much does it cost to post a project on Freelancer?
It is free to post a project, receive bids from freelancers, and review freelancers' portfolios. Once you award a project and the freelancer accepts, you will be charged a fee based on the project type.
How can I edit a Freelancer project posting?
To edit your Freelancer projects, log in to your account, and open the posting you would like to change. Click on "Save Changes" before closing.
How can I delete a Freelancer posting?
To delete one of your projects, simply click on the "Delete" button next to the posting in your list of projects.
How can I find good candidates on Freelancer?
Do I have to pay upfront when using candidates from Freelancer?
No. You will only be required to make payment once you are completely satisfied with their work.
Is Freelancer a legit site?
Yes. Freelancer is a globally recognized marketplace with over 50 million registered users.
What are some Freelancer alternatives?