Pricing:
| Plan | Monthly Pricing |
| --- | --- |
| Agency - Guest | Free. |
| Agency - One | US$200.00 |
| Agency - Small | US$500.00 |
| Agency - Medium | US$1,000.00 |
| Agency - Large | US$1,500.00 |
| 10+ Team Members | |
Review:
Communo is an online marketplace that's made up of over 1,500 recruiting businesses that are hiring in fields such as marketing and web design. With Communo, Canadian employers can rest assured that they'll only hire qualified freelancers, thanks to the platform's stringent verification system and members-only policy.
That said, Communo expects all employers to create an account and pay the membership fee before they can post projects. For those looking to hire locally, you will find more affordable plans with local competitors such as Eluta.ca. Comparatively, these job boards have a better reach because job ads are not limited to Communo members.
Highlights:
Reputable companies that use Communo for recruitment include Canada As One Inc., Vek Labs, True North, Modern Tribe, and more.
Communo has over 60,000+ members that range in expertise and experience, including 1,500 businesses.
Communo is an international platform that's free to join.
All members have access to insights and educational events.
There is no placement fee if you're hiring freelancers and all talent is pre-vetted.
Communo is a good option if you're looking for an alternative approach to hiring freelancers.
All membership packages include access to social media links, unlimited chats and project postings, and the ability to advertise in all work categories.
The platform advertises freelance and remote work that stems from countries across the world, widening the candidate pool.
Shortcomings:
Vacancies are not advertised to nonmembers, restricting the candidate pool.
Compared to local competitors, Communo is the more costly option.
There is no free project posting option available.
Communo is not a high-traffic site.
The platform does not offer French translation.
You must pay for a membership to post a project and to benefit from Communo's features.
Candidates are matched to projects using a scoring system, which may not work for employers who are looking for a more hands-on hiring process.
Pricing is not available in Canadian dollars.
Reputation:
Communo is not BBB accredited and there are a limited number of Canadian user reviews of Communo available online. We did find one review on Reddit that highlighted the site's reputation for syndicated jobs, very few new job posting options, and charges for upgraded features.
However, Communo does have a solid social media following. The platform has a combined following of nearly 7,000 users and it's available on all major social media platforms, including Facebook, LinkedIn, and Twitter.
How to Post a Project on Communo: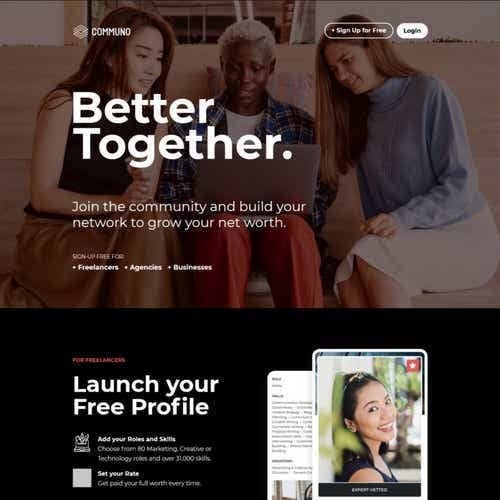 Seven easy steps for posting a project on Communo.
1.
Posting a project on Communo.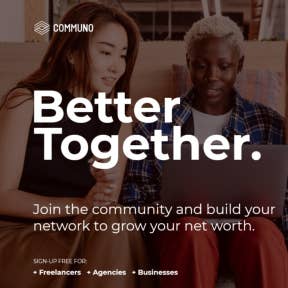 Navigate to the Communo home page and read through the different benefits for freelancers, businesses, and agencies.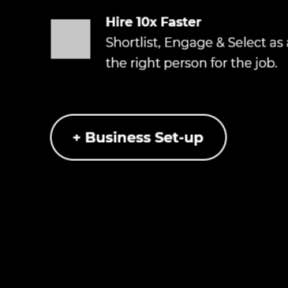 Scroll down the home page until you see the "For Businesses" heading in small, blue letters. To complete your membership registration, click on the "+Business Set-up" tab below the list of benefits. This should immediately direct you to a business registration form.
Employers also have the option of signing up with their LinkedIn account.
After submitting your employer details, wait for Communo to complete its due diligence and verify your business and application.
1.3
Begin your onboarding.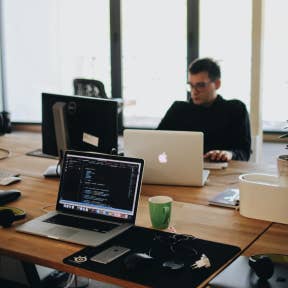 Before posting your project, you will need to go through an onboarding process. This process will include creating a company profile.
During this step, you have the option of skipping certain information, such as adding a company logo. Communo does require your company information, title, a description of yourself, the location of your company, and the number of projects you'll be posting.
When setting up your account, you'll be able to use the Agency - Guest account. With this account, you can only view the dashboard.
1.4
Post your work opportunity.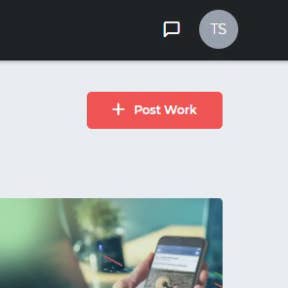 Once you're verified and logged into the dashboard, also known as "The Bench," click on "Work" in the main menu. On the next page, click on "+Post Work" in the left-hand side of the page until a pink pop-up appears.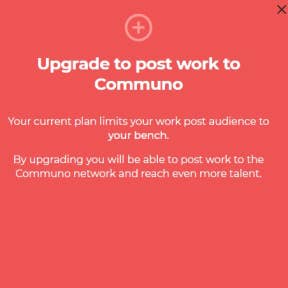 Now that you've chosen to post work, you'll be required to pay a membership. The upgrade details should pop up, along with prompts that detail what each package includes. Choose the package that suits your hiring requirements.
You'll be able to complete your project posting once payment is done.
1.6
Complete your work description.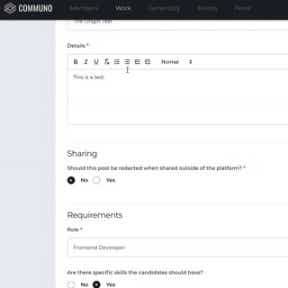 You'll be directed to a page where you can fill in the details of your work opportunity. Here, you'll need to list the project's budget and sharing requirements, and choose a cover image for the project.
1.7
Preview and publish the ad.
Once you're done adding the project's details, click on "Preview." Read through your job description to identify any errors. If you do find discrepancies, simply click on "Edit" and correct them. When you're satisfied with your information, click on "Post Work."
Communo vs. Workhoppers:
Between Communo and Workhoppers, the latter is better positioned for employers looking to hire local talent. Communo is a members-only global platform that charges US$200.00 per month, while Workhoppers's prices start at C$39.00 per month. Only Workhoppers perform AI-powered candidate matching.
Communo vs. Eluta.ca:
While Eluta.ca is restricted to the Canadian job market, Communo advertises projects to candidates across the world. However, Eluta.ca is a general job board that offers free and paid options. Communo, on the other hand, is a members-only platform that charges US$200.00 per month, and their project categories are limited.
Communo vs. Freelancer:
The primary differences between Communo and Freelancer are the two platforms' pricing and target markets. Communo charges US$200.00 per month and employers can post full-time and freelance projects in marketing and technology. With Freelancer, there is no charge for joining the platform or posting jobs and all vacancies are short-term.
Key Information
| | |
| --- | --- |
| Legal Name | Communo Corp |
| Founder | |
| Founding Date | Jan. 01, 2017 |
| Address | 1025 10 St. SE, Calgary, AB, Canada T2G 3E1 |
| Number of Employees | 19 |
| Email | |
| Telephone | |
| Website | |
FAQs:
How do I create a Communo account?
Visit Communo.com and click on "+ Sign Up For Free" in the top-right corner.
Click on "Lets Get Started."
Click on the type of account you'd like to open. You can choose between Freelancer, Agency, or Business.
Complete the sign up form and click on "Continue."
How much does it cost to post projects on Communo?
Communo only allows its members to post work on the platform. Membership packages range between US$200.00 and US$1,500.00 per month.
What kind of projects can I post on Communo?
Communo is a community of experts specializing in the fields of marketing and technology.
What are some Communo alternatives?