With big companies like Uber and Lyft recruiting from the same dwindling talent pool, it is becoming harder to find reliable delivery drivers. There are things you can do to improve your chances of finding the best delivery driver for your business.
Special Offer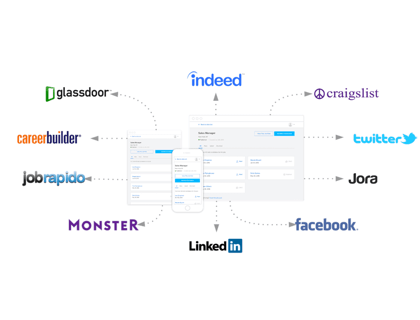 Post Jobs for FREE
Completely free trial, no card required.
Reach over 250 million candidates.
How to Find Delivery Drivers:
1. Create an attractive delivery driver job post.
Before writing your job post, do some research into the market to find out what benefits are most attractive to drivers. In our research, we found that major deciding factors for delivery drivers are things like:
getting paid over-time;
not having to work on weekends, or in some cases, only working on weekends;
guaranteed time off;
and being treated, to a certain degree, as independent contractors.
With this knowledge in mind, write a job post that focuses on the benefits you offer, company culture, and your incentive program.
Our Delivery Driver Job Description template is a great place to start, but be sure to customize it in such a way that it sells your vacancy by touching on all the points that are important to today's delivery drivers.
2. Post your job ad.
First, post your job ad to a few of the more popular job boards such as Indeed and Craigslist. Then, focus on job boards that cater more specifically to delivery drivers and related fields. These include Gary's Job Board and layover.com.
Sites such as Betterteam are useful for posting on multiple job boards at once.
Note: Make sure your company information on Indeed is accurate and up-to-date. Monitor comments and respond to them when it is appropriate to do so.
3. Make use of social recruiting.
Use social media platforms to recruit delivery drivers. Social recruiting can attract 50 percent more applicants than other methods. Most professional recruiters network on Facebook, Linkedin, Instagram, etc. A social media presence is also extremely important for building an employer brand, which is a pivotal part of attracting and hiring competent delivery drivers.
In a crowded marketplace that includes giants like Uber and Lyft, your social media presence will help you stand out if done correctly. Here are a few ways you can use social media to attract your next driver:
Set up social media profiles specifically for recruiting purposes.
Post a healthy mix of original and curated content, regularly.
Actively engage with your audience by liking their posts, sharing posts, answering questions, and solving problems for them.
Use images and videos to highlight your company culture.
Ask your current employees to like and share your posts.
4. Ask your existing employees for referrals.
It takes time to set up a successful and efficient employee referral program but it is a very effective recruiting tool. For now, you can simply tell your current employees that if they know any delivery drivers who are looking for work and who would be a good fit for the position, they should tell you.
Offer a fair reward for any successful hires to motivate your employees to get involved.
5. Screen your delivery driver applicants.
If your job posts, social media recruiting activities, and your employee referral program have all been successful, you will likely have a bunch of applicants. At this point, you'll want to weed out any non-starters from the pack before you move on to more in-depth interviews. You do that by responding to each applicant with an email containing an interview of about five questions. These questions could include:
Do you have any infractions on your driver's license?
How long have you been a delivery driver?
What do you think the delivery process involves, from pick up to drop off?
Are you available to work evenings and most weekends?
What do you do to make sure your orders are all complete and on time?
This applicant screening email should take about 20 minutes to complete. It is a very successful way of separating serious applicants from the less interested ones because only those who are truly serious about the job will take the time to answer the questions thoughtfully. Many applicants won't reply at all.
6. Invite the applicants to a phone interview.
While the screening email helped you to determine who among the applicants are the most serious about the job, a round of short phone interviews will help you to gauge who of those are best suited for the position.
The interview should take no longer than 15 minutes and should cover salary expectations, qualifications, experience, and work history. Read our guide on how to conduct a phone interview.
Example questions:
What do you expect for a salary?
Why did you leave your previous employer?
How did you find out about this job?
What makes you want this job?
Do you have a clean driving record?
What qualities make a good delivery driver?
Check to see that the applicants' answers correlate with those they gave to the questions in the screening email. Listen carefully to every answer and note anything that doesn't line up with your requirements and expectations. Be wary of applicants who have had multiple employers over a short period of time, or who have a negative attitude.
7. Schedule a delivery driver competency test.
The interviews and the applicant's resume will tell you most of what you need to know about them but it is imperative that you put them behind the wheel. Schedule a time for the applicant to come in for a road test and competency test.
Your tests should be designed in such a way as to cover anything they need to by law, and all the skills required for a normal day's work as a delivery driver for your company.
After the test, conduct an in-person interview. This will be the final interview. It is a good way of making certain the applicant is truly the right person, and it is excellent for convincing them that they'll enjoy being a part of your team. Read through our delivery driver interview questions for some suggestions about questions to ask.
8. Offer the applicant the job.
Once you've found the perfect delivery driver you'll have to act quickly to snatch them off the market. Remember, finding competent and motivated delivery drivers is difficult these days with so many companies, some giants, all recruiting from the same shrinking talent pool. The first thing to do is to call the applicant and tell them the job is theirs. Follow this up with a job offer letter that explains everything you're offering. Use our template to guide you in writing a job offer letter no one can refuse.
FAQs:
Where can I recruit a delivery driver?
Apart from posting well-written job ads on job boards frequented by delivery drivers in-search of work, use social media to attract and find drivers. Social recruiting is a powerful tool used by most recruitment agencies.
What is the best way to find a delivery driver?
The best ways to find a delivery driver include posting job ads to general and niche job boards, sharing news of the vacancy across multiple social media platforms, and asking current employees for referrals.
What is challenging about hiring a delivery driver?
With the sudden rise in demand for online ordering and home deliveries, and with major companies creating hundreds of thousands of delivery-based jobs, both finding and retaining motivated, competent delivery drivers is a major problem for many businesses.