Pricing:
| Plan | Pricing |
| --- | --- |
| studiogigs | Free. |
| 1 - 10 Standard Jobs | Free. |
| 1 x Premium Featured Job | $140.00 |
| 3 x Premium Featured Job | $420.00 |
| 5 x Premium Featured Job | $700.00 |
| 10 x Premium Featured Job | $1,400.00 |
| Talent Pass | $49.00 /mo. |
| Company Pro Account <15 Employees | $69.00 /mo. |
| Company Pro Account 15+ Employees | $149.00 /mo. |
Review:
Creativepool is a London-based company that features a job board to connect employers with talented creative professionals. The site is one of the leading career portals for the creative industry, offering employers free and paid job posting options, a large international audience, and a portfolio database, among other recruitment services.
Originally established in the U.K., Creativepool now serves an international audience and is competitively priced compared to other creative job boards in the U.S.
Pros:
Employers can post up to 10 standard job ads for free.
Social media blasts and partner placements are free with a standard job post.
Standard job posts are live for up to 60 days.
A candidate management system is included for free.
The website's "studiogigs" option allows employers to connect with creative freelancers for free.
Premium job postings include a dedicated account manager.
The website features an advanced search option that gives employers access to members' work history, portfolios, and resumes.
The platform has more than 320,000 creative members.
The company will repost your job for free or credit your account if you are not 100% satisfied.
Cons:
Customer care hours are not listed on the website.
A phone number is not provided on the contact page.
The full resume and portfolio database are not free.
Reputation:
The company has a rating of 4.5 out of 5 stars on Facebook with generally good reviews, although some users complained about receiving spam emails and reported having difficulty with deleting their accounts. Client reviews on Creativepool's testimonial page praise the company's helpfulness, professionalism, and efficiency.
How to Post a Job on Creativepool: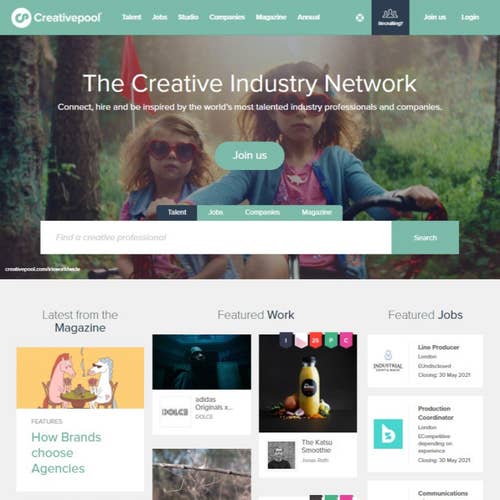 Six easy steps for posting a job on Creativepool.
1.
Posting a Job on Creativepool.
1.1
Navigate to the Creativepool home page.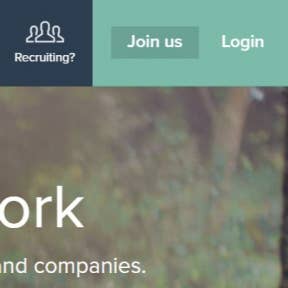 From the Creativepool home page, click on the "Join us" button toward the top-right corner of the page. Select the type of account you would like to create by clicking on the button beneath each option.
You can choose to sign up as an individual, company, or buyer.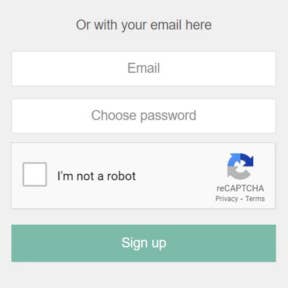 Enter your email address, choose a password, complete the CAPTCHA test, and click on "Sign Up" toward the bottom of the page. The Creativepool team will send you an email to confirm your email address. Follow the link to confirm your account.
1.3
Complete your Creativepool profile.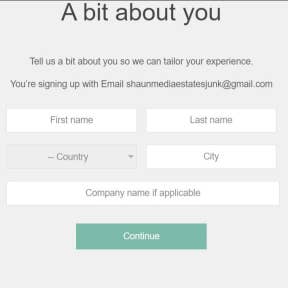 Enter your name, country, and company name, then click on "Continue." You can connect with social media friends by signing into your Twitter or Google accounts or you can skip this step by clicking on "I'll do it later."
On the next two pages, you'll be prompted to follow people, companies, and content creators. You can select who you'd like to follow by clicking on the "Follow" buttons beneath each profile. Click on "Connect to all" to select all the suggestions, or "Skip" to move on.
1.4
Get familiar with Creativepool's site.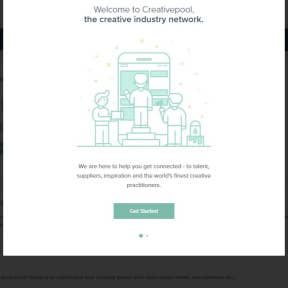 Once you've set up your Creativepool profile, a series of on-screen guides will take you through the website's features and functionality.
Click on the "Get Started" button.
Choose the type of service that you are interested in by ticking the boxes next to each option and clicking on "Continue."
Next, you will receive a brief tour of how the Creativepool site works.
Read through all the tips by clicking on "Next."
When you're comfortable with the functionality, click on "Finish."
1.5
Set up your job post and choose a pricing package.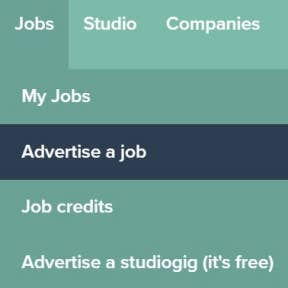 After your tour of the Creativepool website, you can set up your job post.
Navigate to the "Jobs" tab in the top menu bar and click on "Advertise a job" from the drop-down menu.
Select a pricing package and click on "Add to your order."
Scroll down and click on "Review Your Order" toward the bottom of the page.
Review your order and click on "Checkout" to finish purchasing.
Enter your payment details and click on "Process your Order" toward the bottom of the page.
1.6
Create your job post.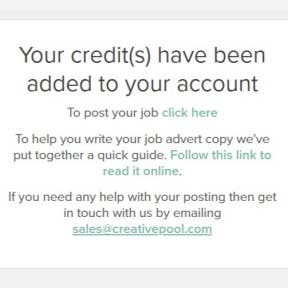 Once the payment is complete, click on the link embedded in the words "click here." On the next page, upload a profile image. Click on "Apply" to save your profile photo.
You can choose to upload an image, take a new photo, or import an existing picture from Twitter or Google. Creativepool has a guide to help you write your job post. Click on "Follow this link to read it online." Your job post will be reviewed and go live on the site within a few hours.
Create your job post by completing the online form.
You can preview your job post by clicking on "Preview" toward the bottom of the page.
When you're ready, click on "Post your job."
Creativepool vs. Behance:
As one of the leading career platforms for creative professionals, Behance's job board specializes in connecting employers with their database of over 12 million freelancers. Shortfalls, in comparison to Creativepool, include fewer posting packages, higher prices, and the requirement for employers to have an Adobe account.
Creativepool vs. Dribbble:
Both Dribbble and Creativepool offer similar features for the creative industry, including a portfolio database and an international audience. However, unlike Creativepool, Dribbble offers no free job posting service or refunds, making Creativepool the more affordable and versatile option for employers.
Creativepool vs. Krop:
Both Krop and Creativepool have the option to assign a dedicated account manager to job posts. The majority of work advertised on Krop is located in the U.S., whereas Creativepool has an international audience. There is no free job posting package with Krop and the site caters more to job seekers than employers.
Key Information
| | |
| --- | --- |
| Legal Name | Creativepool Ltd. |
| Founder | |
| Founding Date | Jan 01, 2005 |
| Address | 1A The Hangar, Perseverance Works, 38 Kingsland Rd., London E2 8DD, United Kingdom |
| Email | |
| Telephone | |
| Website | |