Pricing:
*US$99.99 is a sale price. Once the sale is over, it will cost US$200.00 for a single job post.
Review:
Roadtechs.com is a U.S.-based niche board that caters to the construction industry. The site features several job boards organized by category, making it easy for job seekers to browse jobs in their field. The platform also hosts a resume database and matches employers with job seekers through an automated resume search feature.
Less than 1% of web traffic to Roadtechs.com comes from the U.K., compared to 91.47% from the U.S. While the site is an attractive option for attracting U.S.-based job seekers, U.K. employers looking to recruit locally are better served using niche job boards that target the U.K. market, such as Building4jobs.com.
Highlights:
Employers receive an email with a list of candidates who match their job posts.
Discounts are available for posting on more than one Roadtechs.com job board.
Employers can use targeted advertisement tools to reach suitable candidates.
Roadtechs.com is more affordable than some general U.K. job boards, such as reed.co.uk.
The website has an audience of more than 15,000 job seekers.
Features include email alerts.
Employers can create a "shop listing" (company profile).
Shortcomings:
The U.S.-based job board does not have a strong presence in the U.K.
Roadtechs.com is more expensive than competing niche job boards, such as Building4jobs.com.
The US$99.99 price tag for a single job post is a limited offer.
The website can be difficult to navigate.
The search process for job seekers is overly complicated, which may preclude many job posts from search results.
Pricing is not listed in pounds sterling.
Reputation:
We were unable to find external reviews for Roadtechs.com but testimonials posted to their website all praise the job posting site for helping employers to find top-quality candidates with ease. Some employers have also noted that the hiring services offered are good value for money.
How to Post a Job on Roadtechs.com: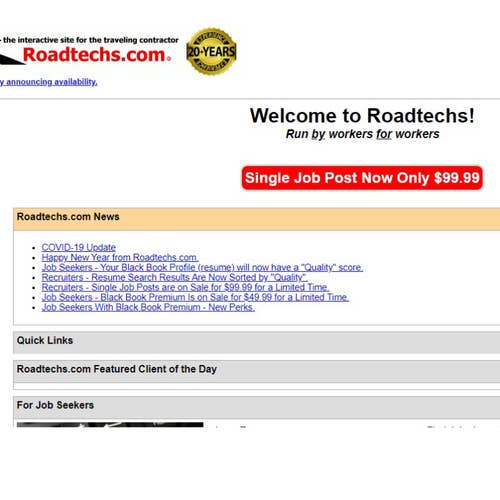 Four easy steps for posting a job on Roadtechs.com.
1.
Posting a job on Roadtechs.com.
1.1
Navigate to the home page.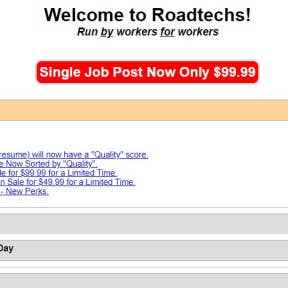 Navigate to the Roadtechs.com home page and select the red button that reads "Single Job Post Now Only $99.99." On the next page, click "Continue."
1.2
Enter your job details.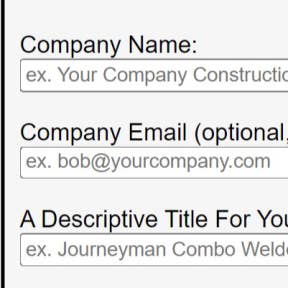 Include things like your job title, description, and contact information.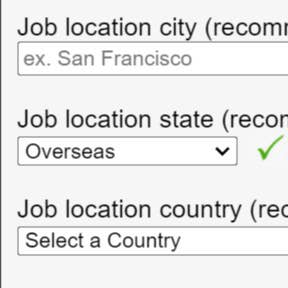 In the "Job location country" box, select "United Kingdom." In the "Job location state" box, select "Overseas." Finally, in the "Job location city" box, enter the name of the city you want to target. Fill in the required fields and click "Continue" when you are ready to post.
1.4
Complete your payment.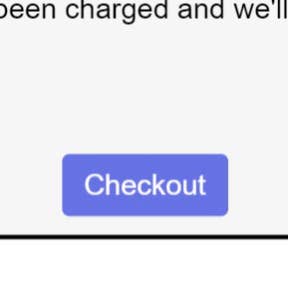 Scroll to the bottom of the next page and click on "Checkout" to complete the process.
Roadtechs.com vs. Building4jobs.com:
Building4jobs.com is a U.K. job board that targets workers and employers in the local construction industry. They differ from Roadtechs.com in that they target the U.K. market, while Roadtechs.com primarily attracts users based in the U.S. Unlike Roadtechs.com, Building4jobs.com has free options.
Roadtechs.com vs. reed.co.uk:
Unlike Roadtechs.com, reed.co.uk is not a dedicated construction job board. It does list many engineering and construction jobs and has prices that start at £150.00 per job post, compared to Roadtechs.com's US$99.99. It is a far more popular choice among U.K. employers and job seekers.
Roadtechs.com vs. ConstructionJobs:
ConstructionJobs has a similar set of features as Roadtechs.com but has a much higher price point. ConstructionJobs' search engine is more advanced than Roadtechs.com, making it easier to use and target U.K.-based workers. ConstructionJobs also has a more attractive user interface that displays information more clearly.
Key Information
| | |
| --- | --- |
| Legal Name | Roadtechs, LLC. |
| Founder | Steve Ryan |
| Founding Date | Jan 01, 1997 |
| Address | 100 E. 6600 S., Ste. 410, Salt Lake City, Utah 84121, United States |
| Email | |
| Website | |
FAQs:
What is Roadtechs.com?
Roadtechs.com is a U.S.-based job board that features jobs in the construction industry.
What does it cost to post a job on Roadtechs.com?
How do I create an account on Roadtechs.com?
Navigate to www.roadtechs.com.
Hover over the menu tab and scroll down to "Employer registration."
Select which type of registration you would like to submit.
Select the "Continue" button near the top of the page.
Fill in the required information on each page.
How do I delete a job post on Roadtechs.com?
Find your job post on the job board it was posted to and click on the title.
Click on the "Mark Position as Filled" link.
You may need to enter your password and click the "Delete" button that appears.
When asked if you are sure you would like to delete the post, select "Delete."
What are some alternatives to Roadtechs.com?