The demand for certified nursing assistants (CNAs) has been consistently high, but the Covid-19 pandemic has created an even greater need for these healthcare professionals. Low salaries, long working hours, and the physical and emotional demands of the job have resulted in high turnover rates and staffing shortages.
Special Offer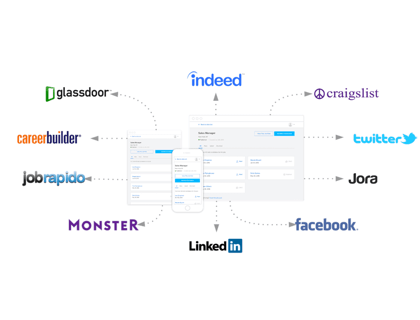 Post Jobs for FREE
Completely free trial, no card required.
Reach over 150 million candidates.
How to Find Certified Nursing Assistants:
1. Craft an attractive job description.
With the high demand for certified nursing assistants, you'll want to attract the best talent in the field – a compelling job description can help you do this.
In your job description, point out the key aspects of your healthcare facility, paying special attention to why certified nursing assistants would want to work for you. Provide an accurate and detailed list of the responsibilities of the position, as well as the skills, characteristics, qualifications, and certifications all applicants should have. If they'll be required to work with billing, health, and electronic medical record software (EMR), be sure to mention this.
Long working hours, coupled with the physical, emotional, and psychological demands of the job, can lead to burnout amongst certified nursing assistants. To attract the finest candidates to this entry-level position, offer fair compensation, decent working hours and benefits, as well as a positive workplace culture where growth is possible. Proper training, mentorship, and regular feedback will help certified nursing assistants see the value of the work they do.
Use our CNA job description template to get started.
2. Post your job to multiple sites.
Start by posting your job on high-traffic, general sites like Indeed. This is a great portal that won't cost you a cent to get the word out.
Google for Jobs is another useful tool worth considering, as it allows your job postings to show up in Google's search results, greatly increasing visibility. You can get it picked up by Google by having someone properly format it on your website, or by using a service that creates a properly formatted jobs page for you automatically.
If you're still struggling to find the perfect certified nursing assistant, you should try posting your job on healthcare job boards such as CareerVitals and NursingJobCafe.com. Most of these job boards are paid services, but others, like NursingJobs.com, are free to use.
You can source certified nursing assistants by:
Building a good reputation: When word spreads that your healthcare institution is a place where certified nursing assistants are valued, receive good mentorship, support, and excellent growth opportunities, suitable candidates will be lining up for a position at your institution.
Recruiting candidates directly from vocational schools: By creating pipelines from CNA programs in your area, you'll have first pick of new certified nursing assistants.
Creating flyers: Advertise on local job boards near healthcare facilities, nursing homes, hospices, and long-term care facilities.
Using your networks: Make use of personal and professional networks to get the word out about your certified nursing assistant position.
3. Screen your certified nursing assistants.
Before spending time and money scheduling interviews and running background checks, you'll want to screen potential candidates to weed out the unqualified ones. A simple way to do this is by sending an email asking a few basic questions, such as:
When and where did you complete your training?
How long have you been a certified nursing assistant?
Where have you worked or where did you complete your internship?
Are you available to work early and late shifts, including weekends?
Do you hold any additional certifications related to the position?
This way, they cannot ignore your questions. If you're worried that your applicants may not be responsive to an email, you may want to try delegating someone to make short phone calls to ask these questions.
4. Perform a background check.
Once you have narrowed down the pool of applicants by screening them, it is recommended to conduct background checks to verify details like employment history, criminal record, qualifications, and more. There are several software platforms that offer background check services you can use to do this.
Certified nursing assistants are required to pass a state exam and should be listed on the state registry, so be sure to check whether candidates meet these requirements. Additional credentials may be required in certain states.
5. Conduct a phone interview.
In-person interviews can be costly and time-consuming, so conduct a telephone interview before scheduling in-person interviews. Use this opportunity to review the answers they provided to your screening questions and ensure they correspond. Any inaccuracies may be red flags.
At this point, you should also discuss salary, compensation, additional benefits, and growth opportunities with the applicant. Try to determine their reason for leaving their previous job or career field. Empathy, emotional stability, and compassion are integral qualities in certified nursing assistants, but they may be difficult to gauge over a telephone interview. However, important factors like communication skills, patience, and respect may be observed in this interview.
Possible questions you could ask include:
What inspired you to become a certified nursing assistant?
What are the most important aspects fo this job?
How will this position help you achieve your ultimate career goals?
What days and/or times are you available to work?
Are you available to work evenings/respond to emergencies?
Can you pass a drug test?
How would you deal with uncooperative patients?
What salary and benefits do you expect?
Are you prepared to attend further training?
Do you speak any additional languages?
6. Conduct an in-person interview.
The in-person interview is a crucial stage when hiring a certified nursing assistant. Pay attention to their professionalism and the pride they have in their profession. Do they speak sincerely when they describe their motivations for pursuing their career? Do they exhibit a strong desire to help others? Ask questions that demonstrate their emotional resilience, mental fortitude, patience, and compassion, and those that test their skills and overall preparedness for the role. See our CNA interview questions for inspiration.
Offer a tour of your facility or institution, and walk the candidate through a typical day at work. This is a great opportunity to impress them and reiterate all the benefits that come with the job, and it is also a chance for them to ask questions or voice concerns. Lastly, you'll want to go over the salary structure, working conditions, and discuss the shifts they'll be required to work. Be sure to mention your values and workplace culture.
7. Make an offer.
Once you have found the perfect person to fill the position of certified nursing assistant, you'll want to make an official job offer before they lose interest. The demand for certified nursing assistants is high, so the candidate may be weighing other offers. This is often best done in an informal call first, followed by a letter or email that provides the job description, salary, and benefits information.
FAQs:
What is a certified nursing assistant?
Certified nursing assistants work in various settings such as hospitals, nursing homes, hospices, correctional facilities, and long-term care facilities, where they provide basic care and support to patients.
How much do certified nursing assistants make an hour?
Certified nursing assistants earn between $14.00 and $17.00 per hour.
Where do certified nursing assistants look for jobs?
Is it difficult to hire certified nursing assistants?
The demand for certified nursing assistants is high, but it can be difficult to retain them as the job typically entails long hours and low salaries.