Pricing:
| Plan | Pricing |
| --- | --- |
| Single Job Posting | US$99.00 |
| 7-Day Featured Job (Add-on) | US$50.00 |
| 2 Jobs + Featured Status | US$199.00 |
| 5 Jobs + Featured Status | US$499.00 |
| 10 Jobs + Featured Status | US$799.00 |
| Unlimited Jobs + Featured | US$999.00 |
Review:
Aviation companies and airlines use AviaNation's intuitive platform to advertise freelance, temporary, part-time, and full-time vacancies. The easy-to-use job board offers standard features, including access to an extensive profile database, featured job postings, and social media sharing.
Comparatively, AviaNation is a helpful resource for hiring candidates in a niche field. Despite promising 20,000 monthly views, its presence and reach in Canada does not compare to local competitors such as Aerojobs.ca. Additionally, the site offers no French translation and all plans are priced in U.S. dollars.
Pros:
AviaNation is a niche job board that targets employers and job seekers in Canada.
The job posting process is simple and easy to use.
AviaNation receives 20,000 monthly views and offers bulk job posting packages.
Canadian employers are placed in direct contact with candidates who are already educated and/or qualified in the aviation sector.
The platform offers social media sharing, featured job postings, and profile database access.
Unlike most competitors, AviaNation does not charge employers extra to view its profile database.
AviaNation is used by brands such as Shell, Chartright Air Group, Waltzing Matilda Aviation, and Flair Airlines.
Cons:
There is no free plan available.
Unlike Aerojobs.ca, AviaNation does not offer French translation on its website.
Customer service contact options are quite limited and operating hours are not stipulated on the website.
The majority of the jobs advertised on AviaNation stem from the U.S.
All job posting packages are quoted in U.S. dollars.
AviaNation's features are basic, lacking tools such as job tracking and application reporting.
Reputation:
We were unable to find customer reviews of AviaNation available online.
How to Post a Job on AviaNation: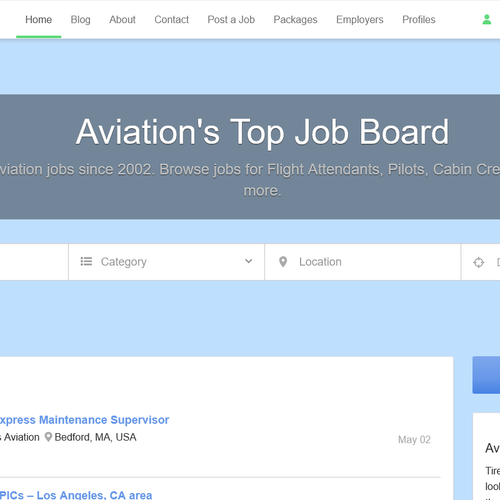 Four easy steps for posting a job on AviaNation.
1.
Posting a job on AviaNation.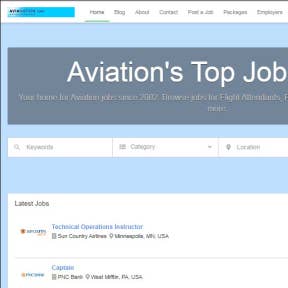 Start by navigating to the AviaNation home page.
1.2
Click on "Post a Job."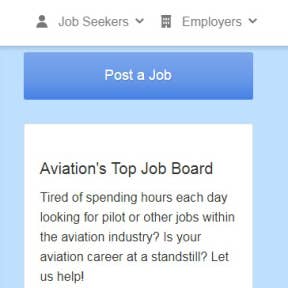 You'll find this blue button near the right-hand margin of the page below the main banner. Read through the different job posting packages. Once you've decided on your ideal package, click on the "Post Job" or "Purchase" button.
1.3
Create your job posting.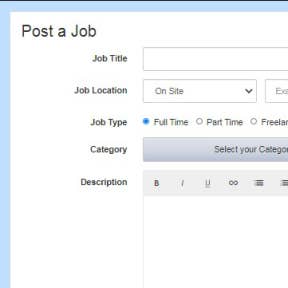 Complete the online job ad form by filling in your job title, description, company name, and other information.
Check the box next to "Featured Job" toward the bottom of the page if you want to upgrade your posting to a featured listing for seven days. This costs US$50.00.
1.4
Preview and post your job ad.
Click on "Preview Job" to review your job description. Proceed to payment and submit your job ad.
1.5
Purchase your job post.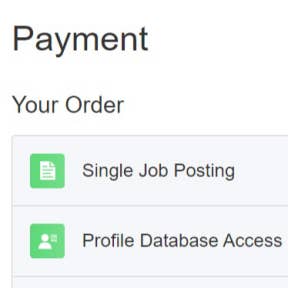 On the next page, review your order and complete your billing information. Then, click on "Process Payment" to make the purchase and post your job ad.
AviaNation vs. Aerojobs.ca:
Aerojobs.ca is one of Canada's leading aviation job boards, drawing over 5,200 monthly views. AviaNation is a global job board that primarily lists vacancies across the U.S. and parts of Canada. Comparatively, employers hiring locally will find better success with Aerojobs.ca, thanks to its local reach, pricing, and its French translation feature.
AviaNation vs. Eluta.ca:
Eluta.ca stands out as the best value for money, despite offering similar features as AviaNation. Thanks to its free plan and local reach, Eluta.ca attracts thousands of Canadian candidates, making it the ideal choice for those recruiting locally. However, AviaNation users enjoy perks such as social media sharing and access to a profile database.
AviaNation vs. Indeed:
Indeed and AviaNation are similar in that both target a global job market. However, that's where the similarities end. Indeed is a general job board with free posting and the best exposure, both internationally and within Canada, AviaNation primarily caters to the U.S. aviation job market with plans starting at US$99.00 per month.
Key Information
| | |
| --- | --- |
| Legal Name | AviaNation |
| Founding Date | Jan 01, 2002 |
| Address | Delray Beach, Florida, USA |
| Email | |
| Website | |
FAQs:
What is AviaNation?
AviaNation is a niche job board that lists jobs in the aviation industry.
How much does it cost to post a job ad on AviaNation?
It costs between US$99.00 and US$999.00 to post a job ad on AviaNation, depending on the package you choose.
How do I create an account on AviaNation?
Go to the AviaNation website.
Click on "Employers" in the main menu.
In the drop-down menu, click on "Create Employer Account."
Sign in with LinkedIn or complete the sign-up form.
What types of jobs can I advertise on AviaNation?
AviaNation is a niche job board that strictly advertises aviation-related jobs across parts of Canada, including those in airline operations, customer service, airline education, cabin crew, and more.
What are some alternatives to AviaNation?