Pricing:
Aviation Job Search offers flexible pricing for job postings and CV searches, as well as bespoke recruitment packages. Employers interested in CV searches and bespoke recruitment solutions should contact Aviation Job Search directly.
Daily job posting rates are calculated per post using a machine learning algorithm. Initially, job ads run for 14 days, charged at the daily rate. Users are charged the total amount for the 14-day period upfront. After this period, the advert remains live, and users are invoiced every 7 days until the advert is paused.
Review:
Aviation Job Search is a job board dedicated to the global aviation industry. Paid job posting plans are customized to meet employers' hiring needs. The platform reports an average of 23,000 international job searches every month.
Features for employers include a vast candidate database and job post management via an intuitive dashboard. Candidates can register their profiles, upload resumes, set up job alerts, and browse through vacancies. Categories include aerospace engineers, air traffic controllers, pilots, crew, technicians, aviation security, sales, and caterers.
Pros:
Aviation Job Search is a niche job board that attracts qualified candidates from Canada and abroad.
The site offers employers a global reach.
A daily pricing option for one-off listings makes for optimal budget control.
Daily campaigns can be canceled when a number of suitable applications have been received.
The platform features built-in steps that make creating and previewing adverts an easy task.
Employers benefit from a streamlined candidate management system that automatically sends candidate alerts.
Employers can create their own candidate pool by saving and rating candidates.
A search filter helps employers save time by only accessing the resumes of relevant candidates.
More than one team member can access an account to manage the hiring process.
The platform promises access to over 600,000 registered job seekers.
Cons:
No free job posting plan is available.
Employers are not offered a free trial.
The majority of the site's visitors come from Europe, with only a small proportion originating from Canada.
AI-powered candidate matching is not featured.
The company has no offices in Canada.
Support is only available during U.S. business hours via their Miami office.
Reputation:
We did not find user reviews by employers online. On Facebook, the platform has 49 reviews and a rating of 4.9 out of 5 stars. Some users stated that the platform is great for finding part-time work.
How to Post a Job on Aviation Job Search: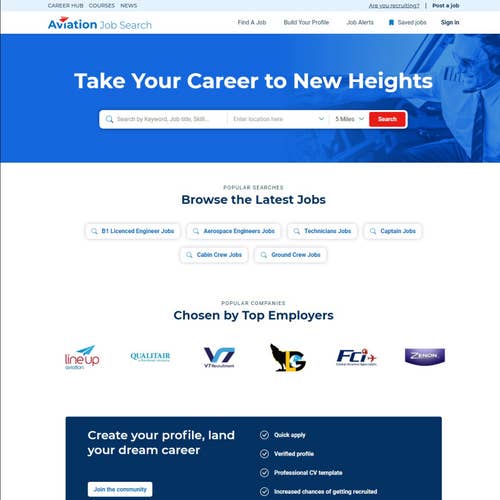 Six easy steps for posting a job on Aviation Job Search.
1.
Posting a Job on Aviation Job Search.
Start by navigating to the Aviation Job Search home page.
1.2
Click on "Post A Job."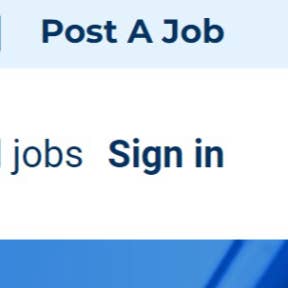 You'll find this button in the top-right corner of the page.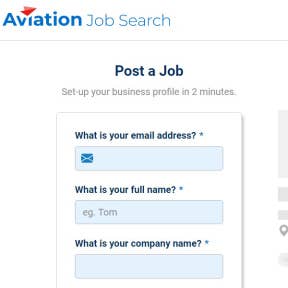 You'll now need to fill in your name, contact details, company name, type of company, and location. Click on the blue "Sign up and continue" button to register an account and follow the prompts to activate it.
1.4
Create your job post.
Next, you'll be prompted to create your job post. Enter your vacancy category, job title and details, job description, and application details, clicking on "Save and Continue" after each step.
While entering job details, a live preview of your job post is displayed to the right of the page.
1.5
Review your job post.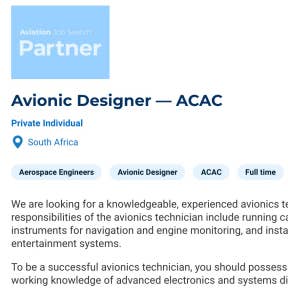 Review your job post, billing information, and the total upfront payment for your job posting.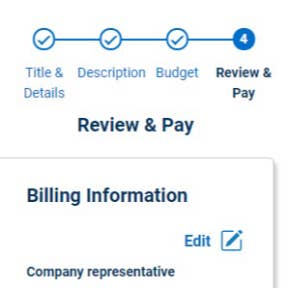 Enter your payment information and click on "Confirm Payment" to process your order and publish your listing.
Aviation Job Search vs. Canadian Council for Aviation and Aerospace (CCAA):
Aviation Job Search offers a global niche job board, whereas the CCAA's purpose relates to developing skills in the Canadian aviation and aerospace industry. Aviation Job Search offers customized and flexible pricing options, while posting jobs via the CCAA is free. Aviation Job Search features more sophisticated candidate management tools.
Aviation Job Search vs. Aerojobs.ca:
Aviation Job Search features global aviation jobs, while Aerojobs.ca has a local focus. Aviation Job Search offers flexible job posting plans. Aerojobs.ca is more costly, with prices starting at C$325.00 for a single advert. Aviation Job Search offers candidate suggestions and applicant management, which Aerojobs.ca does not.
Aviation Job Search vs. Pilot Career Centre (PCC):
Aviation Job Search and PCC both feature global aviation jobs. Aviation Job Search offers customized job posting plans with flexible pricing options, while job posting at PCC is free. Aviation Job Search features candidate management tools and promoted jobs, whereas PCC only lists basic job postings submitted via an online form.
Key Information
| | |
| --- | --- |
| Legal Name | Friday Media Group Ltd. |
| Founding Date | Jan. 01, 2009 |
| Address | 7955 NW 12th St., Ste. 401, Miami, Florida 33126 USA |
| Email | |
| Telephone | |
| Website | |