The restaurant industry has a high turnover rate, with many staff members job-hopping if they feel unsatisfied with their work conditions. Employers need to invest in retention strategies to avoid losing out on their investment in training new hires.
Special Offer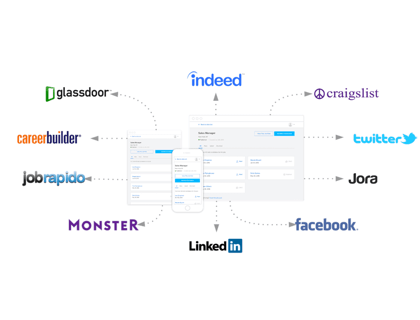 Post Jobs for FREE
Completely free trial, no card required.
Reach over 150 million candidates.
How to Find Restaurant Staff:
1. Create job posts.
There are several positions to fill at a restaurant, so your job posts should be specific to each role to ensure that you hire restaurant staff with the right experience. Be sure to outline the day-to-day responsibilities for each position and identify any prior training or experience that would be preferred.
Staff you may need to hire includes:
While each role presents its own challenges, the general consensus from restaurant staff is that shifts are often under-staffed and the staff on duty have to perform duties outside of their job description.
Restaurant staff can also feel overwhelmed if they are forced to learn on the job. Make it clear that you will provide adequate training and perhaps a mentor for new hires. This also ensures that you find good restaurant staff with a desire to expand their skills.
Another concern for restaurant staff is compensation. Many staff members work multiple shifts and have to face difficult customers. Offer a competitive rate and advertise any additional benefits like free meals, an opportunity to develop their career, or bonuses for excellent performance. This makes finding restaurant staff who are excited about the role easier.
2. Post your job vacancies.
For such a broad range of jobs, you should post your vacancies on general job boards like Indeed and Glassdoor. These sites have huge audiences, so you are likely to reach quite a few applicants.
You can also post on more specific job boards, like chef job boards and hospitality job boards. These websites have a niche audience who is more likely to be adequately qualified and passionate about the industry. You can recruit restaurant staff with relevant experience from these sites.
By posting to large job sites like Glassdoor, your job post is automatically formatted to appear in Google for Jobs search results. You can format posts on your website to achieve this as well.
3. Screen applicants.
Once you begin to receive applications, you should respond with an email that asks a few important questions related to the role. The answers to these questions should help to reduce the number of suitable applicants by revealing who is not adequately qualified or a good fit for your restaurant.
Example questions:
Have you received any formal training in this field? (This is particularly relevant for a chef or line cook).
Do you have experience working lunch shifts or in another high-stress environment?
Has a kitchen you worked in failed a health and safety inspection? If so, why? (This is particularly relevant for a head chef or kitchen manager).
Are you available to work night shifts?
While these questions are typically sent via email, you could also call applicants that have limited internet access. These questions are critical to making the hiring process easier, so it is advised that you do not skip this step.
4. Conduct a phone interview.
Having a phone interview is intended to further shorten your list of candidates and save time by only inviting top candidates for an in-person interview.
Keep track of the answers provided to ensure that candidates are answering consistently and follow up on any statements that needed clarification.
Example questions:
What are your available hours?
Why did you leave your former position?
Which restaurants have you worked in previously?
Did you receive training for your last position?
What are your salary expectations?
Look out for answers that would disqualify the candidate, such as showing disloyalty to their current/former employer or not having any formal experience in a restaurant environment. If the candidate's salary expectations far exceed what you are willing to pay, this is also a concern.
If there are candidates that you like for the position, try to remind them of aspects of the position that they have shown interest in. Allow candidates to ask questions they may have about the role.
5. Conduct an in-person interview.
An in-person interview will allow you to have a more in-depth conversation with the candidate and learn whether they are punctual and well-presented.
Allow candidates to ask questions about the role, meet potential coworkers, and get a feel for the restaurant's atmosphere. Use this opportunity to highlight the benefits of the role to keep the top candidates interested.
6. Do a test.
Be sure that a chef's skills meet your requirements by having them prepare a few dishes for you. Have a qualified chef that you trust join you if you don't have personal experience with professional cooking.
You can also invite servers to do a test shift to see how competent they are with taking orders and serving food.
7. Make an offer.
By this stage it will be clear which candidates you would like to hire. Make those candidates a formal offer by sending a job offer letter. Many employers choose to call candidates before sending a formal offer, but you could send a less formal email initially to let the candidate know that they have been selected.
FAQs:
How do I hire a good restaurant employees?
Write a thorough job post to attract the top restaurant staff candidates. You should post your vacancy on popular job boards like Indeed and Glassdoor to reach a wide audience.
How do I find restaurant workers?
You can post jobs to a hospitality job board to find restaurant staff who are qualified and dedicated to the industry.
How do I find a restaurant server?
Aside from posting vacancies on a job board, you can post in social media groups on Facebook that are relevant to servers.
How do I find a good restaurant manager?
When interviewing a restaurant manager candidate, ask questions that will reveal their experience and temperament. Use interview question examples when creating your own questions.