To find a good retail manager, you should focus on a candidate's leadership abilities rather than their specific experience in your industry. You should also put effort into defining your company culture, as this influences a manager's decision to work for your company heavily.
Special Offer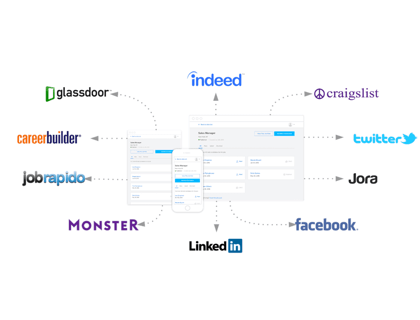 Post Jobs for FREE
Completely free trial, no card required.
Reach over 150 million candidates.
How to Find a Retail Manager:
1. Create a job post.
An attractive job post needs to clearly define the responsibilities of the role, and advertise any benefits that the successful candidate will receive. To find a good retail manager, you should also make it clear which skills and experience the ideal candidate should have.
Candidates applying for a management-level position take a keen interest in the company culture when choosing a new job. As such, you will recruit retail managers more effectively by describing this aspect of your company.
Looking for candidates with experience in your specific area of retail, or requiring the candidate to have worked with your type of products in the past is a poor reflection of their ability to manage your business. Finding good retail managers boils down to their leadership skills.
Emphasize the soft skills required for the role in your job post. While skills like data analysis are important, they can often be learned over time. Communications skills and the ability to problem-solve are incredibly important when you source retail managers.
2. Post your job.
Once you have written a great job description, you need to post it online. Post your advertisement on a large job board like Indeed, as they have huge audiences and you can pay to promote your post.
You should also post to a retail job board to source retail managers from a niche audience. While these job boards may be smaller than Indeed, they have a pool of candidates specifically looking to work in retail.
Alternatively, you can post the vacancy on your website's career page. Ensure that the post is formatted for Google for Jobs so that it appears in Google search results.
3. Screen your applicants.
As applications come through, you should filter the list by asking a few screening questions via email. These questions should reveal if the candidate meets your basic requirements, such as some training in management and a salary expectation that matches what you are offering.
Example questions:
What are your salary expectations?
What training have you received in management?
Which businesses have you managed previously? Alternatively, have you managed a team within a business before?
Are you able to work overtime when needed?
4. Conduct a phone interview.
Following your screening questions, you should set up a phone interview with candidates who meet your requirements. Finding retail managers that match your company culture and who have a good reason for wanting to join your company can be made easier by asking in-depth questions in a phone interview.
Example questions:
Why do you want to work for this company?
Why are you interested in management?
How do you set sales goals?
How do you ensure that sales goals are met?
Have you had to resolve conflict in the workplace before? Can you describe the situation and how you handled it?
Have you ever failed to meet goals? Why do you think this happened?
How would you describe the ideal corporate structure?
Look for inconsistencies in the candidate's answers compared to their screening responses, and ask for clarification. If the candidate has changed their answers completely, this should be treated as a red flag.
5. Do a trial workday.
Invite promising candidates to your store for a trial workday or shift to see how they perform. Look out for how well they adapt, as well as the chemistry they have with your staff.
Take a moment to show them your software and see how familiar they are with the way you monitor inventory or do payroll. While this is not preclusive, it can show which candidates will be more comfortable transitioning to your company.
6. Conduct an in-person interview.
After the trial workday, you should have a short interview with the candidate to clarify any information you still need from them. This is also a chance to observe how they present themselves and how well they can communicate their thoughts.
If you are serious about a candidate, you should allow them to ask questions about the role and/or the company and highlight aspects of the role that they have mentioned an interest in.
You can refer to our retail manager interview questions for question ideas and what to look for in the candidate's answers.
7. Make an offer.
By this stage you should have a clear idea of which candidate you would like to hire. Phone the candidate to let them know that they have been successful, and then send an email with a formal job offer. Your email should also include the job description, salary amount, additional benefits, and start date.
FAQs:
How do you recruit a manager?
You can seek out managers from other companies by researching which companies perform well and have satisfied employees. You can also create a job post and post it to a job board.
When you receive applications, you should interview the candidates thoroughly to ensure that they meet your requirements and have the right skills to be a great retail manager.
You should then invite applicants to have a trial workday to get a realistic idea of their skills and how they interact with staff members.
How long does it take to hire a manager?
It is estimated that the hiring process to find a good retail manager can take 23 days. This is due to having several interview stages as well as hosting a trial shift. Finding a time that works for the company and the candidate can lengthen the hiring process.
When should you hire a manager?
If, as an owner, you have been performing management roles but have found that the workload is too much for one person, it is time to hire a manager.
If you already have a manager but your business fails to meet targets consistently, and/or staff are unhappy with the way in which the business is being managed, it is time to hire a new manager.
What do employers look for in managers?
Excellent communication skills.
Leadership abilities.
Great interpersonal skills.
An understanding of how to set and meet goals.
Data analysis skills.
The ability to prioritize tasks.
What are five qualities or skills a manager should have?
Good listening skills.
Natural leadership abilities.
An affinity for working with people.
Problem-solving abilities.
A desire to improve the company.