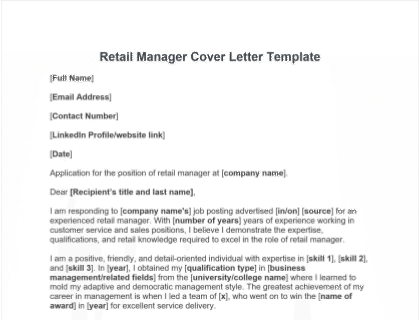 Retail Manager Cover Letter - Free Template:
Create a retail manager cover letter fast with our free template in MS Word format.
Download Now
Retail Manager Cover Letter Example:
[Full Name]
[Email Address]
[Contact Number]
[LinkedIn Profile/Website Link]
[Date]
Application for the position of retail manager at [company name].
Dear [Recipient's title and last name],
I am responding to [company name's] job posting advertised [in/on] [source] for an experienced retail manager. With [number of years] years of experience working in customer service and sales positions, I believe I demonstrate the expertise, qualifications, and retail knowledge required to excel in the role of retail manager.
I am a positive, friendly, and detail-oriented individual with expertise in [skill 1], [skill 2], and [skill 3]. In [year], I obtained my [qualification type] in [business management/related fields] from the [university/college name] where I learned to mold my adaptive and democratic management style. The greatest achievement of my career in management is when I led a team of [x], who went on to win the [name of award] in [year] for excellent service delivery.
In my previous position as a retail manager at [previous employer name], I was in charge of maintaining inventory levels, assigning shifts, establishing monthly budgets, and recruiting new employees. My extensive history in retail has helped me master various CRM software, including [software 1] and [software 2], and developed my conflict solving skills to foster long-lasting relationships with loyal customers.
My attached resume will provide you with more information on my management and retail experience and expertise. Thank you for taking the time to consider my application. Feel free to contact me at [telephone number] or [email address]. I look forward to discussing the position further.
Regards,
[Your name]
How to Write a Retail Manager Cover Letter: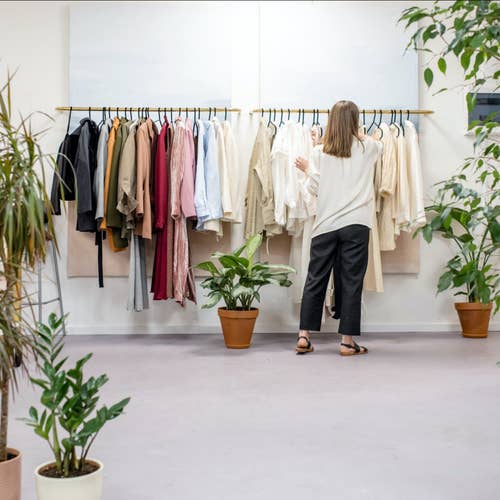 Our complete guide with informative steps on how to create a professional retail manager cover letter.
1.
Start your retail manager cover letter.
1.1
Use the proper format.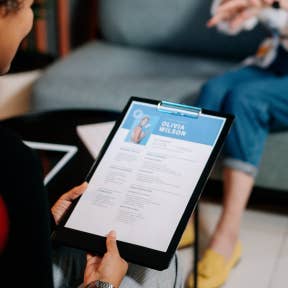 Your cover letter should always start with your current contact information, such as your telephone number, email address, and social media links, followed by the headline, greeting, opening paragraph, body, and call to action. The flow of your cover letter should be effortless, starting with the most important information and personal facts.
1.2
Address the recipient by title and name.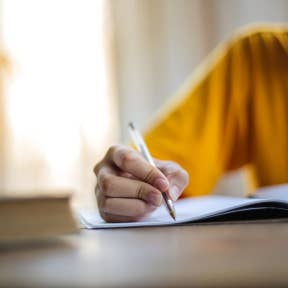 To personalize the cover letter and add an air of professionalism, you'll want your greeting to be addressed directly to the recruiter or hiring manager. This may require some research on your part, which will show the recipient that you're resourceful and willing to go the extra mile. Start your greeting with the preferred title (Mr./Ms./Dr.), followed by the recipient's last name or full name.
1.3
Write a compelling opening paragraph.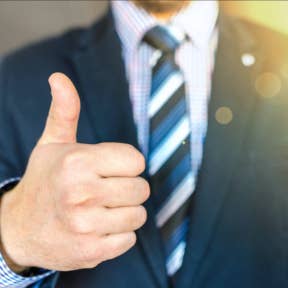 The opening paragraph should provide the source of where you found the job posting. In addition, you want to affirm your interest in the position and state valid reasons as to why you're perfect for the role of retail manager. Keep this paragraph brief, no more than three sentences.
1.4
Add your qualifications and competencies.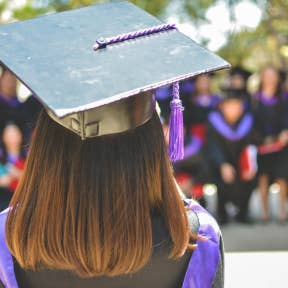 The start of your cover letter's body should showcase your qualifications and list of expertise. Be sure to list the skills required to fulfill the role of a retail manager, such as excellent leadership and organizational skills, paired with the abilities to multitask and defuse conflict scenarios.
It's typically preferred that retail managers possess a bachelor's degree in business management or similar fields. However, certificates in retail management are also accepted, especially when combined with over five years of work experience in a similar role.
1.5
Write about your employment history.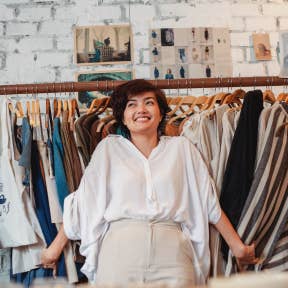 Your experience in this role or similar roles will play a major factor in your cover letter's success. The retail industry has a lot of room for growth, with many entry-level sales associates being promoted to retail manager without obtaining a formal qualification. This is because practical experience in retail, customer service, and/or sales is an essential part of the job.
Therefore, you'll want to really sell your experience section by highlighting the essential tasks you've performed at your previous employer(s). We recommend including a minimum of four routine tasks the employer will be familiar with. Following this, write about the type of systems you've worked on. Retail stores often use Customer Relationship Management (CRM) software like HubSpot and Freshsales.
1.6
Add a call to action.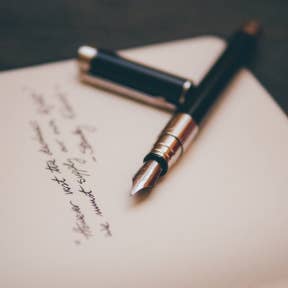 Your last paragraph should reiterate your interest in the position of retail manager, ultimately acting as the final push to win the hiring manager or recruiter over. Thank the recruiter or hiring manager for considering your application and add your personal contact information for good measure. Once complete, sign-off the letter with a simple "Regards," followed by your name.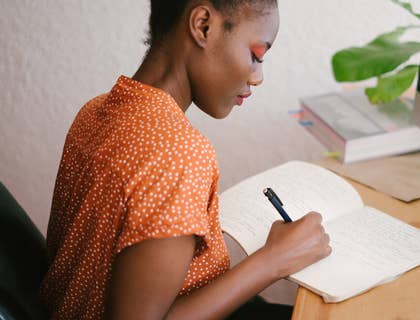 FAQs:
How to I write a retail manager cover letter?
What skills do I need to become a retail manager?
Ability to manage time efficiently and work on multiple projects.
Excellent communication, interpersonal, and organizational skills.
Strong leadership qualities.
Proficiency in various retail-related systems like CRM software.
How do I become a retail manager without any formal qualifications?
The retail industry is flexible when it comes to qualifications, with many companies preferring experience over qualifications. If you do not have a formal qualification, elaborate on the type of tasks you've mastered over the years and list the number of years you've worked in retail, sales, and/or customer service.