Construction job posting sites are used by construction companies and other employers to reach out to potential applicants in this very in-demand field.
Our list of sites for construction job postings will help you hire candidates faster, whether you're hiring a construction superintendent, project manager, general management, or general labor.
Special Offer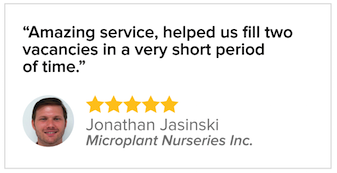 Post Jobs for FREE
Completely free trial, no card required.
Reach over 150 million candidates.
Where to Post Construction Jobs:
| Our Rank | Site Name | Posting Options |
| --- | --- | --- |
| 1. | | Free and paid options. |
| 2. | | Free and paid options. |
| 3. | | Free. |
| 4. | | Paid, starting at $8.00 per day. |
| 5. | | Paid, starting at $245.00. |
| 6. | | Free. |
| 7. | | Paid, starting at $199.00. |
| 8. | | Paid, starting at $7.00. |
| 9. | | Paid, starting at $199.00. |
| 10. | | Paid, starting at $89.00. |
FAQs:
What is the best place to post construction jobs for free?
Check out our list of free job posting sites for more.
How can I write construction management job postings that get better applicants?
The key to a better job posting is writing it from the perspective of your ideal employee. In our current economy, nearly everyone who wants a job has one. So why should someone work for you? Nail down the reasons. Check out our job posting template guide for help.
Is posting an ad on Craigslist for construction still free?
No. In the United States Craigslist postings are no longer free. But they're a fairly inexpensive option, depending on what region you're in, and definitely worth considering.
How can I find a construction employee?
Write a good job description detailing the skills and qualities you need from an employee. Remember to include any benefits and a description of your company. Then post the job ad to your chosen job boards, focusing on those in your area.
Any tips for a better construction superintendent job posting?
Talk to your best employees and find out where they look for jobs. Be sure to post there and make sure that your job posting sells the job. What's great about working at your company? That should all be in the posting, with only the essential requirements listed.
The same goes for a construction project manager job posting, a construction sales job posting, general labor construction job postings, or any other jobs that you're having trouble filling.