At-a-Glance:
| Feature | HackerEarth |
| --- | --- |
| Price for assessments | US$169.00 /mo. |
| Multi-posting discounts | ✔ |
| Advanced posting options | ✔ |
| Resume database access | x |
| Email alerts | ✔ |
| Applicant tracking | ✔ |
Review:
HackerEarth regularly hosts hackathons that attract the best developers in Canada, increasing their talent pool for employers. The University of Toronto, McMaster University in Hamilton, Ontario, and the City of Maple Ridge in British Columbia are just a few examples of organizations that have conducted hackathons via HackerEarth to identify top tech talent.
Although HackerEarth is a U.S.-based company headquartered in San Francisco, Canadian employers may benefit from hiring experienced and rigorously assessed candidates selected from their international talent pool comprising over 5 million developers.
Pros:
The platform connects Canadian employers with the global tech workforce.
A variety of interview and assessment packages are available to choose from.
Employers are offered customized plans to meet individual hiring needs.
Canadian employers qualify for a free trial.
Packages include access to global candidate profiles and advanced search filters.
Employers can evaluate candidates' proficiency in over 40 coding languages and across 500 skills.
Coding tests based on skills, job descriptions, or roles are automatically created.
Canada-based employers can schedule coding interviews to assess skills in real-time via pair programming.
Packages include integration with major applicant tracking systems.
Cons:
All subscription plans are paid and prices are only quoted in U.S. dollars.
The package aimed at building tech teams requires a minimum of 30 users, with each user charged separately.
No local phone support is available to Canadian employers.
French-Canadian employers need to use the site in English.
Reputation:
We were unable to find online reviews of HackerEarth by Canadian employers. On Quora, developers experienced mixed results in finding employment via HackerEarth. Google search results for "HackerEarth Canada" show quite a few hackathons hosted in Canada.
*For custom bundle purchases or arranging hackathons to engage with developers, employers should contact the company via email to request a quote.
Pricing:
| Plan* | Annual Pricing |
| --- | --- |
| FaceCode | US$19.00 /mo. |
| Startup | US$169.00 /mo. |
| Enterprise | US$369.00 /mo. |
| Custom | Contact for quote. |
| Learning & Development | US$150.00 /user /yr. |
| Hackathons | Contact for quote. |
| Hire | US$360.00 /mo. |
| Grow | US$949.00 /mo. |
| Build | Contact for quote. |
How to Hire Developers on HackerEarth: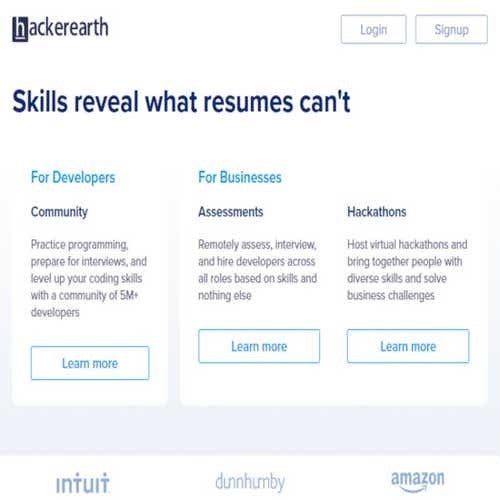 Three easy steps for hiring a developer on HackerEarth.
1.
Hiring a developer on HackerEarth.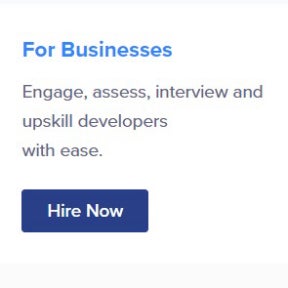 Navigate to the HackerEarth home page and click on "Hire Now." You will find this button under the "For Businesses" heading.
1.2
Click on "Request a Demo."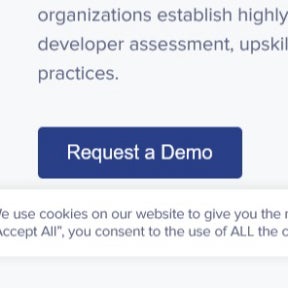 You'll find this blue tab below the main heading. A pop-up window will then appear.
1.3
Submit your demo request.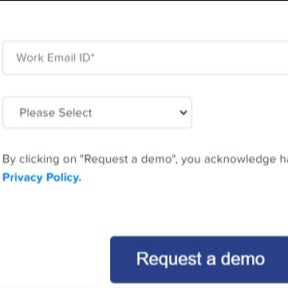 Enter your email address and select "All of the above" in the drop-down menu. Then, click on "Request a demo."
A HackerEarth representative will contact you to help you choose the best package for your needs.
HackerEarth vs. ITjobs.ca:
HackerEarth offers global solutions to recruit tech developers through coding assessments, whereas ITjobs.ca is a dedicated Canadian job board for IT job seekers. HackerEarth's plans start at US$19.00 per month, while ITJobs.ca charges C$325.00 for a single job posting. Only HackerEarth provides employers access to developers' profiles.
HackerEarth vs. CIPS Job Board:
HackerEarth and the CIPS Job Board both assist employers with finding tech talent. HackerEarth features a global developer talent pool and offers comprehensive recruitment solutions, while the CIPS Job Board focuses on Canadian tech jobs. HackerEarth's plans start at US$19.00 per month, while the CIPS's nonmember pricing starts a C$300.00 per post.
HackerEarth vs. Wellfound:
HackerEarth and Wellfound both offer global tech hiring solutions. HackerEarth's services include developer assessments and candidate matching, while Wellfound features a tech startup job board that allows Canadian employers to post global tech jobs and search resumes for free. HackerEarth's plans start at US$19.00 per month.
Key Information
| | |
| --- | --- |
| Legal Name | HackerEarth Inc. |
| Founder | |
| Founding Date | Jan 01, 2012 |
| Address | 1111 W. El Camino Real, Ste. 133 - 398, Sunnyvale, CA 94087 USA |
| Email | |
| Telephone | |
| Website | |