Pricing:
| Plan | Pricing* |
| --- | --- |
| Single Ad Credit | US$375.00 |
| Unlimited Advertising Package | Contact for quote. |
| CXMpro | Contact for quote. |
Review:
Hospitality Online is a leading hospitality recruitment platform. Outside the U.S., the second-highest number of site visitors come from the U.K. Job seekers can browse through over 12,000 job ads, searching by category, location, employer, and more, while U.K. employers can hire top candidates from around the world using this job board.
For U.K. employers, Hospitality Online is a great place to find global talent in the hospitality sector, but with less than 2% traffic coming from the U.K., you may not find many local candidates on this platform. That said, it is still an excellent place to source experts to fill remote positions in the hospitality industry.
Pros:
The site is trusted by brands such as Hotel Indigo, Hilton, Sheraton, and Marriot.
The job board has a global presence, with staff in the U.S., Africa, Indonesia, India, Canada, Europe, and the Middle East.
More than 27,000 hospitality vacancies are listed on the site.
Jobs are grouped by category, state, or popularity, so vacancies are easier to find.
With cross-posting features, employers can post to other job boards, such as Craigslist and SnagAJob.
The job site provides access to a talent pool comprising hospitality professionals from all over the world.
Employers can enjoy full social media integration, build employer profiles, and brand their company or property.
Applicant tracking includes Indeed Easy Apply that feeds jobs from the site to Indeed, allowing for direct job applications.
Resume archiving and free printed flyers are available.
Employers can design branded email campaigns to market career fairs and increase the visibility of job openings.
Cons:
The site receives little traffic from the U.K. compared to other local job boards.
There is no local office or customer support.
There are no multilingual sites, which may deter candidates from other parts of Europe from applying.
The pricing is only available in U.S. dollars.
Job seekers cannot filter for jobs in the United Kingdom; they can only search by city.
Reputation:
We were unable to find any online reviews of Hospitality Online.
How to Post a Job on Hospitality Online:
Ten easy steps for posting a job on Hospitality Online.
1.
Posting a job on Hospitality Online.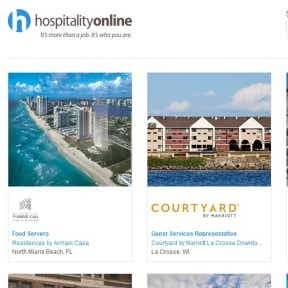 Navigate to the Hospitality Online home page.
1.2
Click on "Employer Login."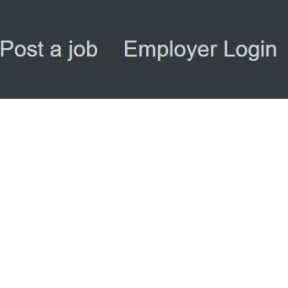 Click on "Employer Login" at the top of the page. If you do not have an account, you can create a new account by clicking on the "Employer Sign Up" button.
1.3
Create your user login.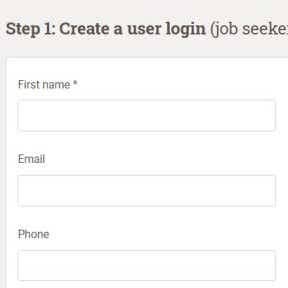 Fill in all your personal details — first and last names, email, title, and contact number — and choose a password. Check the appropriate boxes, then click on "Sign Up."
1.4
Create a company profile.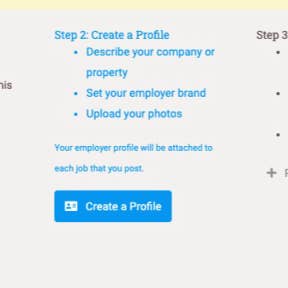 For the second step of your account setup, you'll need to create a profile for your company. Click on the "Create a Profile" button in the center of the screen to initiate the process.
1.5
Enter your company details.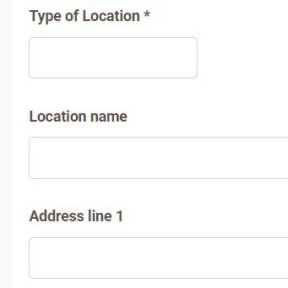 Provide detailed information about your company so potential employees can be well-informed.
Ask employees to weigh in. Employee testimonials can help potential hires better understand your workplace culture and also helps to paint a more attractive picture of your company.
Enter your location and contact details.
Write a company description that outlines your mission statement, training programs, reasons employees should want to work for you, and more. Be sure to mention amenities and notable awards.
Review the information and click on "Save" when you are done.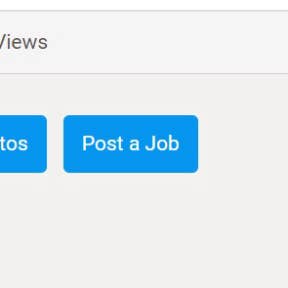 After completing your company profile, you'll be taken to the employer page. Here, click on "Post a Job" toward the right of the page.
You can also edit or delete your employer profile from the employer page. Simply click on "Edit Profile" or "Delete Location" on the black profile banner.
1.7
Enter your job details.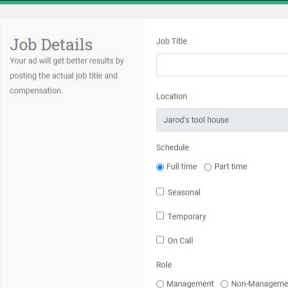 Provide all the details relating to your job post.
The more information you provide about the job, the greater your chances of finding the perfect candidate. Be as detailed as possible without being long-winded.
Enter the job title, location, schedule, pay frequency, etc.
Provide a detailed outline of the role and all its responsibilities.
Click on "Save and Continue" to create an advertisement draft.
1.8
Choose where to post your job ad.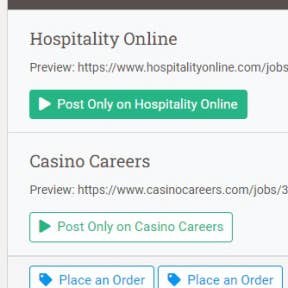 You will then be redirected to the employers where you can choose where to post your job ad. To post on Hospitality Online, click on "Post Only on Hospitality Online." Alternatively, click on "Place an Order" to proceed to the pricing page.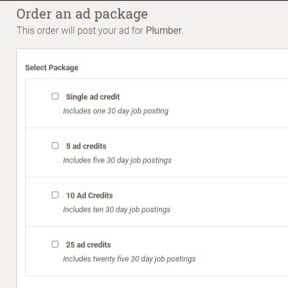 After you have filled in your posting information, you can pay for your post. Hospitality Online offers once-off posting or the opportunity to purchase bundles. Choose an option and pay for your post.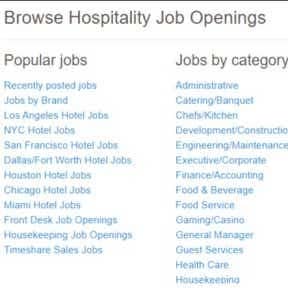 Once payment has been confirmed, you can review your job posting information and create a live ad.
Hospitality Online vs. Caterer.com:
Caterer.com is a great place to find hospitality staff in the U.K. as it receives over 80% of its traffic from local job seekers, compared to Hospitality Online that only has 2% local traffic. Caterer.com is more affordable than Hospitality Online, offers great deals to new customers, and provides access to a database with over 2.9 million CVs.
Hospitality Online vs. HospitalityJobs.com:
Hospitality Online's pricing starts from US$375.00 for a basic job post, while HospitalityJobs.com only charges US$9.99 for a monthly subscription plan that includes job posting, basic applicant tracking, and resume database access. Hospitality Online, however, also features custom-built career sites, an applicant assessment tool, and onboarding.
Hospitality Online vs. HospitalityJobsUK:
Hospitality Online and HospitalityJobsUK have similar offerings, such as company profiles, photo galleries, discounted job bundles, and special recruitment packages. However, HospitalityJobsUK's prices are less than half of Hospitality Online's costs, and you have the added benefits of a local office and contact number.
Key Information
| | |
| --- | --- |
| Legal Name | Hospitality Online, Inc. |
| Founder | |
| Founding Date | Jan 01, 1998 |
| Address | 2601 Fourth Ave., Ste. 450, Seattle, Washington 98121 USA |
| Email | |
| Telephone | |
| Website | |
FAQs:
What is Hospitality Online?
How do I create a Hospitality Online account?
On the Hospitality Online home page, click on the "Employer Login" button and then select Employer Sign Up.
How much does it cost to post a job on Hospitality Online?
Pricing for a 30-day posting costs US$375.00.
Does Hospitality Online assist with hiring and onboarding applicants?
How can I edit a Hospitality Online job posting?
To edit your job postings, click on "Active Jobs" in the drop-down menu, then open the posting that you would like to edit.
Can I track the applicants to my job posts on Hospitality Online?
Yes, Hospitality Online has a tracking feature that helps you to track applicants who apply online.
How can I delete a Hospitality Online job posting?
You can delete a posting by clicking on the box next to the title and then clicking on "delete."
Does Hospitality Online assist with candidate interviews?
What are some Hospitality Online alternatives?