Pricing:
Job postings cost $295.00 for a basic 30-day post. This includes a full employer profile page, social media integration, property branding, email alerts, and printable flyers. Your job is also posted on major job aggregators.
Hospitality Online also offers discounted bundles and unlimited job posting subscriptions, as well as a customer experience package called "CXMpro" with pricing on request. Contact Hospitality Online for more information.
Bulk Job Posting Packages:
| Plan | Pricing |
| --- | --- |
| 5 Ad Credits* | $1,400.00 |
| 10 Ad Credits | $2,700.00 |
| 25 Ad Credits | $5,625.00 |
*All plans include 30-day job postings.
Review:
Hospitality Online is one of the leading hospitality recruitment platforms in the U.S. For job seekers, the site provides a simple and intuitive search option to browse available hospitality jobs by state, category, or popularity.
For employers, Hospitality Online is more than just a job board. It is also a fully integrated onboarding system, applicant tracking system, and candidate management system. While their pricing is high compared to other job boards, every job post includes social media integration, applicant tracking, printable flyers, property branding, and more.
Highlights:
Hospitality Online receives over 75% of its traffic from the U.S. and more than 200,000 monthly visitors.
The site has a global presence, with staff in the U.S., Africa, Indonesia, India, Canada, Europe, and the Middle East.
More than 27,000 hospitality vacancies are listed on the site.
Jobs are grouped by category, state, or popularity, so vacancies are easier to find.
Employers can post to other job boards, such as Craigslist and SnagAJob, with cross-posting features.
The job site provides access to a talent pool comprising hospitality professionals from all over the world.
Employers can enjoy full social media integration, build employer profiles, and brand their company or property.
Applicant tracking includes Indeed Easy Apply that feeds jobs from the site to Indeed, allowing for direct job applications.
Resume archiving and free printed flyers are available.
Employers can design branded email campaigns to market career fairs and increase the visibility of job openings.
Shortcomings:
There is no option to search by country.
The job board is costly compared to other hospitality job boards, such as HospitalityJobs.com.
There are no multilingual options available, which may limit the candidate pool.
Reputation:
We were unable to find any online reviews of Hospitality Online.
How to Post a Job on Hospitality Online: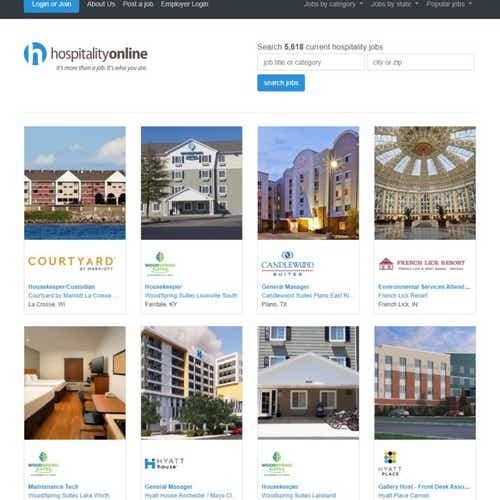 Eleven easy steps for posting a job on Hospitality Online.
1.
Posting a job on Hospitality Online.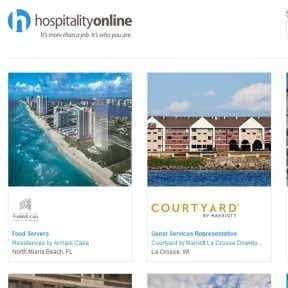 Navigate to the Hospitality Online home page.
1.2
Click "Employer Login."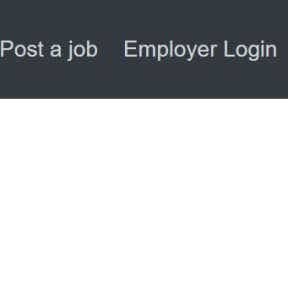 You'll find this on the topmost black banner of the home page.
1.3
Click "Employer Sign Up."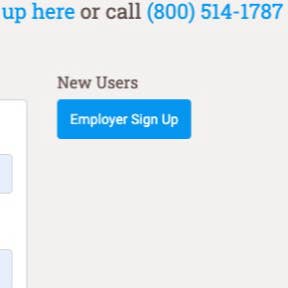 You'll find the sign-up button towards the center of the page, just below "New Users."
1.4
Create your user login.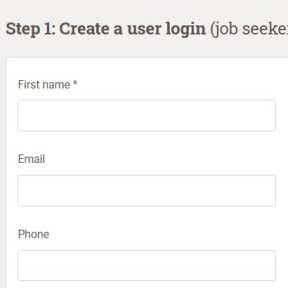 Fill in all your personal details — first and last names, email, title, and contact number — and choose a password. Check the appropriate boxes, then click "Sign Up."
1.5
Create a company profile.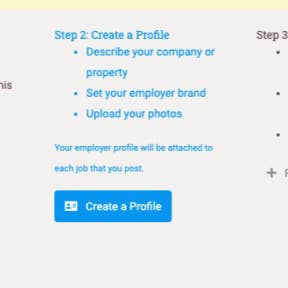 For the second step of your account setup, you'll need to create a profile for your company. Click the "Create a Profile" button in the center of the screen to initiate the process.
1.6
Enter your company details.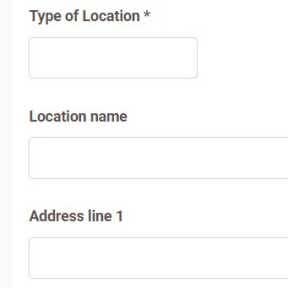 Provide detailed information about your company so potential employees can be well-informed.
Ask employees to weigh in. Employee testimonials can help potential hires better understand your workplace culture and also helps to paint a more attractive picture of your company.
Enter your location and contact details.
Write a company description that outlines your mission statement, training programs, reasons employees should want to work for you, and more. Be sure to mention amenities and notable awards.
Review the information and click "Save" when you are done.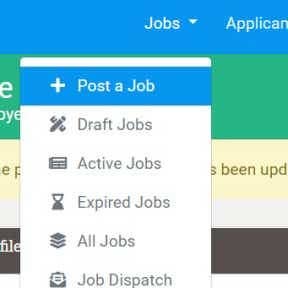 After completing your company profile, you'll be taken to the employer page.
Click "Jobs" from the topmost blue banner.
Select the first option, "+Post a Job."
You can also edit or delete your employer profile from the employer page. Simply click "Edit Profile" or "Delete Location" on the black profile banner.
1.8
Enter your job details.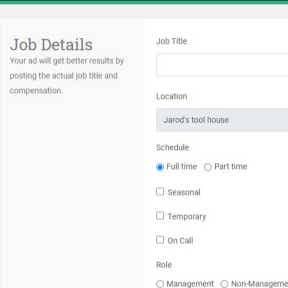 Provide all the details relating to your job post.
The more information you provide about the job, the greater your chances of finding the perfect candidate. Be as detailed as possible without being long-winded.
Enter the job title, location, schedule, pay frequency, etc.
Provide a detailed outline of the role and all its responsibilities.
Click "Save and Continue" to create an advertisement draft.
1.9
Post or share your job advertisement.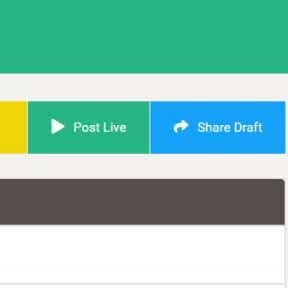 After creating your job advertisement, you will be redirected to your employer page, where a yellow banner will indicate your advertisement draft. To post the ad, click the "Post Live" button or the "Share Draft" button.
The "Share Draft" option allows you to email a preview link of your job advertisement to anyone. This feature comes in handy if you want another staff member to review your posting before it goes live.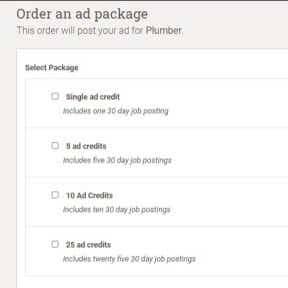 After you have filled in your posting information, you can pay for your post. Hospitality Online offers once-off posting or the opportunity to purchase bundles. Choose an option and pay for your post.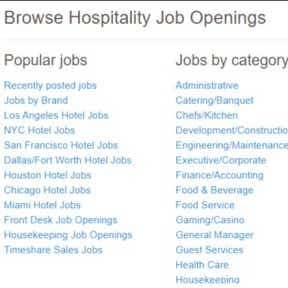 Once payment has been confirmed, you can review your job posting information and create a live ad.
Hospitality Online vs. Hcareers:
Hospitality Online prices start at $295.00 for a basic 30-day job post, while Hcareers charges $249.00 for a single job listing. Hospitality Online syndicates job posts to other job boards, whereas Hcareers features AI-powered candidate matching. Only Hospitality Online offers social media integration.
Hospitality Online vs. HospitalityJobs.com:
Hospitality Online costs start at $295.00 for a basic job post, while HospitalityJobs.com only charges $9.99 for a monthly subscription plan that includes job posting, basic applicant tracking, and resume database access. Hospitality Online, however, also features custom-built career sites, an applicant assessment tool, and onboarding services.
Hospitality Online vs. Indeed:
Hospitality Online charges significantly more for a job post, with prices starting at $295.00 compared to Indeed that offers free global unpromoted job posts and promoted ads that start at only $5.00. Hospitality Online, however, offers employers a dedicated hospitality industry job board with sophisticated recruitment and resume archiving options.
Key Information
| | |
| --- | --- |
| Legal Name | Hospitality Online, Inc. |
| Founder | |
| Founding Date | Jan 01, 1998 |
| Address | 2601 Fourth Ave., Ste. 450, Seattle, WA 98121 |
| Number of Employees | 39 |
| Email | |
| Telephone | |
| Website | |
FAQs:
What is Hospitality Online?
How do I create a Hospitality Online account?
On the Hospitality Online home page, click the "Employer Login" button and then sign up.
How much does it cost to post a job on Hospitality Online?
Pricing for a 30-day posting costs $295.00. Annual subscriptions are available with unlimited postings. Pricing is available on request. Contact Hospitality Online for more information.
Does Hospitality Online assist with hiring and onboarding applicants?
Yes, Hospitality Online has a hiring and onboarding feature that helps you with hiring and onboarding processes.
How can I edit a Hospitality Online job posting?
To edit your job postings, click "Active Jobs" in the drop-down menu on your dashboard, then open the posting that you would like to edit.
Can I track the applicants to my job posts on Hospitality Online?
Yes, Hospitality Online has a tracking feature that helps you to track applicants who apply online.
How can I delete a Hospitality Online job posting?
You can delete a posting by clicking the box next to the job title and then clicking "delete."
Does Hospitality Online assist with candidate interviews?
What are some Hospitality Online alternatives?