Pricing:
| Plan | Pricing |
| --- | --- |
| General Listing | £150.00 +VAT |
| Premium Job | £250.00 +VAT |
| Enhanced Branded Advert | £350.00 +VAT |
| Promoted Job | £350.00 +VAT |
| Nationwide Top Job | £495.00 +VAT |
| Keyword Sponsored Job | £495.00 +VAT |
| Featured Homepage Advert | £500.00 +VAT |
| Premium Keyword Sponsored Job | £995.00 +VAT |
| CV Database Access | £1,000.00 +VAT |
Bundle Pricing:
| Plan | Pricing |
| --- | --- |
| 3 x General Listing | £360.00 +VAT |
| 5 x General Listing | £500.00 +VAT |
| 10 x General Listing | £750.00 +VAT |
| 30 x General Listing | £1,650.00 +VAT |
| 60 x General Listing | £2,700.00 +VAT |
| 100 x General Listing | £3,500.00 +VAT |
Review:
Chefjobs is a targeted job board that advertises chef positions throughout the U.K. Talented professional chefs and recent graduates use Chefjobs to locate available jobs in their profession and preferred location, while employers from across the U.K. use the job board to advertise niche chef positions and source new candidates.
Pros:
Chefjobs claims that the site receives over 16,000 daily visits.
All job ads are posted for 28 days.
Employers can filter their applications with screening options.
Chefjobs offers a range of job posting packages that will suit the needs of small to large businesses.
Employers are able to post job ads in a niche field, track progress and applicants, source new candidates, and download CVs.
Downloaded CVs can be accessed from any device.
Employers have the option of creating and customizing visual branded adverts using promotional photographs, videos, and maps.
Chefjobs offers access to over 1.2 million registered job seekers.
Reputable organizations that use Chefjobs for recruitment include Starbucks, British Airways, Morrisons, Eton College, Hakkasan Group, and the Frasers Group.
Cons:
The additional customization features cost extra.
Compared to competitors like Caterer.com and Totaljobs, Chefjobs is the more costly option.
If employers want their job ad to appear nationwide, it will cost extra.
Compared to competitors, access to Chefjob's CV database is costly.
Customer support is only available via email and trading hours are not stipulated on the website.
Reputation:
We were unable to find customer reviews of Chefjobs online.
How to Post a Job Ad on Chefjobs: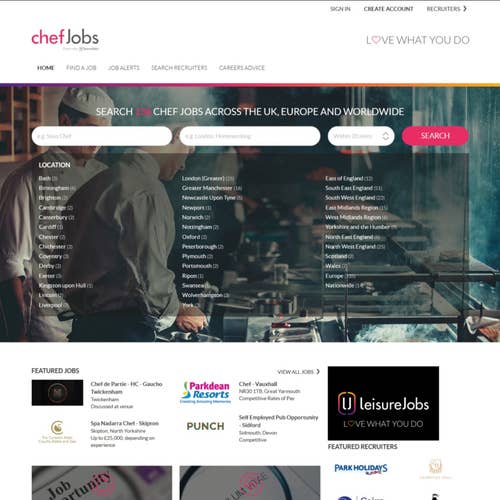 A step-by-step guide on how to post a job ad on Chefjobs.
1.
Posting a Job ad on Chefjobs.
1.1
Go to the "Recruiters" page.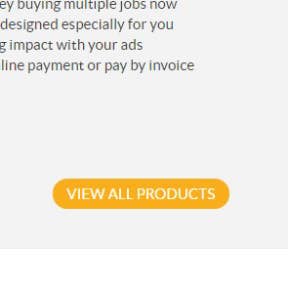 Navigate to the Chefjobs home page and click on "RECRUITERS" in the top-right corner. Once you're directed to the Recruiters page, browse through the information and click on "VIEW ALL PRODUCTS" or "PRICING" in the menu.
1.2
Choose a job posting plan.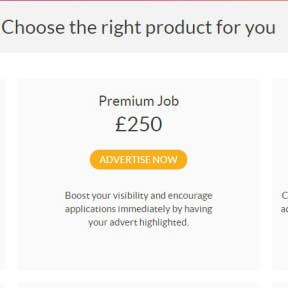 On the Pricing page, you can read through all the available job posting plans, including bundles and featured-advertising options. Once you've found the plan that suits your needs, click on "ADVERTISE NOW" under the plan's name.
1.3
Create an employers account.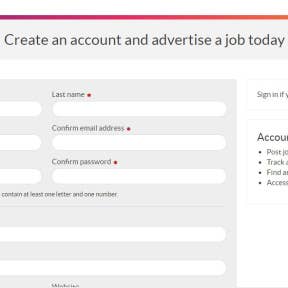 Before you can complete your job ad description, you'll need to create an employers/recruiters account with Chefjobs. After choosing your plan, you'll be directed to an account registration form. Complete this form and click on "SAVE AND CONTINUE."
1.4
Complete your job description.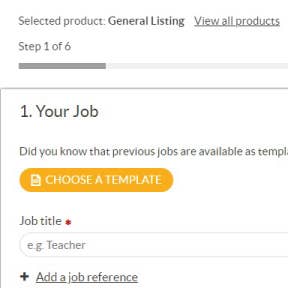 When your account is verified, you will immediately be logged in and directed to the job description form. Complete the job posting process, which should involve writing a job description, applying personal settings to the ad, and making payment. There are six steps that need to be completed before you can make payment.
For the best results, make sure that you preview your job ad before publishing it.
1.5
Make the payment and publish your ad.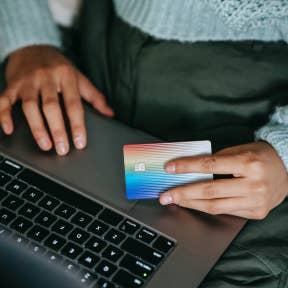 When you've completed the job description process, you'll need to add your billing and credit card information to finalize the payment. Once this is done, your ad will be published.
Chefjobs vs. Caterer.com:
Chefjobs has a higher starting price than Caterer.com, which offers posting options starting from £49.00 +VAT. Unlike Chefjobs, Caterer.com's target market includes chef positions and more, making it the ideal fit for those looking to reach a bigger market.
Chefjobs vs. Just Chefs:
Chefjobs and Just Chefs differ in that while the former is a job board, Just Chefs is a recruitment site where employers leave all recruitment duties to their team. Subsequently, Just Chefs may not suit employers looking for a hands-on approach. Chefjobs charges £150.00 per post, but it charges extra for nationwide exposure.
Chefjobs vs. Indeed:
Indeed offers an international reach and it's completely free, whereas Chefjobs charges £150.00 for its entry-level plan and only advertises chef positions in the U.K. However, for employers looking to fill chef positions fast, Chefjobs stands out as the better option. Chefjobs also offers a comprehensive CV database and applicant tracking tools.
Key Information
| | |
| --- | --- |
| Legal Name | Leisurejobs Group |
| Founder | |
| Founding Date | Jan 01, 1997 |
| Address | 12-14 Cloisters House, 8 Battersea Park Rd., London SW8 4BG |
| Email | |
| Website | |
FAQs:
How much does Chefjobs cost?
Job posting prices on Chefjobs range between £150.00 and £995.00, depending on the package you choose.
How do I create a recruiters account on Chefjobs?
Go to chefjobs.co.uk and click on "RECRUITERS" in the top-right corner.
On the Recruiters page, click on "CREATE AN ACCOUNT" in the right corner.
Complete the registration form and click on "SAVE AND CONTINUE."
What are some Chefjobs alternatives?