Pricing:
| Plan | Pricing |
| --- | --- |
| 1 Job Credit | US$199.00 |
| 1 Priority Job Credit | US$299.00 |
| 2 Job Credits | US$335.00 |
| 3 Job Credits | US$477.00 |
| 5 Job Credits | US$695.00 |
| 10 Job Credits | US$995.00 |
| Premium Profile | US$1,200.00 /yr. |
| Custom packages | Contact for quote.* |
*For tailored solutions, bulk packs, premium profiles, microsites, and global advertising solutions, get in touch with them.
Review:
Founded in 2013, Global Medical Careers offers recruitment solutions to those in search of staff in the medical or science fields. They are operational in 52 countries, and vacancies for doctors, nurses, support staff, managers, HR specialists, and more, are listed on the job board. They offer tailored solutions and a variety of price plans.
The U.K. is among the top three countries to use the job board and they receive the fourth-highest number of applicants from this region, too. Their physical location in the U.K. gives the job board a permanent foothold in the country. At the time of writing, around 200 local jobs were listed, including opportunities in the U.K.'s aged care industry.
Pros:
This is a trusted job board with partners such as Careerjet, Carter Wellington, Google Careers, and ZipRecruiter.
Friendly customer service agents get back to you within a day or a few hours of making an inquiry.
An applicant tracking system (ATS) makes it easier to manage applications and candidates.
Job listings are syndicated to a variety of job boards within the careers.global network, including medical, pharma, life sciences, academic, and more.
Employers can create automated screening questionnaires with passing scores to narrow down the applicant pool.
There is a local office and contact number.
Branded advertising templates are available, ensuring professional-looking job posts.
Custom packages are available to employers who have specific recruitment needs.
The job site specializes in inbound and outbound recruiting, helping you target both active and passive candidates.
Employers may submit an XML feed of their jobs to effortlessly export vacancies to the job board.
Cons:
The site is tricky to navigate and the filters don't allow for all U.K. vacancies to be displayed at the same time.
Global Medical Careers does not offer a free trial or free posting plans.
There is no resume database.
Pricing is only available in U.S. Dollars.
Reputation:
At the time of writing we could not find any online reviews, but the NHS (National Health Service), a trusted, world-class health organization, uses this job board to post vacancies, so it's safe to assume they're a reliable platform.
How to Post a Job on Global Medical Careers: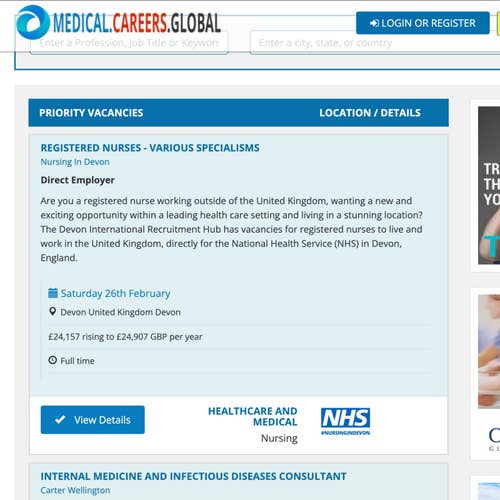 Thirteen easy steps for posting a job on Global Medical Careers.
1.
Posting a Job on Global Medical Careers.
1.1
Visit the Global Medical Careers home page.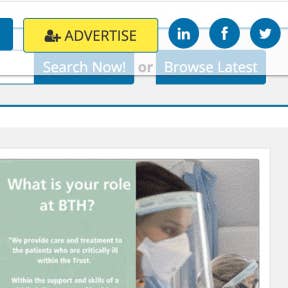 Navigate to the Global Medical Careers home page and click on the yellow "ADVERTISE" button in the top-right.
1.2
Create an advertiser account.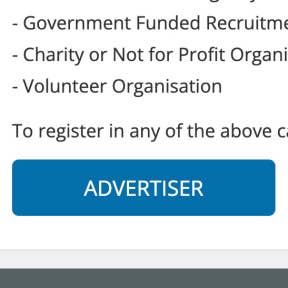 Scroll to the bottom of the page and click on the "ADVERTISER" button beneath the heading "Create Your Account As An Advertiser."
1.3
Complete your employer registration.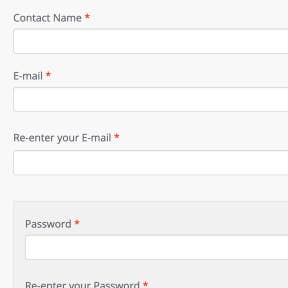 Fill in all the fields marked with the red asterisk, type the text displayed in the image box, check the Terms of Use box, then click on "Continue."
If you are using a gmail account, you may experience issues when registering. Use an alternate email account, if possible.
1.4
Activate your account.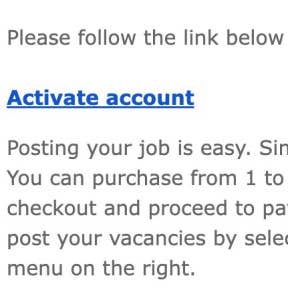 Once you have successfully completed your employer registration, you'll receive an email with an account activation link. Click on "Activate account" so you can access all the features available to you. You will be redirected to the website, where you can now access your dashboard, post jobs, and manage your account.
After your account activation, you'll be sent a welcome email with your account details and instructions on how to use the site. Keep this safe for your records.
1.5
Access your dashboard.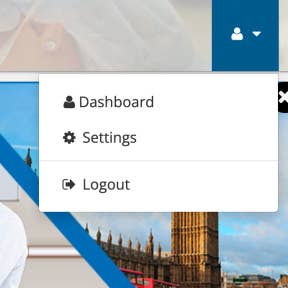 Now that you're logged in, click on the black icon in the right-hand corner of the screen. From the drop-down menu, select "Dashboard."
1.6
Click on "Manage jobs."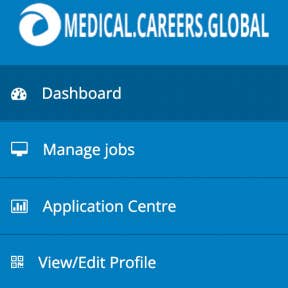 On the left-hand side of your dashboard, click on "Manage Jobs."
1.7
Click on "Post New Job."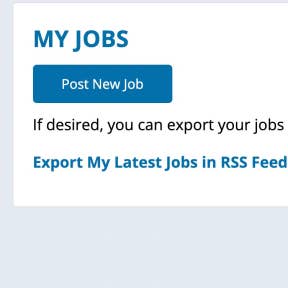 Click on the blue "Post New Job" button below the heading "MY JOBS."
If you display your jobs directly on your website, you can send your existing feed to Global Medical Careers by creating an XML feed. Feel free to reach out if you've got questions.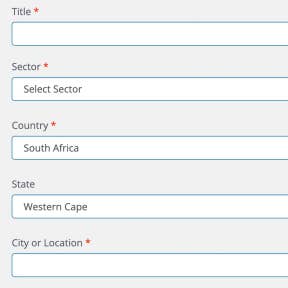 Fill in the online form with all the details of your job vacancy. Include the title, sector, country, and more. When you are done, click on the red "CHOOSE TEMPLATE" button to select the design that best complements your job ad. Then click on "PREVIEW" to view your job ad the way it will appear on the website.
Scroll down and select "Edit This Job" to make changes to your listing.
1.9
Purchase your posting.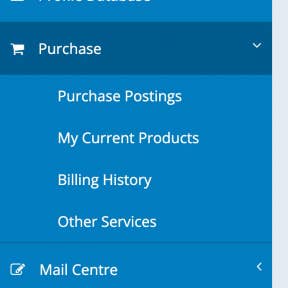 Return to your dashboard, and click on "Purchase" from the menu on the left, then click on "Purchase Postings."
1.10
Select your package.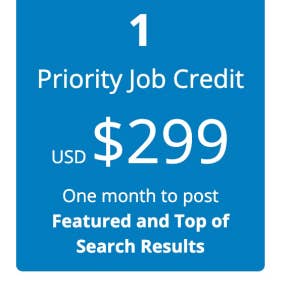 Click on your preferred package or get in touch with them for a tailored plan.
1.11
Read through the listing details.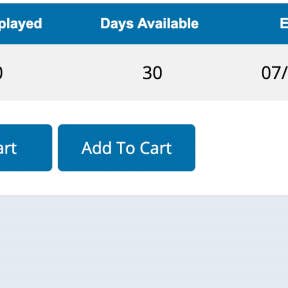 Carefully read through the specifics of the listing you're purchasing. If you are happy, click "Add To Cart."
1.12
Click on "Secure Checkout."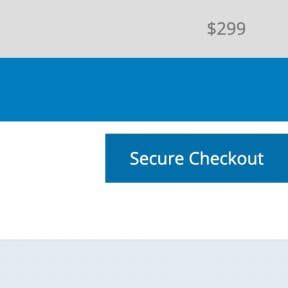 Verify the contents of your cart, and click on "Secure Checkout" when you're ready.
1.13
Pay for your posting.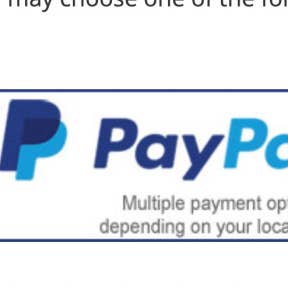 Click on your preferred payment option. Choose between "PayPal" and "Request an Invoice."
Once you've entered your details and completed your payment, you will be able to post your listing to the site.
Global Medical Careers vs. HealthJobsUK.com:
HealthJobsUK.com is a great choice for hiring local as over 85% of site traffic comes from the U.K., while Global Medical Careers gets most of its traffic from Saudi Arabia. Global Medical Careers allows clients to purchase listings from the site and post jobs directly, while HealthJobsUK.com has an agent who manages this.
Global Medical Careers vs. Jobs4Medical:
Jobs4Medical is a job board that lists thousands more local vacancies than Global Medical Careers. Both have a global reach, but Jobs4Medical focuses on the U.K., making it ideal for hiring local. Employers who prefer more control over their account should consider Global Medical Careers as Jobs4Medical relies on agents to post and manage listings.
Global Medical Careers vs. BMJCareers:
BMJCareers focuses on a U.K. market and has hundreds more local vacancies on their site. BMJCareers also gets more U.K. traffic, so unless employers are trying to attract international talent, they should probably opt for BMJCareers. Listings cost more with BMJCareers, but their pool of local talent is larger than Global Medical Careers.
Key Information
| | |
| --- | --- |
| Legal Name | Global Career Networks Pte Ltd |
| Founder | |
| Founding Date | Jun 01, 2013 |
| Address | 30 Victoria Terr., Addingham LS29 0NF |
| Email | |
| Telephone | |
| Website | |