Pricing:
Startupers does not charge employers to post jobs on their site. However, Startupers encourages users to sponsor the job board.
Review:
Startupers is a completely free job posting site that's predominantly used by those looking to enter the tech field. Here, employers have free rein to upload job ads for various positions, including accounting associates, analysts, and app developers.
For job seekers, Startupers can help you discover entry-level and/or junior jobs in startup hubs like San Francisco and Silicon Valley. Employers and job seekers are not required to create an account to utilize the job board.
Pros:
Startupers is a completely free job posting site.
All job posts are reviewed by a human being to eliminate spam and false information.
The platform serves as a great location to source remote, freelance, and/or full-time employees.
The job posting process is easy to navigate and employers are not required to register an account.
Startupers is used by reputable companies such as Airbnb, Coinbase, Dataiku, and DocuSign, to name a few.
Customer support is available via telephone and email.
Cons:
Startupers primarily caters to those in the tech industry.
There are no language translation features.
Customer support hours are not disclosed on the website.
Startupers lacks robust tools that cater to remote employers, such as video conferencing and live chat.
In order to post a job, you'll need an applicant tracking system.
Startupers does not have the best reach and it lacks advanced features like analytics and enhanced employer branding.
Reputation:
We were unable to find any online reviews of Startupers.
How to Post a Job on Startupers: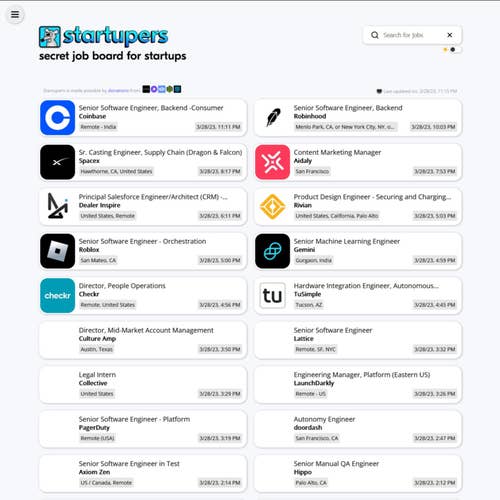 Two easy steps for posting a job on Startupers.
1.
Posting a job on Startupers.
1.1
Navigate to the Startupers home page.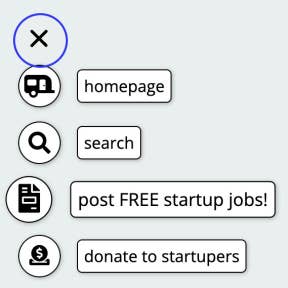 From the home page, click on the menu icon in the top-left corner of the page and select "post FREE startup jobs!" from the menu.
1.2
Complete the submission form.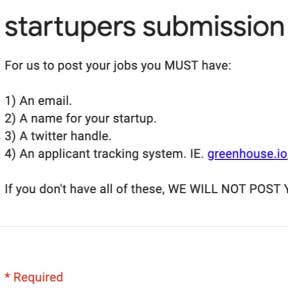 Fill out the online form with some basic information about your company, applicant tracking system, and industry buzzword. Once Startupers has approved your submission, they will contact you regarding your job post.
Users have the option to donate to the Startupers toward the bottom of the page.
Startupers vs. TechFetch:
Both Startupers and TechFetch are job boards aimed at careers in IT and technology. While Startupers focuses on junior or startup jobs, TechFetch is a high-traffic site that advertises both entry-level and senior positions. However, Startupers is completely free, whereas TechFetch's pricing starts at $1,799.00 per year for 500 posts.
Startupers vs. Dice:
Dice and Startupers are niche job boards that cater to employers in the tech field. However, that's where the similarities end. While Dice is a popular job board, it does not offer a free plan, and employers can expect to pay between $250.00 and $395.00 per job post. Unlike Dice, Startupers is 100% free to use, but it mostly caters to startups.
Startupers vs. Wellfound:
Startupers and Wellfound have very similar objectives. They're both free job boards that are dedicated to connecting startups with talented tech professionals. However, Wellfound's U.S. reach is more extensive, promising better results. But unlike Wellfound, Startupers is the best source for those looking to employ remote workers.
Key Information
| | |
| --- | --- |
| Legal Name | Startupers Inc. |
| Founder | |
| Founding Date | Jun 21, 2006 |
| Address | 60 29th St., #605, San Francisco, CA 94110 |
| Email | |
| Telephone | |
| Website | |
FAQs:
What is Startupers?
Startupers is a free job posting site that predominately caters to those in the startup tech industry.
What does it cost to post a job on Startupers?
Startupers does not charge employers to post jobs on their site. However, Startupers encourages users to sponsor the job board.
How do I create a Startupers account?
Startupers does not offer employer or job seeker accounts.
Where is Startupers located?
Startupers' headquarters is based in San Francisco, California.
How can I edit a Startupers job posting?
Are there any sites that are similar to Startupers?