While the demand for qualified tradespeople, including electricians, is projected to increase at a steady pace to keep up with the needs of a growing population and economy, the talent pool of skilled laborers has, over the years, seen a steady decline. This has made finding electricians with the necessary skills and experience an increasingly challenging task.
Special Offer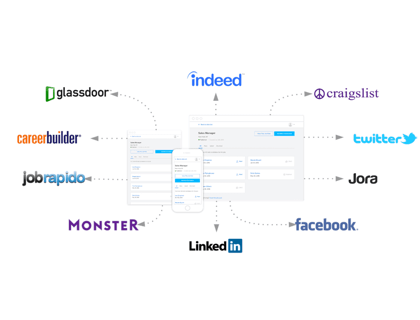 Post Jobs for FREE
Completely free trial, no card required.
Reach over 150 million candidates.
How to Hire an Electrician:
1. Create a job post.
Define the skills you need and the minimum qualifications you expect of candidates, as well as the qualities you want your new team member to possess. Essentially, you want to find a licensed electrician who has the technical skills to deliver high-quality work, but who is also a pleasure to work with, interacts well with customers, and will fit in well with your company culture. They should know the local building and electrical codes.
It might take some time to find an electrician who meets your specific needs, especially if you are looking for someone with several years of experience working on commercial buildings and large-scale electrical projects. In general, employers struggle to find qualified electricians with more than ten years of experience.
Once you know what you are looking for in your new employee, ask yourself what the ideal candidate looks for in a job and employer. As the demand for qualified and experienced electricians increases, potential candidates will look for job offers with attractive benefits, including potentially high wages.
The nature of the job exposes electricians to many risks and demands great physical stamina as they are often required to work outdoors, exposing them to extreme temperatures, at great heights, or in cramped spaces. In addition, full-time schedules often require them to work in the evening or on weekends, with overtime being common across the industry. Be sure to clearly define what working conditions applicants can expect and what you offer to make this worth their while, such as comprehensive benefits, paid overtime, a signing bonus, and generous vacation days.
Start your job description with a short paragraph introducing your company along with its top-selling points, followed by a brief description of the position you are looking to fill. You'll want to really sell it, so be sure to mention what makes it an attractive offer. After this, list the duties and responsibilities of the role, as well as the minimum requirements.
2. Post your job.
Start by posting to general job boards to reach as many candidates as possible. Indeed is a great place to start off with as it receives large amounts of traffic and allows for free regular job postings. CareerBuilder is another great option, being among the most trafficked job sites in the U.S. You'll also want to make sure that your job post is picked up by Google for Jobs so that jobseekers using Google to search for jobs will see your post in their search results.
If you're not having much success with the general job posting sites, you can also look into using industry-specific job boards, such as SkilledTrades.com or Nexstar Network. This offers a greater chance of suitably qualified candidates seeing your post.
3. Screen your applicants.
An easy way to filter out unsuitable applications is by using a resume parser, especially if you have a large number of applications to process.
You can also send applicants a short email or give them a quick phone call to ask them a few basic questions, such as:
How long have you worked as an electrician?
Do you have a valid electrician license?
Are you willing to travel for work?
Do you have a valid driver's license?
This way, candidates cannot ignore your questions and you'll be able to filter out unsuitable applicants.
4. Conduct a phone interview.
Arrange phone interviews to learn a bit more about the applicants and to determine which of them you will want to invite for an in-person interview. During these interviews, ask candidates to describe their training and experience as an electrician, review the screening questions to see if their answers are consistent, and find out why they left their previous job.
You'll also want to inquire about their expectations when it comes to their daily duties and responsibilities, the working conditions and hours, as well as their salary and benefits expectations. This will help you determine whether you can meet the candidate's expectations or if they won't be a good fit at your company.
Example questions:
Can you tell me a little about your training?
Can you describe the different types of projects you've worked on?
Why did you leave your last place of employment?
What do you expect a typical day as an electrician at our business will look like?
What do you expect in terms of compensation and benefits?
How do you feel about working on weekends and doing call outs at odd hours?
5. Do a test.
A great way to test whether a candidate has the basic skills required is to invite them to do a hands-on test, such as having them trace and locate faults on different resistance starters.
6. Conduct an in-person interview.
Now that you have most of the information you need, you'll want to get to know promising candidates in-person and find out what it might be like to work with them. Schedule an in-person interview during which you'll introduce them to some of your employees and see what impression the candidate makes on them.
It makes sense to combine this interview with a hands-on assessment of the candidate's skills as suggested in the previous step. When they are demonstrating their abilities, pay attention to the way they work. Are they very precise? Do they approach the task in a clean and structured manner? Are they complying with safety standards?
Example interview questions:
What is the most difficult electrical installation you've done?
How do you deal with difficult and demanding clients?
Do you prefer working alone or in a team?
Why would you like to work for us?
If you need more ideas, see our electrician interview questions.
7. Make an offer.
Once you've made a decision as to the candidate you would like to join your company, you'll want to let them know fairly quickly as good candidates are likely to be snapped up by competitors. This is usually done by giving them a short, informal phone call to tell them that you want to offer them the position, followed by an email or mail containing a formal job offer.
FAQs:
Where can I find a good electrician?
What should I look for when I hire an electrician?
Technical certification or licensing.
Troubleshooting skills.
Physical stamina.
Communication and customer service skills.
Time management skills.
Attention to detail.