Engineers apply mathematical and scientific principles to solve complex technical problems. A great engineering resume outlines the candidate's practical background and education and should highlight notable achievements as well as the specific skills and expertise that demonstrate the candidate's suitability for the position.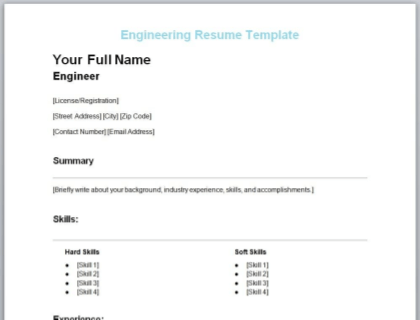 Engineering Resume - Free Template Download
Download this engineering resume template in Microsoft Word format.
Engineering Resume Example:
Your Full Name
Engineer
[License/Registration]
[Street Address] [City] [Zip Code]
Summary:
[Briefly write about your background, industry experience, skills, and accomplishments.]
Skills:
[List hard and soft skills]
Experience:
Company Name / Job Title Month 20XX - Present, Location
[List key responsibilities and achievements.]
Company Name / Job Title Month 20XX - Month 20XX, Location
[List key responsibilities and achievements.]
Company Name / Job Title Month 20XX - Month 20XX, Location
[List key responsibilities and achievements.]
Education:
School Name / Degree Month 20XX - Month 20XX, Location
School Name / Degree Month 20XX - Month 20XX, Location
Licensure:
Certifications:
[Certification 1]
[Certification 2]
Accomplishments:
[Accomplishment 1]
[Accomplishment 2]
[Accomplishment 3]
How to Write an Engineering Resume:
1. Write a summary.
Your summary should convey the key skills and experience you offer that make you suitable for the position in question. Highlight your expertise and specialty by including details of your most notable accomplishments.
2. List your hard and soft skills.
Along with the technical skills and abilities you have developed and nurtured as an engineer, you should also add soft skills that are particularly relevant to the position. Engineers are often required to have good team and project management skills, along with good communication, collaboration, problem-solving, and time management skills.
3. Add your professional experience.
List all the jobs you have had by date and place in reverse chronological order. Describe the key responsibilities you had in each role. Include and indicate how you contributed to the success of each project.
You can tailor the list of responsibilities to the job description of the role you are applying for by highlighting specific projects you worked on that demonstrate your capabilities and the key skills they are looking for. For example, if the job description includes "troubleshoot issues in production processes and recommend improvements," you'll want to include any experience you have in identifying and resolving technical problems and draw attention to projects and processes that you improved.
4. Add your education.
In the education section of your resume, list your highest qualification first along with the name of the educational institution you attended and the dates of attendance. If you are currently studying, add "in progress" ahead of the dates.
5. Add your licensure.
List the professional organizations and licensed bodies you are registered with as a professional engineer. If you are a licensed engineer in more than one state, list each of these separately.
6. Add your certifications.
List any certifications you have to perform work in accordance with national and international codes and standards. Certifications show prospective employers that you have advanced knowledge in a specialty area, such as coastal engineering or energy management, and can give you a competitive edge.
7. Add your accomplishments.
List any achievements you are particularly proud of. This might be an award for excellence by an industry body, notable projects, or instances in which your work yielded impressive results.
FAQs:
What should be on an engineering resume?
What are some engineering skills?
Design
Analysis.
Statistics.
Problem-solving.
Communication.
Project management.
How long should an engineering resume be?
How long an engineering resume should be will depend on the engineer's experience. If you have multiple years of experience and have worked for different companies and on a variety of projects, it is perfectly acceptable for your resume to extend beyond one page. The resume of an engineer with more than 10 or 20 years of experience will often extend beyond five pages.