Engineering job posting sites are used by engineering firms and other employers to reach out to potential applicants in this very in-demand field.
Our list of sites for engineering job ads will help you find help faster, whether you're hiring a civil engineer, mechanical engineer, electrical engineer, chemical engineer, software engineer, or other position in this field.
Special Offer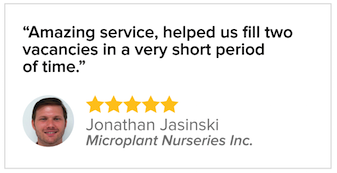 Post Jobs for FREE
Completely free trial, no card required.
Reach over 150 million candidates.
Where to Post Engineering Jobs:
| Our Rank | Site Name | Posting Options |
| --- | --- | --- |
| 1. | | Free and paid options. |
| 2. | | Free. |
| 3. | | Free and paid options. |
| 4. | | Free. |
| 5. | | Paid, starting at $295.00. |
| 6. | | Paid, starting at $70.00. |
| 7. | | Paid, starting at $295.00. |
| 8. | | Paid, starting at $395.00. |
| 9 | | Paid, starting at $199.00. |
| 10. | | Paid, starting at $275.00. |
FAQs:
What are the job boards for mechanical engineering jobs?
You'll probably want to start with the American Society of Mechanical Engineers site. Beyond that, the best job sites can change by region. Talk to the best mechanical engineers you know and ask what sites they use.
See our full list of engineer job boards for more ideas.
How can I get a better response to my software engineer job ads?
If your pay and benefits are in line with market rates, often what's holding you back is a compelling job post. Figure out what makes your job and your company great and write your software engineer job description with a focus on that. Act as if they're a customer you're trying to sell on your company.
What are the best sites for civil engineer job adverts?
CivilEngineerCentral.com is a good place to start for a civil engineering job ad. A job ad there starts at $149.00. You'll also want to consider free job posting sites such as Indeed that reach a large audience. Finally, look for forums where civil engineers go online and consider listing your civil engineer job with them.
What are the best sites for electrical engineering job ads?
What are your recommended sites for biomedical engineering job posts?
Which sites are best for aerospace engineering job ads?
What tips do you have for chemical engineering job ads that get results?
Talk to your employees and ask them what would make other chemical engineers want to work at your company. Also, go to Glassdoor and see what negatives chemical engineers list at other companies that could be positives at yours. Take this info and use it to write a job post that focuses on why people should want to work at your company.