At-a-Glance:
| Feature | CbusJobs.com |
| --- | --- |
| Price | $69.00 - $229.00 /post. |
| Free offer | x |
| Bulk discounts | ✔ |
| Post duration | 60 days. |
| Partner website syndication. | ✔ |
| Customer support | Email |
Review:
To date, over 14,500 jobs have been posted on CbusJobs.com and the site claims to have more than 10,500 users. The site offers employers a number of hiring features, such as partner website syndication, a discounted bulk job posting plan, and 60-day listings, to help streamline the recruitment process.
Although the platform is a good option for local employers, its Facebook page has not been updated since 2015, and there is no free job posing options. However, the site does offer a number of helpful news articles for both employers and job seekers.
Pros:
CbusJobs.com is a local job board that offers employers a targeted approach to recruitment.
If employers are not 100% satisfied, CbusJobs.com will either repost job ads for free or offer a full refund.
Roughly 87% of the site's traffic comes from Ohio and neighboring states, giving employers access to local talent.
Employers can post part-time, full-time, internships, freelance, and contract positions.
Job posts are syndicated to CbusJob.com's partner website for increased visibility.
Nonprofits and small businesses qualify for a discounted job posting rate.
Employers enjoy a discounted price with the bulk job posting plan.
Job posts are active for 60 days.
CbusJobs.com is more affordable than competitors, such as OhioJobNetwork.com and OhioJobBoard.com.
Cons:
There is no free job posting option.
Although job posts are shared to CbusJobs.com's Facebook page, the last post was in 2015.
The website is slow and the online contact form can be troublesome.
Reputation:
The website does feature a number of testimonials from satisfied customers, with job seekers praising the speed, efficiency, and customer service of the platform.
CbusJobs.com Pricing:
| Plan | Pricing |
| --- | --- |
| Non-Profits & Small Businesses | $69.00 /post. |
| Medium & Large Corporations | $229.00 /post. |
| Value Pack (10 Job Posts) | $1,832.00 |
How to Post a Job on CbusJobs.com: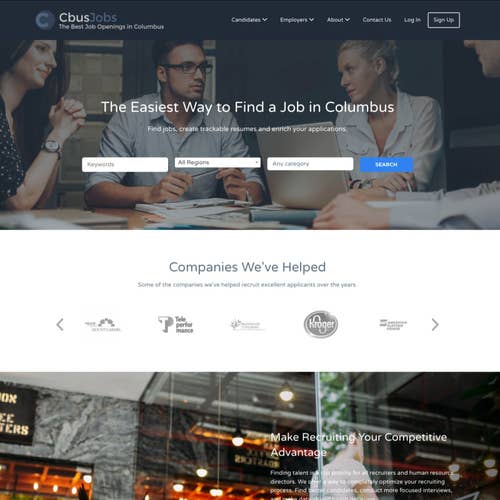 Five easy steps for posting a job on CbusJobs.com.
1.
Posting a job on CbusJobs.com.
1.1
Navigate to the CbusJobs.com home page.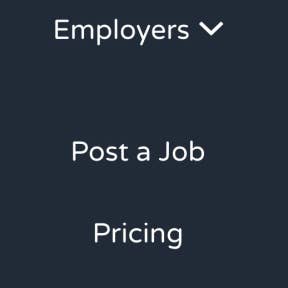 From the home page, hover over the "Employers" tab in the top menu bar and select "Post a Job" from the drop-down menu.
1.2
Choose a job posting plan.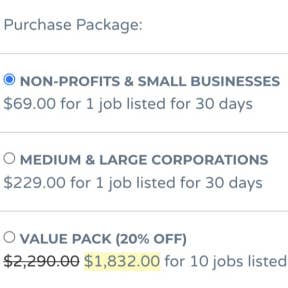 Select a job posting plan that best suits your hiring needs by checking the corresponding box. Then, click on "LISTING DETAILS."
1.3
Create your job post.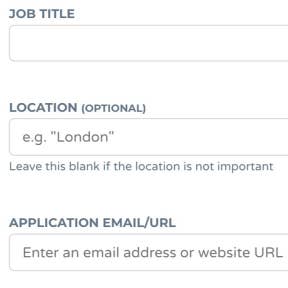 Fill out the online form with your details. Start by adding your email and password. Then, scroll down and fill out the online form with your vacancy details.
1.4
Review your job post.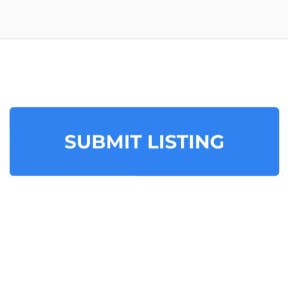 Click on "PREVIEW" toward the bottom of the page to see how your job post will appear on the CbusJobs.com website. Review the post for accuracy and click on "SUBMIT LISTING."
If you want to complete your job post at a later stage, click on "SAVE DRAFT" toward the bottom of the page.
To make any changes to your job post, click on "EDIT LISTING."
1.5
Complete the payment and post your job.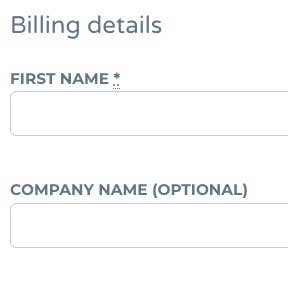 Fill out the form with your billing details. Review your order and select a payment method. Then, click on "PLACE ORDER" or "PROCEED TO PAYPAL" to complete the payment process.
If you have a coupon code, you can enter it on this page.
Once the payment is complete, you job post will be added to the CbusJobs.com website.
CbusJobs.com vs. LinkedIn:
LinkedIn is the world's largest professional social network and gives employers access to a global audience of professionals. By contrast, CusJobs.com has a smaller reach but targets a more specific audience of local professionals, which may make it the better platform for employers in the state of Ohio and surrounding regions.
CbusJobs.com vs. OhioJobNetwork.com:
Like CbusJobs.com, OhioJobNetwork.com targets the local job market in Ohio. CbusJobs.com has a slightly more specific focus in the city of Columbus, but does cater to the whole state and surrounding regions. CbusJobs.com is the more affordable platform for employers on a tight budget.
CbusJobs.com vs. OhioJobBoard.com:
Both OhioJobBoard.com and CbusJobs.com syndicate job posts to partner websites and job boards for increased visibility. CbusJobs.com has a more modern user interface and charges $69.00 for a single job post, whereas OhioJobBoard.com costs $79.00 per job post, making the former slightly more budget-friendly.
Key Information
| | |
| --- | --- |
| Legal Name | CbusJobs.com |
| Address | 605 N. High St., Columbus, Ohio 43215 |
| Email | |
| Website | |