At-a-Glance:
| Feature | Paralegaljobs.ca |
| --- | --- |
| Starting price | From C$325.00 +tax /post or C$0.35 +tax /click. |
| Free offer | x |
| Bulk discounts available | ✔ |
| Searchable resume database | x |
| Job ads are shared on social media | ✔ |
| Supported languages | English and French. |
| Customer support | Phone and email. |
Review:
Paralegaljobs.ca is a job board that targets paralegal professionals in several industries. It has nearly 4,000 monthly visitors who use the platform to either post jobs, find new employment opportunities, or get information and resources relating to the paralegal profession.
The site is run by Jobs.ca, a Canadian job board network that is comprised of over 20 niche job boards catering to specific types of work. Paralegaljobs.ca adds to its offering by creating a central job posting platform and resource hub for new and experienced paralegal personnel across the country.
Pros:
Jobs.ca allows employers to use their credits across all 21 network sites.
The site supports both English and French, and also allows jobs to be created in both languages.
The platform offers a single account to access the entire Jobs.ca network, including Paralegaljobs.ca.
Job ads are distributed via email and on social media.
Employer branding features include banner ads and company logos.
Job postings on employers' career pages can be syndicated to relevant Jobs.ca job boards with the pay-per-click plan.
Employers can easily manage their postings from a simple online dashboard.
Job credits purchased through the platform never expire.
Cons:
The job site does not offer an applicant tracking system or a searchable resume database.
There are no free job posting options.
Reputation:
We were unable to find any online reviews of Paralegaljobs.ca.
Pricing:
| Plan | Pricing |
| --- | --- |
| Single Job Post | C$325.00 |
| 3 Job Postings | C$877.50 |
| 5 Job Postings | C$1,430.00 |
| 10 Job Postings | C$2,762.50 |
| 25 Job Postings | C$6,500.00 |
| 50 Job Postings | C$12,187.50 |
| 100 Job Postings | C$22,750.00 |
| Pay-Per-Click | C$0.35 /click. |
| Add-On: Featured Posting for 5 Days | C$125.00 |
| Add-On: Duplicate Your Posting | C$125.00 /site. |
| Add-On: Back on Top of the List | C$125.00 |
How to Post a Job on Paralegaljobs.ca: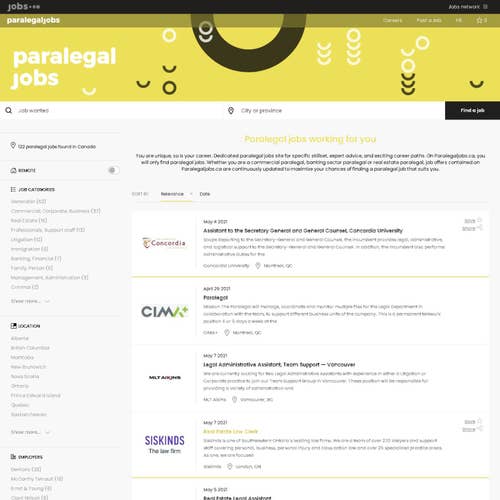 Seven easy steps for posting a job on Paralegaljobs.ca.
1.
Posting a job on Paralegaljobs.ca.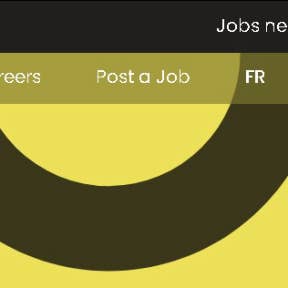 Go to the Paralegaljobs.ca home page. Click on "Post a Job" in the top-right of the menu bar.
1.2
Select a job posting plan.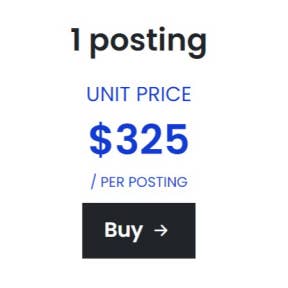 Scroll down and review the job posting packages. Select the "Buy" or "Subscribe" button beneath the plan you want to purchase.
For this step-by-step posting guide, we selected the "1 posting" option.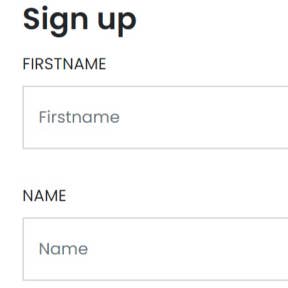 Complete the signup form with your details and a password of your choice. Then, click on "Next."
Add your company address and click on "Save."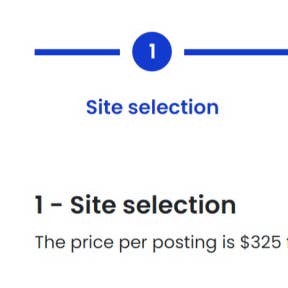 Scroll down the list of niche sites until you reach "paralegaljobs" and click on the "+ Details" button. Select at least one industry category and click on the "Select" button beneath the category options.
1.5
Create your job post.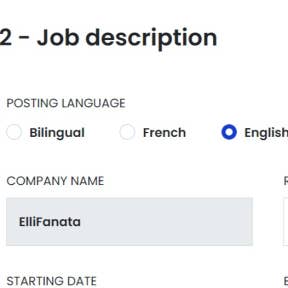 Complete the online form with details about your job, including a job description, and select an application method. Then, click on "Next step."
You can create your job post in both English and French or select only one language.
Review the optional add-ons and select any that may suit your hiring needs and budget. Then, click on "Next step."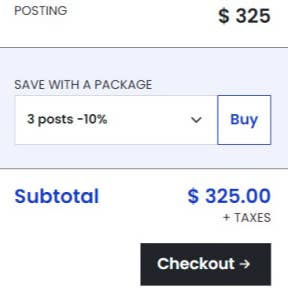 Review your order and click on "Checkout" to proceed to the payment page and complete the purchase.
Paralegaljobs.ca vs. Lawjobs.com:
Lawjobs.com is a legal job posting site that primarily operates in the U.S. They charge US$695.00 per job post and also offer discounts on bulk purchases much in the same way that Paralegaljobs.ca does. Paralegaljobs.ca, which is also the more affordable option, attracts more local website traffic, making it the better option for hiring in Canada.
Paralegaljobs.ca vs. The Canadian Bar Association:
The Canadian Bar Association (CBA) offers free job posting for legal positions on its job board, while Paralegaljobs.ca charges C$325.00 +tax per post. CBA attracts more than 70,000 monthly site visits, which is significantly more than Paralegaljobs.ca. However, they do state that there is a two-day delay from submission to posting on their site.
Paralegaljobs.ca vs. JVS Toronto:
JVS Toronto is a popular job posting site that serves the Toronto community. While they do accept paralegal job posts, they aren't a specialized job board like Paralegaljobs.ca. Employers may receive mixed results using JVS Toronto as they only focus on the Greater Toronto area, while Paralegaljobs.ca is a national job posting site.
Key Information
| | |
| --- | --- |
| Legal Name | jobWings.com Careers Inc. |
| Founder | |
| Founding Date | Jan 01, 2001 |
| Address | 4020 Rue St-Ambroise, Ste. 495, Montréal, QC H4C 2C7 |
| Number of Employees | 50 |
| Email | |
| Telephone | |
| Website | |