Business systems analysts are extremely analytical and organized professionals who demonstrate a profound knowledge of business systems. To create a successful resume, you'll want to showcase the experience, expertise, and accomplishments that make you the best-suited candidate.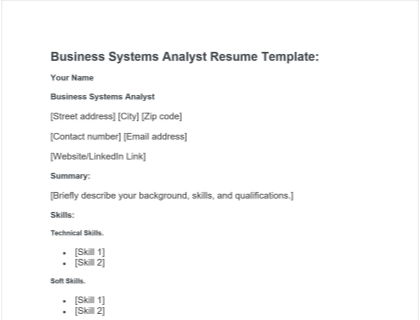 Business Systems Analyst Resume - Free Template
Download our business systems analyst resume template in Word format.
Business Systems Analyst Resume Template:
Your Name
Business Systems Analyst
[Street address]
[City]
[Zip code]
[Contact number]
[Email address]
[Website/LinkedIn]
Summary:
[Briefly describe your background, skills, and qualifications.]
Skills:
Technical Skills.
Soft Skills.
Experience:
Business Name / Job Title, Month 20XX - Present, Location
Business Name / Job Title, Month 20XX - Month 20XX, Location
Business Name / Job Title, Month 20XX - Month 20XX, Location
Education:
School Name / Qualification, Month 20XX - Month 20XX, Location
School Name / Qualification, Month 20XX - Month 20XX, Location
Certificates:
[Certificate 1]

[Certificate 2]
Notable Achievements:
[Achievement 1]

[Achievement 2]
Awards:
How to Write a Business Systems Analyst Resume:
1. Use a simple format.
Start your resume with a full name, job title, and current contact information. Following this, your resume should be laid out in a simple format that begins with the most relevant information related to the job. We recommend adding a summary, skills and experience section, qualifications, and your greatest career achievements.
2. Add a captivating summary.
Your summary should be a motivating paragraph added to the top of your resume to draw the screener's attention. In under four sentences, briefly write about your experience, background, and interesting personal facts. You'll want to highlight your analytical and technical skills by using evocative words and action verbs to help the screener better envision you in the role.
3. List your technical and soft skills.
The role of a business systems analyst requires both technical and soft skills, and screeners will want to ensure candidates possess both attributes. Before listing your skills, analyze the job descriptions' responsibilities and requirements, and base the order of your skills list on what the employer is most interested in. Once you've identified the skills needed for the role, list your skills in a block layout, with labels to differentiate technical and soft skills.
4. Write about your professional experience.
Include all your previous job experience related to the work of a business systems analyst, or any jobs that have responsibilities or skills required for a business systems analyst position. List your experience in reverse chronological order, and be sure to add job titles, dates of employment, and locations.
We recommend also writing about the tasks you completed to help showcase your level of practical expertise, the type of systems you've worked with, and to identify how much responsibilities you can manage in this role. Remember to use strong action verbs and include job-specific accomplishments.
5. List your qualifications.
In reverse chronological order, list your qualifications and include the dates of attendance, the institution's name, and location. If you're currently studying, add "in progress" by the dates of attendance section. To be considered for the role of a business systems analyst, you should be in possession of a bachelor's degree in business, computer science, or a similar field.
6. Add relevant certificates.
Additional training is a great benefit and will show the screener that you're willing to go the extra mile. There are a host of business analytics certification courses available for candidates with different levels of expertise, including:
IIBA Certification of Competency in Business Analysis (CCBA).
IIBA Agile Analysis Certification (AAC).
IIBA Entry Certificate in Business Analysis (ECBA).
IIBA Certified Business Analysis Professional (CBAP).
7. List any noteworthy career milestones.
Ending off your resume, you'll want to dedicate a section to your greatest career achievements that showcase what you've been able to accomplish and the recognition you've received for that hard work. Whether its awards and/or positive feedback from previous mentors, add these milestones to your resume in bullet format, and if needed, briefly discuss how you obtained this recognition.
FAQs:
What should I include in my business systems analyst resume?
What is the role of a business systems analyst?
A business systems analyst is responsible for analyzing, managing, and improving a business's operation systems and processes. Check out our full business systems analyst job description.
How do I become a business systems analyst?
Obtain a bachelor's degree in business.
Complete at least two certification courses.
Gain a minimum of three years' experience in a similar position.
Search niche job boards.
Create a complete and well-informed resume.
Apply to jobs you qualify for.
What skills do I need to be a business system analyst?
Excellent organizational and problem-solving skills.
Ability to manage multiple tasks.
Proficiency in Microsoft Office and business analytics software.
Good verbal and written communication skills.