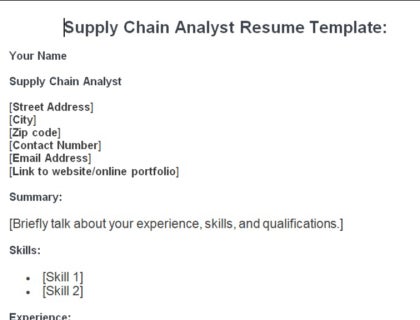 Supply Chain Analyst Resume - Free Template:
Download our supply chain analyst resume in Microsoft Word format.
Download Now
Supply Chain Analyst Resume Example:
Your Name
Supply Chain Analyst
[Street Address]
[City]
[Zip code]
[Contact Number]
[Email Address]
[Link to website/online portfolio]
Summary:
[Briefly talk about your experience, skills, and qualifications.]
Skills:
Experience:
Company Name / Job Title
Month 20XX - Present, Location

Company Name / Job Title
Month 20XX - Month 20XX, Location

Company Name / Job Title
Month 20XX - Month 20XX, Location
Education:
School Name / Degree
Month 20XX - Month 20XX, Location

School Name / Degree
Month 20XX - Month 20XX, Location
Certifications:
[Certification 1]
[Certification 2]
Achievements & Awards:
[Achievement/Award 1]
[Achievement/Award 2]
How to Write a Supply Chain Analyst Resume: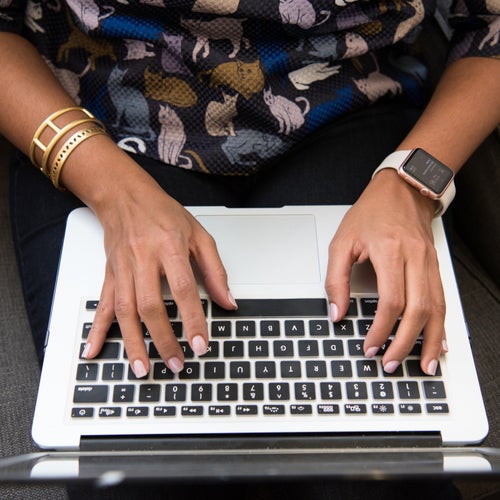 Your resume is your strongest argument for companies to hire you as a supply chain analyst. Employers look for an airtight resume that includes an employee summary, a detailed list of skills and experience, as well as your notable achievements, so you'll want to ensure that you cover these basics.
1.
Introduce your professional profile.
1.1
Add your personal information.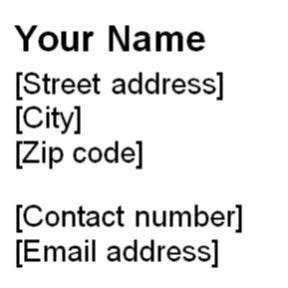 Start your resume with a professional title, full name, and contact information. Your contact information should include an email address, physical address, telephone number, and if applicable, a website or LinkedIn link.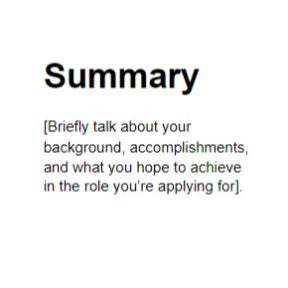 Add a compelling and concise paragraph that summarizes your best attributes and accomplishments. As a supply chain analyst, your resume should focus on industry expertise, business intelligence, and project successes.
Ultimately, you want your summary to highlight what makes you the top choice for the role of supply chain analyst.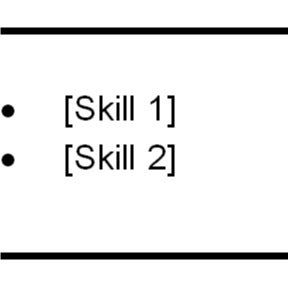 List your skills in a clear, bullet format and tailor your answers to showcase the attributes that best suit the responsibilities and requirements listed in the job description.
Screeners will review your resume and look for the skills that complement their key performance indicators (KPI). As a supply chain analyst, you will be required to demonstrate excellent attention to detail and organizational skills.
2.
Detail your experience and education.
2.1
Include your professional experience.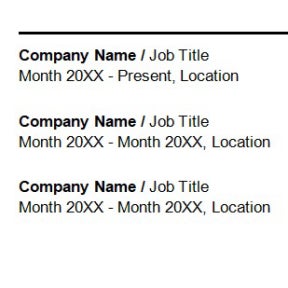 List all the jobs you have had by date and location in reverse chronological order. Your experience as a supply chain analyst should span from internships and/or entry-level positions, to your current work experience as a professional analyst.
Screeners will want to see the type of tasks you've worked on to gauge the variety of responsibilities you'd be able to manage. In addition, it helps them better understand how your insights can lead to business improvement and increased profitability.
2.2
Add your qualifications.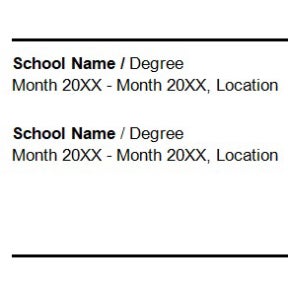 Under the education section, list your qualifications in bullet format, starting with your highest achievement and followed by the date and location. If you're currently still studying, place the words "in progress" where your end date should be. Supply chain analysts are required to have a Degree in Business Management, Logistics, or a related field.
3.
Outline your successes.
3.1
Include certificates.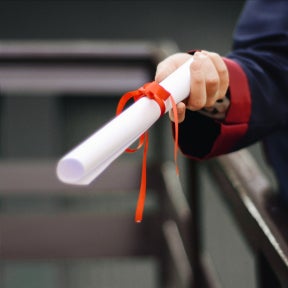 Candidates may attend and complete additional certification courses to further improve their chances of proceeding to the next level in the hiring process. Popular certificates include APICS Certified Supply Chain Professional certification (CSCP), APICS Certified in Production and Inventory Management, and ISM Certified Professional in Supply Management (CPSM). We recommend adding at least three certificates to your resume.
3.2
Write about your achievements.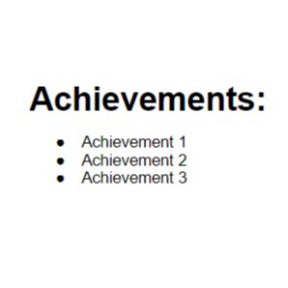 Your achievements section should focus on the projects you've successfully managed, a scenario that shaped your career, and/or any awards you've received for excellent service.
These are the attributes that will prove to screeners that you're capable of going that extra mile, ultimately acting as a formal reference to your skills and experience.
Related Resumes:
Related Cover Letters: