Salesforce Business Analysts are strategic thinkers that are adept at interpreting and managing company data. A good Salesforce Business Analyst resume should focus on candidates' analytical skills and their ability to organize, implement, and manage intricate projects and systems.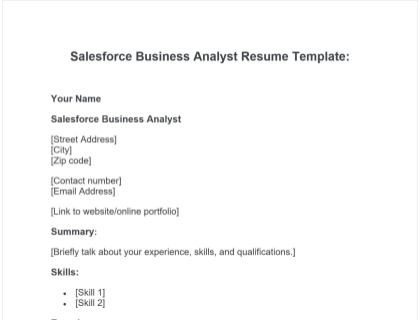 Salesforce Business Analyst Resume - Free Template
Download our free Salesforce business analyst resume in Microsoft Word format.
Salesforce Business Analyst Resume Template:
Your Name
Salesforce Business Analyst
[Street Address]
[City]
[Zip code]
[Contact number]
[Email Address]
[Link to website/online portfolio]
Summary:
[Briefly talk about your experience, skills, and qualifications.]
Skills:
Experience:
Company Name / Job Title
Month 20XX - Present, Location

Company Name / Job Title
Month 20XX - Month 20XX, Location

Company Name / Job Title
Month 20XX - Month 20XX, Location
Education:
School Name / Degree
Month 20XX - Month 20XX, Location

School Name / Degree
Month 20XX - Month 20XX, Location
Certifications:
[Certification 1]
[Certification 2]
Achievements & Awards:
[Achievement/Award 1]
[Achievement/Award 2]
How to Write a Salesforce Business Analyst Resume:
1. Use the proper format.
Your resume should ideally start with your personal details, including your professional title, full name, and contact information. Under your job title, include your physical address, email address, telephone number, and social media link and/or website link. Once you've added your personal details, follow the general format:
Summary.
Skills.
Experience.
Qualifications.
Greatest achievements.
2. Add a summary.
Your summary should highlight your best attributes and achievements, ultimately enticing the screener or hiring manager with a smart motivational pitch on why you're the ideal candidate. Keep your summary at a minimum of three sentences and be sure to use words that showcase your analytical and decision-making strengths.
3. List your technical and soft skills.
Screeners and hiring managers will know exactly what type of skills would best complement their job description. Therefore, you want to first list the skills that would be most appealing. We recommend starting with your technical skills as these are the attributes that will enhance your chances of standing out as a top candidate.
Salesforce Business Analysts are expected to perform both administrative and technical tasks, such as working with developers to improve and maintain ongoing system enhancements, presenting research and strategic changes, and setting up brainstorming sessions.
4. Write about your work experience.
In reverse chronological order, list all the jobs you have had by date and location. Be sure to focus on the tasks and professional experience that helped develop your data analysis knowledge and expertise. Screeners and hiring managers will also want to know about the type of systems you've used for data analysis.
5. Include your qualifications.
Begin this section with your highest qualification, preferably a Degree in Business Analytics, Business Administration, or a similar field. Follow this with the name of the educational institution you attended and the dates of attendance. If you are currently studying, make sure you add the term "in progress" by the attendance date.
6. Add your certifications.
If you've completed a certificate course that relates to the job, add this to your resume for an added bonus. This will show screeners and hiring managers that you're willing to go that extra mile to grow in this position. Typically, candidates are required to obtain a Salesforce Admin or Dev Certification.
7. Write about your achievements.
Briefly write about your career milestones and noteworthy achievements, such as winning a prestigious award or managing a major project. This will help show hiring managers that you've worked hard to build a professional and successful career that could greatly benefit their company.
Related Resumes:
Related Cover Letters:
FAQs:
What should be included in a Salesforce business analyst resume?
What does a Salesforce business analyst do?
A Salesforce business analysts performs administrative and technical tasks. Common responsibilities include analyzing company data, collaborating with departments to identify project requirements, creating strategic designs, and implementing new strategies.
How much does a Salesforce business analyst make?
According to our research, Salesforce Business Analysts can earn between $50,000 and $160,000 per year, depending on level of expertise.