Front End Developers create functional, aesthetically pleasing websites that customers love to use. Employers hiring Front End Developers look for proficiency with HTML, JavaScript, and jQuery, an emphasis on understanding client expectations, a portfolio of well-designed websites, and more in their resumes.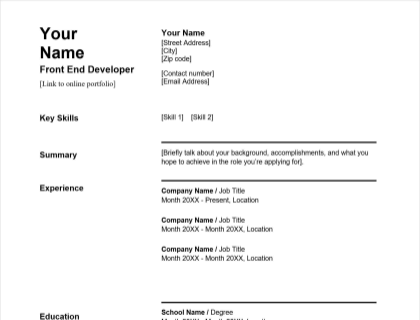 Front End Developer Resume Free Template Download
Download this Front End Developer resume template in Microsoft Word format.
Front End Developer Resume Example:
Your Name
Front End Developer
[Link to online portfolio]
[Street Address] [City] [Zip code]
[Contact number] [Email Address]
Key Skills:
Summary:
[Briefly talk about your background, skills, and qualifications.]
Experience:
Company Name / Job Title Month 20XX - Present, Location
Company Name / Job Title Month 20XX - Month 20XX, Location
Company Name / Job Title Month 20XX - Month 20XX, Location
Education:
School Name / Degree Month 20XX - Month 20XX, Location
School Name / Degree Month 20XX - Month 20XX, Location
Certification:
[Certification 1]

[Certification 2]
Notable Achievements:
[Achievement 1]

[Achievement 2]
Awards:
How to Write a Front End Developer Resume:
1. Write a summary.
Write a paragraph briefly describing your background, your accomplishments, and what you hope to achieve in the role you are applying for.
2. List your Front End Development skill set.
Immediately after the summary, list all of your competencies in a block layout. It's important to showcase your areas of expertise at the top of the page to catch the attention of the screener. Make a bulleted list that includes skills like proficiency with the requisite programming languages, an eye for graphic design, SEO best practices, responsive design for mobile-first websites, and more.
3. Add your professional experience.
In reverse chronological format, list all the jobs you've had by date and place. Describe what you did in each role concisely in bullet format.
4. Add your education.
Under the education heading, list your qualifications in reverse chronological order and mention the college/university/institution names and the dates you attended them. If you're currently a student, write "in progress" followed by the date you expect to complete your degree. Front End Developers should have a degree in Computer Science.
5. List any certifications.
If you have any relevant certifications such as a Front End Web Developer Certification by W3C, or a Front End Web UI Frameworks and Tools: Bootstrap 4 certificate, list them here.
6. Describe your notable achievements.
List your proudest accomplishments throughout your career. These can include developing user experiences that increased user satisfaction, testing code and ensuring cross-browser compatibility, implementing a custom CSS grid system, writing front end code for Django-based apps, and more.
7. List your awards.
Finally, if you've won any awards be sure to include them at the bottom of your resume.
What Employers Look for in a Front End Developer's Resume:
A well-defined skills set and list of programming languages you have proficiency with. Popular languages for Front End Developers are HTML, CSS, JavaScript, and jQuery.
Experience with graphic design.
A demonstrated ability to troubleshoot, identify problems, and find solutions to them.
Evidence of working as part of a team and with different departments, including UI and UX designers, back end developers, and more.
A history of working under pressure to meet client deadlines.
An understanding of client needs and the ability to adapt to different front end development challenges.
A relevant degree in Computer Science. A relevant diploma or certificate in Front End Development will help you.
A link to an online portfolio of work that demonstrates a wide range of Front End Development projects.
FAQs:
What are the skills required for a Front End Developer?
HTML.
CSS.
JavaScript.
jQuery.
AngularJS.
React.
Bootstrap.
Version Control.
Responsive Design.
Creative problem solving ability.
Excellent verbal communication.
Moderate graphic design ability.
How do I write a resume for a Front End Developer?
What are the roles and responsibilities of a Front End Developer?
Understand client requirements and execute on design.
Maintain brand consistency with web design.
Adhere to key design principles.
Incorporate UX and graphic design pricniples into website design.
Main good site architecture and SEO best practices.
Optimize pages for speed, scalability, and mobile use.
Build reusable code.