Salesforce Developers build software for the Customer Relationship Management (CRM) platform Salesforce. Salesforce hiring managers look for proficiency with JavaScript and familiarity with Salesforce's custom languages, experience working on mobile and web apps, and more in a Salesforce Developer's resume.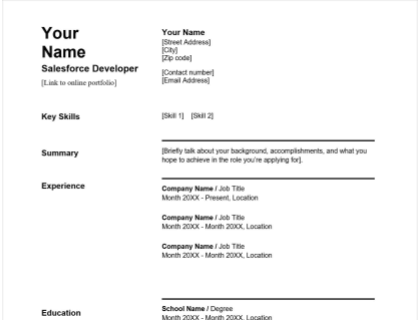 Salesforce Developer Resume Free Template
Download this Salesforce Developer resume template in Microsoft Word format.
Salesforce Developer Resume Example:
Your Name
Salesforce Developer
[Link to online portfolio]
[Street Address]
[City]
[Zip code]
[Contact number]
[Email Address]
Key Skills:
Summary:
[Briefly talk about your background, skills, and qualifications.]
Experience:
Company Name / Job Title Month 20XX - Present, Location
Company Name / Job Title Month 20XX - Month 20XX, Location
Company Name / Job Title Month 20XX - Month 20XX, Location
Education:
School Name / Degree Month 20XX - Month 20XX, Location
School Name / Degree Month 20XX - Month 20XX, Location
Certification:
[Certification 1]

[Certification 2]
Notable Achievements:
[Achievement 1]

[Achievement 2]
Awards:
How to Write a Salesforce Developer Resume:
1. Write a summary.
Write a paragraph briefly describing your background, your accomplishments, and what you hope to achieve in the role you are applying for.
2. List your Salesforce Development skill set.
Immediately after the summary, list all of your competencies in a block layout. It's important to showcase your areas of expertise at the top of the page to catch the attention of the screener. Make a bulleted list that includes skills like proficiency with JavaScript, Apex, and Visualforce, mobile and web development, data modelling and security, and more.
3. Add your professional experience.
In reverse chronological format, list all the jobs you've had by date and place. Describe what you did in each role concisely in bullet format.
4. Add your education.
Under the education heading, list your highest degree first under your college/university name and the dates you attended school. If you're currently a student, write "in progress" followed by the date you expect to complete your degree. A university degree is not required, but a degree in Computer Science may help you to secure a job as a Salesforce Developer. A Salesforce certificate such as the Salesforce Platform Developer certification, along with a working knowledge of Salesforce programming languages would also suffice.
5. List any certifications.
If you have any certifications, like the The Salesforce Platform App Builder certification, the Salesforce Marketing Cloud Administrator certification, or the Salesforce Certified Developer certification, be sure to list them here.
6. Describe your notable achievements.
List your proudest accomplishments throughout your career. These can include introducing new features to an application that boosted engagement, designing system code and configurations, developing technical design documentation, being responsible for data modelling, management, and security, and more.
7. List your awards.
Finally, if you've won any awards be sure to include them at the bottom of your resume.
What Employers Look for in a Salesforce Developer Resume:
A well-defined skill set and list of programming languages you have proficiency with. Popular languages for Salesforce Developers are Apex, Visualforce, Java, JavaScript, HTML, and more.
An analytic mindset with good problem solving ability.
Working as part of a team and with different departments, including front end developers, database administrators, and more.
Excellent communication skills.
A history of working under pressure to meet deadlines.
A relevant degree in Computer Science or certificate in Salesforce Development will help you.
A link to an online portfolio of work that demonstrates a wide range of web and mobile application projects.
FAQs:
How do you write a resume for a Salesforce Developer?
What skills are required for a Salesforce Developer?
Apex.
Visualforce.
Java.
JavaScript.
HTML.
Lightning web components.
Object-oriented programming.
Mobile development.
Web development.
Problem solving.
Project management.
Excellent verbal and written communication.
What are the roles and responsibilities of a Salesforce Developer?
Developing technical documentation.
Developing CRM workflows.
Managing API integrations.
Making adjustments and adding features to applications
Working with Project Managers to develop new features in accordance with the system design.
Identifying areas for improvement.
Deliver software updates on time and according to client specifications.