PHP Developers are experts in developing websites and applications with server-side scripting language. To help your resume stand out, you'll want to focus on your technical and problem-solving skills, as well as your knowledge of various databases, front-end technologies, computer tools, and PHP web frameworks.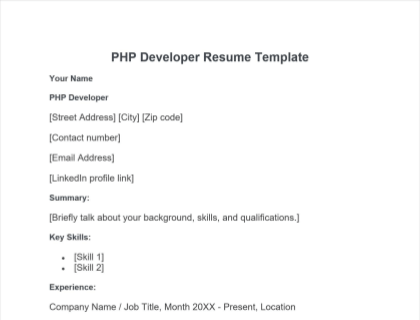 PHP Developer Resume - Free Template
Download our generic PHP Developer resume in MS Word format.
PHP Developer Resume Example:
Your Name
PHP Developer
[Street Address]
[City]
[Zip code]
[Contact number]
[Email Address]
[LinkedIn profile link]
Summary:
[Briefly talk about your background, skills, and qualifications.]
Key Skills:
Experience:
Company Name / Job Title, Month 20XX - Present, Location
Company Name / Job Title, Month 20XX - Month 20XX, Location
Company Name / Job Title, Month 20XX - Month 20XX, Location
Education:
School Name / Degree, Month 20XX - Month 20XX, Location
School Name / Degree, Month 20XX - Month 20XX, Location
Certification:
[Certification 1]
[Certification 2]
Notable Achievements:
[Achievement 1]
[Achievement 2]
Awards:
How to Write a PHP Developer Resume:
1. Write a compelling summary.
Your summary is an official introduction to the employer and the goal is to present yourself as a professional and qualified PHP Developer. Therefore, you want your summary to highlight your best qualities by including interesting facts about yourself, your accomplishments and skills, and touching on your ambition to grow in this role. Be sure to keep your summary under four sentences.
2. List your technical skills.
In a block layout, list your technical skills to showcase your areas of expertise. Start with the skills employers will be most interested in, such as coding, problem-solving, and project management skills, as well as the ability to create scalable applications. Review the PHP Developer job description for a more in-depth look into which skills employers value and base the order of your bulleted list on their requirements.
3. Write about your employment history.
List your previous work experience in reverse chronological order and include the location, business name, and dates of employment. Only add your work experience as a PHP Developer or any other job that required the skills and expertise of a PHP Developer. Focus on highlighting the tasks you performed over the years by breaking down their requirements and processes, as well as the programming systems you worked on.
4. Include your qualifications.
Immediately after the work experience section, add your qualifications in reverse chronological order. Include the institution's name, location, and the dates you attended. For those who are currently studying towards a qualification, omit the dates of attendance and write "in progress." PHP Developers are highly trained professionals who generally require a Bachelor's degree in computer science or related fields.
5. List any relevant certifications.
PHP Developers are expected to have in-depth knowledge of various applications, software, and frameworks, including CSS3, Yii, Laravel, and Mercurial. Because of fast-development technologies, it may be wise to refresh your knowledge and attend short courses. These may also boost your chances of receiving an interview as employers will admire your preparedness and eagerness to learn more.
Popular PHP Developer certificates include:
Zend Certified Engineer (ZCE).
MySQL 5.0 developer I.
Linux LPI 102.
Microsoft Technology Associate (MTA).
6. Include notable achievements.
Consider your experience and career milestones and discuss your greatest achievements. These could include being recognized by a respected institution, receiving a performance award, and/or being appointed to lead a major development project. If you add any awards, list them in chronological order and include the award's name, the date, and the institution that gave you the award.
FAQs:
What are the skills required for a PHP developer?
Excellent technical skills and in-depth knowledge of SQL/NoSQL databases and front-end technologies.
Good project management and problem-solving capabilities.
Proficient with code versioning tools including Git, Mercurial, CVS, and SVN.
What is PHP and why it is used?
PHP stands for Hypertext Pre-processor and refers to a server-side scripting language that is used to develop websites and applications.
How long does it take to become a PHP developer?
It takes between six months and three years to become a PHP Developer, depending on your level of expertise and qualification.
What should I include in my PHP Developer resume?