Tableau Developers create technical and data visualization solutions to address business needs and improve existing systems. A great Tableau Developer resume should provide an outline of your experience and education, and highlight your expertise with all Tableau products and related software tools, along with your analytical and problem-solving skills.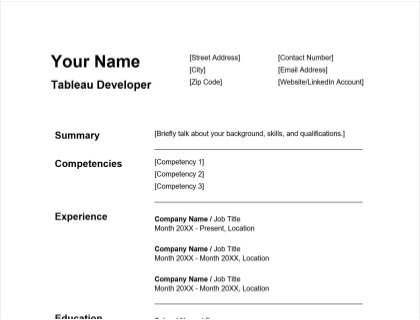 Tableau Developer Resume - Free Template Download
Download this Tableau Developer resume template in Microsoft Word format.
Tableau Developer Resume Example:
[Your Name]
Tableau Developer
[Street Address] [City] [Zip code]
[Contact number] [Email Address] [Website/LinkedIn Account]
Summary:
[Briefly talk about your background, skills, and qualifications.]
Competencies:
[Competency 1]
[Competency 2]
[Competency 3]
Experience:
Company Name / Job Title
Month 20XX - Present, Location
[List key responsibilities and achievements.]
Company Name / Job Title
Month 20XX - Month 20XX, Location
[List key responsibilities and achievements.]
Company Name / Job Title
Month 20XX - Month 20XX, Location
[List key responsibilities and achievements.]
Education:
School Name / Degree
Month 20XX - Month 20XX, Location
School Name / Degree
Month 20XX - Month 20XX, Location
Certificates:
[Certificate 1]
[Certificate 2]
Achievements:
[Achievement 1]
[Achievement 2]
How to Write a Tableau Developer Resume:
1. Add your personal information.
Add your full name and profession ("Tableau Developer"), along with your contact details. If you have a LinkedIn account, Tableau Public Portfolio, and/or a personal website, include the links to these.
2. Write a professional summary.
This should be a short paragraph that gives the recruiter a brief overview of your education, experience, and expertise. Review the requirements listed in the job posting and highlight your skills and achievements that present you as a perfect match for the position.
3. List your competencies.
List your key skills and competencies. Start with your technical skills, such as your level of expertise in using Tableau software to create visualizations, dashboards, and reports, along with the programming languages you are familiar with. Then, list relevant soft skills, including analytical and problem-solving skills, the ability to collaborate well with others, and excellent communication and interpersonal skills.
4. Add your professional experience.
List your professional work experience in reverse chronological order. Begin with the company name and the job title you held followed by the place and dates of your employment. Then add the key functions you performed and any relevant achievements.
Avoid listing generic, passive descriptions by using action words, such as "created" and "implemented," and indicate the success of each task with keywords like "effective" and "efficient." Include achievements and specific outcomes to demonstrate how your ability to translate business needs into technical specifications made a difference to the business.
5. Add your education.
In the education section of your resume, list your highest qualification first along with the name of the educational institution you attended and the dates of attendance. If you are currently studying, add "in progress" ahead of the dates.
Although it is not always required by employers, Tableau Developers usually have a bachelor's degree in computer science, information technology, or a related field. Your Tableau development experience will carry significantly more weight, so be sure to highlight the level of your expertise when listing your skills and work history.
6. Add your certifications.
List any certifications you have earned in the course of your career, particularly those that acknowledge your skills and proficiency in programming languages and data analytics and reporting tools. Having a Tableau certification may not always be required but certainly gives a competitive edge.
7. List any achievements.
Add any notable achievements or projects that you are particularly proud of, such as having improved a particular system or created a new data warehousing model that resulted in increased efficiency. Don't forget to include metrics to emphasize the impact your work had on the business.
FAQs:
How do I write a Tableau Developer resume?
What skills are needed for a Tableau Developer?
Tableau.
SQL.
Oracle.
AWS.
Teamwork.
Analytical thinking.
Troubleshooting.
Problem-solving.
Communication.
What should be included in a Tableau Developer resume?