Network administrators are IT experts who manage the daily operations of an organization's computer network. A top-class network administrator resume should showcase your experience in computer science, IT, or a related field, and highlight pertinent skills such as troubleshooting, visualization, delegation, and communication.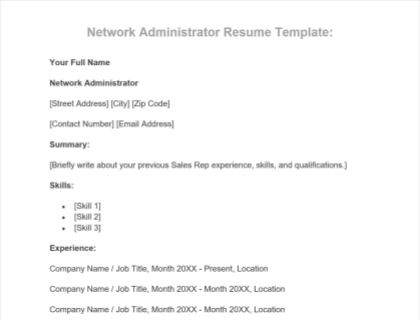 Network Administrator Resume Free Template
Download this network administrator resume template in Microsoft Word format and start using it straight away.
Network Administrator Resume Example:
Your Name
Network Administrator
[Link to website/online portfolio]
[Street Address]
[City]
[Zip code]
[Contact number]
[Email Address]
Key Skills:
Summary:
[Briefly talk about your background, skills, and qualifications.]
Experience:
Company Name / Job Title
Month 20XX - Present, Location
Company Name / Job Title
Month 20XX - Month 20XX, Location
Company Name / Job Title
Month 20XX - Month 20XX, Location
Education:
School Name / Degree
Month 20XX - Month 20XX, Location
School Name / Degree
Month 20XX - Month 20XX, Location
Certifications:
[Certification 1]
[Certification 2]
Notable Achievements:
[Achievement 1]
[Achievement 2]
Awards:
How to Write a Network Administrator Resume:
1. Start with your personal details.
In this section of your resume, you should include your current contact information with your full name, telephone number, email, and physical address. It is advisable to add an alternate contact number for when you are unavailable. If you have a LinkedIn page or professional website showcasing your computer technology skills, you should add in the links to this section.
2. Write a brief summary.
A resume summary should be no longer than 3 sentences and showcase the most important details of your resume. Describe your professional background, your most important accomplishments as a network administrator, and what you aim to achieve in your career.
3. List your IT and network administration skills.
This is the section where you should highlight your computer technology and network administration skills. We suggest listing your skills in bullet point format to make it easier to read. Take some time to think about which skills would make you the ideal candidate for the job.
Some important skills you may want to highlight include problem-solving, critical thinking, computer and networking proficiency, communication, troubleshooting, delegation, and multitasking.
4. List your professional experience as a network administrator.
When you list your employment history, always start with your most recent job first. List each of your previous jobs by company name, job title, place, and date. Only mention jobs relevant to the network administrator position you are applying for.
Using bullet points describe what you did in each role. Try to make your explanations descriptive yet concise. For example, you could say, "Implemented a closed-loop automation system resulting is faster fault-recognition and resolution."
5. Add your education.
In the education section, list your highest degree first along with the institution name and date you completed your degree or diploma. For network administrators, employers look for candidates with a minimum of a Bachelor's degree in Computer Science, Network Administration, Information Technology, or similar.
6. Add your certifications.
Employers look for network administrators who hold more than one certification in network management. In this section list your certifications in bullet format. Examples of certifications for this position include:
CompTIA A+ Certification.
CompTIA Network+.
CompTIA Security+.
Cisco CCNA.
MCSA.
7. Describe your notable achievements.
This section is where you will list any notable career achievements as a network administrator or a similar role. It is best to include numerical data to bolster your achievements. A good example would be, "Assisted with the design and implementation of a data coalition system which resulted in a 15% increase in productivity."
8. List your awards.
If you have won any awards in your role as a network administrator, you should list them here. Be sure to only list awards that are relevant to network administration or computer technologies.
Similar Resumes:
FAQs:
What should be included in a network administrator resume?
What are the skills needed to be a network administrator?
Critical thinking.
Problem solving.
Multitasking.
Delegation.
Proficiency in computer technology.
Troubleshooting.
How long should a network administrator resume be?
Ideally, a network administrator resume should be 2 pages or under. The more concise your resume the better. Even if you have plenty of work experience and lots of achievements to list, always keep your resume to a maximum of 2 pages.