Pricing:
| Plan | Pricing |
| --- | --- |
| Single 30-Day Job Ad | £14.95 +VAT |
| 30-Day Urgent Package | £34.95 +VAT |
| 30-Day Booster Package | £49.95 +VAT |
| 3 Job Multi-Buy | £34.95 +VAT |
| 5 Credit Multi-Buy | £49.95 +VAT |
| 10 Credit Multi-Buy | £74.95 +VAT |
| 30-Day Platinum Package | £99.95 +VAT |
Review:
Gumtree is a good option for hiring locally. A million job seekers visit the site every month and it is more cost-effective than other popular local job boards like Totaljobs, Reed.co.uk, and CV-Library. The platform has a built-in applicant tracking system and has 35 job categories for employers to advertise in.
However, other job boards offer more features such as candidate matching, screening, company branding, and access to a resume database. And if you need to reach an international audience, there are better options than Gumtree.
Highlights:
A million job seekers in the U.K. visit Gumtree every month.
The average job post response time is 12 hours.
Once you've created a job post you can save it as a template.
It has a built-in applicant tracking system.
Ads can be boosted.
The platform is easy to use.
Registration is quick and easy.
Help is offered in the form of an in-depth FAQ section, email, and phone support.
Has 35 job categories.
It is more affordable than Totaljobs, Reed.co.uk, and CV-Library.
Gumtree headquarters are based in London.
Shortcomings:
There is no accessible resume database.
Gumtree does not use its considerable social media following to promote jobs.
There is no candidate matching feature.
Company branding opportunities are only available on the 30-day Platinum and Urgent packages.
There are no free job posting options for U.K. employers.
No candidate screening.
Indeed might reach more people and can be used for free.
Reputation:
There are thousands of reviews of Gumtree on Trustpilot and just over half of them are positive and about a third are negative, but they deal mostly with buying and selling goods on the platform, not with advertising jobs. The same goes for Sitejabber. We were unable to find any independent online reviews of Gumtree as a job board.
How to Post a Job on Gumtree: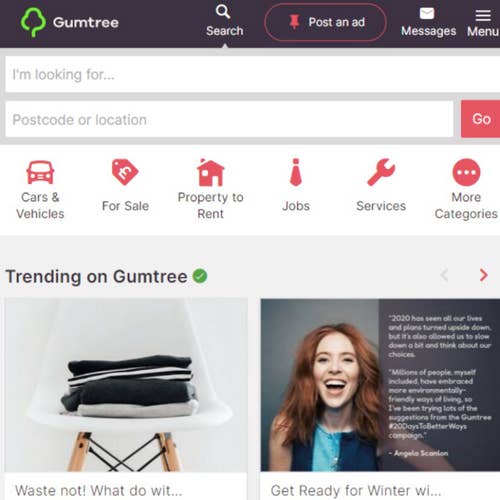 Six easy steps for posting a job on Gumtree.
1.
Posting a job on Gumtree.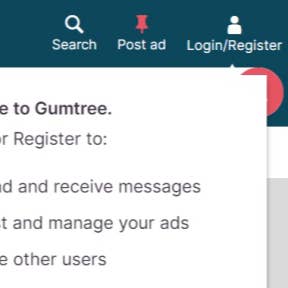 Navigate to the Gumtree home page and click on "Post ad" in the top-right corner.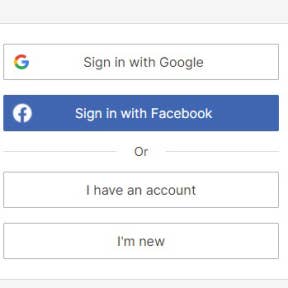 Log in to your Gumtree account or sign in with Google or Facebook. If you do not have an account and do not want to use social login, you can create a new account on Gumtree.
Click on "I'm new." Then click on the "REGISTER" tab.
Enter your first name, last name, and email address along with a password.
Verify your email address by clicking on the link in the email you have received.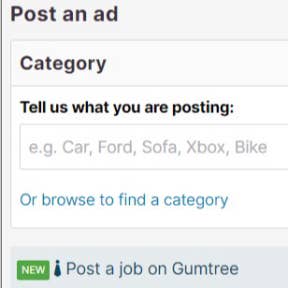 Once you've signed in to your Gumtree account, click on "Post an ad" and select "Post a job on Gumtree" on the following page.
1.4
Choose a job posting package.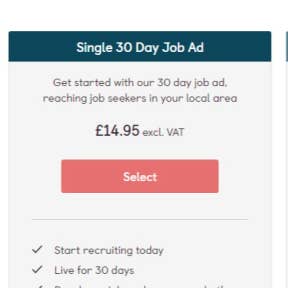 Review the different pricing options and select the package that best suits your needs.
1.5
Enter the job information.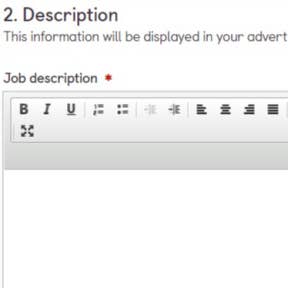 Follow the prompts and enter the job details to create your listing.
1.6
Purchase your job posting.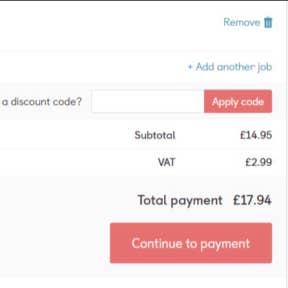 Once you've completed the job post, you can choose to add any upgrades and link to your website. Thereafter, click on "Save and continue."
On the checkout page, review your order and click on "Continue to payment."
Choose your preferred payment method (credit card or PayPal).
Gumtree vs. Indeed:
If you want to reach an international audience, Indeed is the better option. It also offers features Gumtree doesn't: built-in screening, career page integration, and a resume database. Gumtree is best for hiring locally. It gets a million local visitors a month. It is also easy to use and really good value for money.
Gumtree vs. Reed.co.uk:
Reed.co.uk is more expensive but it is one of the U.K.'s best job sites. It has 122,000 registered candidates and has helped Deloitte, NHS, Hays, Barclays, and other massive brands find new hires. Job posts also last six weeks. Gumtree reaches roughly the same amount of people and is cheaper, but has fewer features.
Gumtree vs. Totaljobs:
Totaljobs is more expensive than Gumtree, but it offers access to a large resume database, international reach, and company database. While Gumtree is far more basic, it is much cheaper and does a great job of reaching local job seekers.
Key Information
| | |
| --- | --- |
| Legal Name | Gumtree.com Limited. |
| Founder | |
| Founding Date | Jan 01, 2000 |
| Address | 5 New Street Square, London EC4A 3TW England |
| Number of Employees | 150 |
| Telephone | |
| Website | |
FAQs:
Is it free to post a job on Gumtree?
No, job ads cost between £14.95 and £99.95 +VAT.
How do I advertise my business on Gumtree?
Click "Post an ad on Gumtree."
Select "Business Services," then "Category," then "Subcategory," and finally, "I'm offering a service."
Enter your business name, slogan, and add a logo.
Add expertise and/or benefits and a description.
Add photos.
Add your business location and trading times.
Add contact information.
Click "Post Ad."
How much does it cost to post an ad on Gumtree?
How can I edit a Gumtree job posting?
To edit your Gumtree job postings, log into your account and find the job posting in your list of ads. You can click the "Edit" option to start editing and then click "Save" when you are done.
How can I delete a Gumtree job posting?
To remove a posting, click the delete icon next to the posting in your list of ads.
How do I create a Gumtree account?
Click "Login/Register" on the home page and fill out the online registration form to create an account where you can manage Gumtree job postings.
How do I edit my Gumtree ad on an iPhone?
Deleting a Gumtree ad on an iPhone works the same way as a normal ad removal. Go to the "My Ads" tab, select the ad you wish to delete, then click "Delete."
How do I change my category on Gumtree?
You cannot edit a category on a Gumtree ad once it is created. If you want to change the category, you will need to post the ad again.
How do I repost on Gumtree for free?
A few days before your ad expires, you will be notified of its pending expiration via email and be given the option to repost it. On the email, click the Repost button to repost your ad.
How long does an ad stay on Gumtree?
Your ad will be live for 30 days from the date of posting. If your ad falls into the categories of "Services," "Property," or "Jobs," it will remain active for 60 days.
What are some Gumtree alternatives?