Finding the right administrative assistant can be challenging. Administrative assistants need to be valued for their expertise and their role needs to be clearly defined to ensure a positive work environment. This will ensure that you recruit administrative assistants that excel at your company.
Special Offer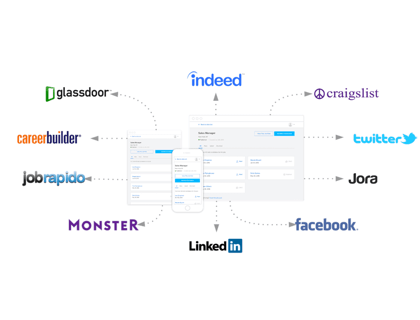 Post Jobs for FREE
Completely free trial, no card required.
Reach over 150 million candidates.
How to Find an Administrative Assistant:
1. Create an administrative assistant job post.
Many job posts for administrative assistants fail to emphasize the career growth that they can experience within a company. While your job post should outline the day-to-day responsibilities of an administrative assistant, it should also highlight the opportunities for growth.
Be sure to acknowledge that work hours will be respected, as this is a concern for many administrative assistants. They are often given tasks after hours or during lunch breaks which can cause stress.
2. Post your jobs on online job boards.
Job boards like Indeed and LinkedIn have huge audiences so you should receive a lot of exposure when using these platforms.
Some large job boards automatically format job posts for Google for Jobs, but you can also format your job description on your website so that it appears in Google search results.
To access a more targeted audience and find good administrative assistants, you can post your job on job boards for administrative assistants. This will ensure that you hire administrative assistants that are adequately qualified and interested in this role specifically.
3. Screen your applicants.
Many candidates apply for a position even if they are not fully qualified. To find out which candidates are suitable for the job, you can ask a few questions in an email:
Do you have any formal training with software like Microsoft Excel?
What do you consider to be the responsibilities of an administrative assistant?
4. Conduct a phone interview.
Phone interviews help you save time by further screening them before doing time-consuming in-person interviews. Ask questions that reveal if the candidate will be a good fit for the company and if their expectations meet the reality of the position.
Example questions:
Which three skills make you a fit for this position? Support your answers with experiences.
Why are you leaving your current position?
What are your salary expectations?
Why are you interested in working for this company?
Have you been asked to perform a task that you felt was not in your job description? How did you respond?
Your interview questions should aim to find any conflicting information or factors that would disqualify a candidate. For example, if the candidate has unrealistic expectations or displays that they are disloyal to their current company.
If a candidate seems well-suited to the role, keep them interested by highlighting the benefits of the job and duties to look forward to.
5. Conduct an in-person interview.
After conducting phone interviews, it will become clear which candidates you are seriously interested in. Once you have decided on which candidates meet your requirements, you should invite them for an in-person interview to gauge their personality.
You can learn several things from an in-person interview. For example, you will learn if the candidate is punctual, neat, and well-spoken, which your clients will perceive immediately when they enter your office. The in-person interview also allows you to ask more in-depth questions compared to the phone interview.
You can also introduce the candidates to a few members of staff to see if there is good chemistry and if the candidates are able to interact with people confidently.
6. Make an offer.
When you find a candidate that meets your requirements and seems to be a good fit for your company, you should make them an employment offer. Some companies choose to call the successful candidate, but all offers of employment should be confirmed in a formal email that includes the job description and benefits offered.
Additional Resources:
FAQs:
What are the main duties of an administrative assistant?
Schedule meetings on behalf of executives.
Prepare materials for meetings.
Receive phone calls on behalf of executives.
Welcome clients to the office.
Construct professional emails based on a brief.