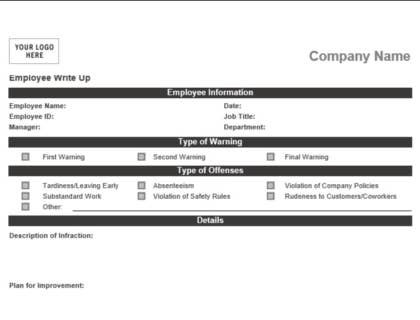 Employee Write-up Form Download - MS Word.
Download a printable, editable employee warning form in Microsoft Word format.
Download Form
Having an employee write-up form is a great start to properly dealing with employee discipline issues, and if this is the final written warning, potentially with a termination. The employee disciplinary action form is often the first piece of evidence asked for in any employment dispute.
Below we've got answers to the most frequently asked questions about employee write-up forms.
Used properly, an employee write-up template can help you avoid having to take disciplinary measures and reduce turnover by helping employees get on track. It is now standard practice to complete an employee warning notice when infractions have occurred.
You can use our employee write-up form as is, or you can treat it like a written warning template and customize it to make one that fits your business needs.
We've got all the basic info you'll want to include in your own form listed below.
Filing Disciplinary Action Forms.
Create a proper filing system for your disciplinary action forms so that they are easily accessible to all managers.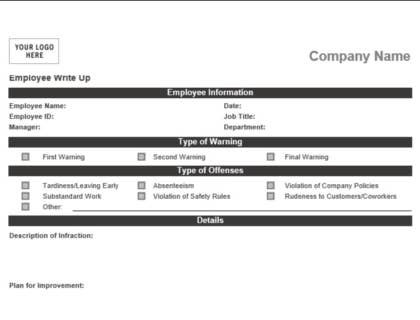 Employee Write-up Form Download - PDF.
Download a printable, editable employee write-up form in PDF format.
Download Form
When filling out an employee write-up form, stick to objective facts. Just describe the events that occurred. For example, rather than saying that an employee was "being disrespectful," detail the language or actions they took that were disrespectful.
That should be everything you need to create and start using a credible and defensible written warning form. See our FAQs below for more info. Need to start looking for some new employees? Check our guide to free job posting sites.
Similar Employee Forms & Policies.