Employee warning notices are used to address and confirm an employee's performance or inappropriate conduct at work. A company usually issues an employee warning form after a meeting with him/her to discuss the issue. This gives the employee an opportunity to correct their behavior moving forward.
Special Offer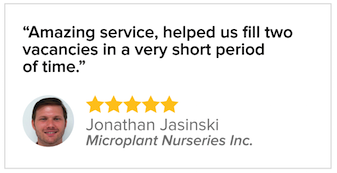 Post Jobs for FREE
Completely free trial, no card required.
Reach over 150 million candidates.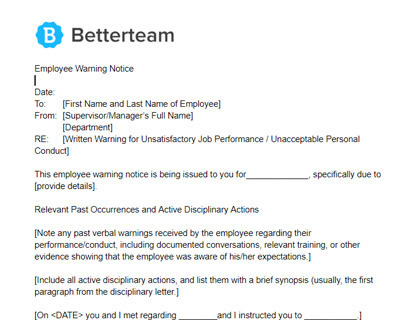 Employee Write Up Form - Microsoft Word Format:
Download a printable employee write up template in Microsoft Word format.
It's important to be upfront and clear about your company's employment policies. You should ensure that all employees are aware of these policies and have access to your employee handbook.
Remember, you should also establish clear rules for your managers to ensure that all employees are treated equally. To comply with federal laws, all managers must act consistently when carrying out disciplinary actions to avoid being accused of unfair treatment down the line.
FAQs:
Why Should You Use an Employee Written Warning Form?
Certain labor laws may require you to provide detailed proof of any disciplinary action taken against an employee. It's imperative to have documented proof of the process in case of employee termination.
What should an Employee Warning Notice Form contain?
An employee warning notice, or disciplinary write-up form, details what the issue is, how the employee should correct their behavior, and what actions will be taken if they don't. Employee warning letters should be signed by the employee, the manager, and a witness, and a copy should be kept in your employee's personnel file.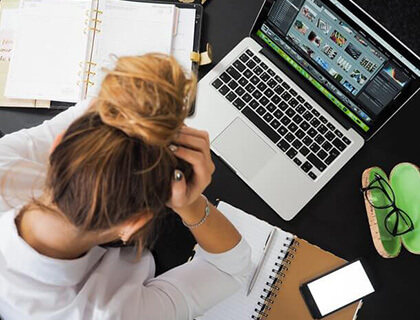 Common Reasons to Issue an Employee Discipline Warning Notice:
Absenteeism.
Tardiness.
Consistent Sub-Standard Work.
Inappropriate Behavior toward Customers or Clients.
Illegal Behavior.
Insubordination.
Company Policy Violation.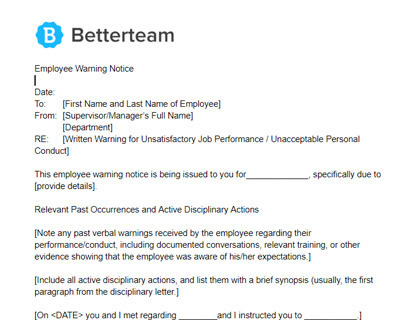 Employee Warning Notice PDF Format:
Download your free Employee Write Up Form PDF.
Final Thoughts:
It's easy to terminate an employee for sub-par work, but this can also be a costly exercise for your business. Instead of bearing down on an employee, you might want to try a more rehabilitative approach like issuing a performance improvement plan to help them meet their goals.