A personnel file contains all the important information about an employee's history in an organization such as their appraisals, qualifications, raises, promotions, and any disciplinary hearings they might have attended.
It is essential, mandatory in some states, for a business to keep and maintain personnel files for all employees in case a lawsuit is brought against them by a disgruntled or former employee.
Special Offer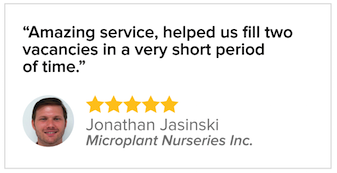 Post Jobs for FREE
Completely free trial, no card required.
Reach over 150 million candidates.
Personnel File Checklist
Basic Employee Information:
Name, address, phone number.
Emergency contact details.
Employment History:
Job application and/or resume.
Job offer letter.
Job description.
Education verification (if applicable).
Education transcripts (if applicable).
References.
Background check.
Any other documents related to employment.
Sick leave, vacation, and leave of absence/sabbatical records.
Employee Performance Development:
Employee appraisals.
Attendance logs.
Performance goals.
Performance improvement plan (if applicable).
Requests for training, transfer, and internal job applications.
Training and professional development records.
Employee recognition, including awards and performance letters.
Written warnings and/or disciplinary hearings.
Legal documentation:
IRS tax forms (W-4, I-9).
Payroll and compensation information.
Employment contract.
Employee benefits.
Employee Termination Records:
Resignation letter.
Termination letter (if applicable).
Exit interview record.
Unemployment and insurance documents.
Final pay records (vacation, retirement etc.)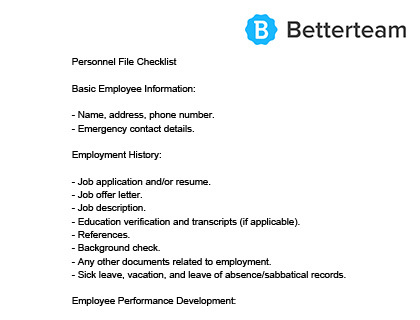 Personnel File Checklist
Download a free personnel file checklist in Word format.
FAQs: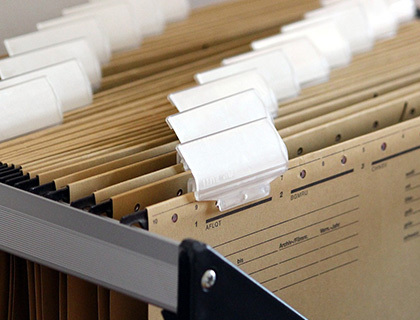 How do I organize personnel files?
Organize files by employee name.
Create subfolders for different categories.
Label each hardcopy or electronic file clearly and correctly.
Back up your files.
Keep all personnel files secure.
Allow only authorized individuals access.
What are the best electronic personnel files to use?
There are many great personnel file software options on the market. Many companies prefer to store their personnel files in the cloud, which eliminates the need for filing cabinets and allows them to access personnel files anywhere. Check out Gusto and BambooHR.
How long should I keep personnel files?
This depends on the state you're based in and the contents of your employee files. Federal employment laws specify how long you should keep personnel file folders but the timeline is usually from one to four years, depending on the document. It's important to adhere to these timeframes to avoid fines.
For more useful downloads, check out our Job Posting Template, Employment Contract Template, and Employment Verification Letter.
Can a terminated employee request a personnel file?
In many states, employers are required by law to grant current and former employees access to their personnel files. In some states, employees are allowed to make copies of certain documents in their personnel files such as performance evaluations. In other states, certain documents are excluded from this rule, for example, documents pertaining to a criminal investigation. All companies should analyze state laws to determine the scope of restrictions and consult with a lawyer should they receive a personnel file request for inspection from a terminated employee. Most employers have a personnel file access policy which employees can refer to in their employee handbooks.
How should I store personnel file folders?
Personnel files can either be stored as paper-based files or electronically, depending on the size of your business. If you usually organize personnel files by employee name, keep the same storage system across all files, including medical and payroll files.
What should be included in a personnel file?
Personnel files contain an employee's entire employment history with your organization. This includes essential information about an employee, performance evaluations, leave, tax records and any disciplinary and termination records.
Are personnel files confidential?
Yes, personnel files contain sensitive information and must be kept confidential by HR.
Are personnel files public record?
Personnel files are not public record but can be accessed under certain circumstances.