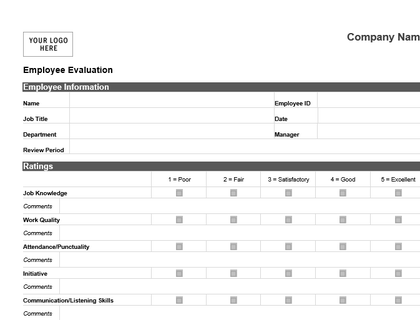 Employee Evaluation Form Download - PDF Format
Download a printable, editable employee evaluation form in PDF format.
Download Form
Want to create your own evaluation form? Feel free to edit our free evaluation form as you wish and use it as a template. Below we've got the basic information you'll want to use in a custom employee review template.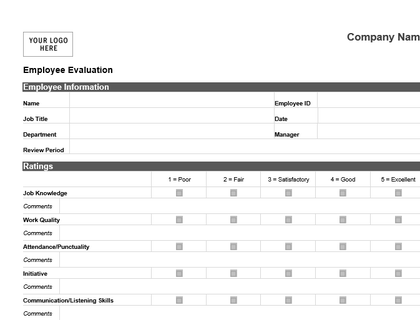 Employee Evaluation Form - MS Word Format
Download a printable, editable employee evaluation form in Word format.
Download Form
FAQs:
What is an employee evaluation form?
Employee evaluation forms are used to formally review and document an employee's performance and get their acknowledgment that the evaluation took place. Employee evaluation forms are also a great indicator of how successful the company's performance management process is.
When should the employee evaluation form be used?
Most companies do employee evaluations each year. You should use an employee evaluation template at each one of those. Also, if there is an incident that requires immediate evaluation, use the evaluation form to document it.
What kind of information should be included in an employee evaluation form?
Employee name, position, and ID number.
Area for rating employee.
A clear rating system.
Area for written comments.
A space for employee and manager to sign and date.
Tip: The employee performance evaluation form isn't right for every situation. If the incident involves disciplinary action, you may want to consider using an employee write up form instead.
Can the Betterteam evaluation form example be used as a performance review form?
Yes, our generic employee evaluation form is essentially the same thing as an employee performance review form, a job performance evaluation form, an employee assessment form, or an employee annual review form.
Do employee performance evaluation forms make sense for small businesses?
Yes. Having a standard employee review form will make it easier to conduct evaluations because it helps create a repeatable process. You don't have to reinvent the wheel each time you need to assess an employee.
Are there any legal issues to consider with evaluation forms for employees?
Only the fairly obvious ones. Evaluations should not discriminate against the employee in any way and should be applied in a consistent way among all employees.
Can you provide additional references that I can use during hiring?
What is the purpose of an employee evaluation?
Employee evaluations exist so that there is clear communication between employers and employees about performance levels. Employee evaluations identify areas of weakness or under-performance, and helps set goals for improvement and efficiency.
How do I fill out an employee evaluation form?
Gather information about the employee, such as customer reviews or performance reviews.
List all of the employee's responsibilities.
Use language that is objective. Use words like "fast" and "slow" instead of "interesting."
Start sentences with action verbs like "Helps colleagues with..."
Review their performance during the evaluation period as well as in the past.
Include open-ended questions to stimulate a contribution from the employee to the evaluation.
Score points according to scaling requirements. Use a five-point scale from Poor to Excellent.
How do you calculate an evaluation form?
Rate each attribute from Poor to Excellent, then add up the score and divide it by the number of items to get an average score.