Pricing:
| Plan | Pricing |
| --- | --- |
| Job Posting | Free. |
| Concierge Service | $150.00 |
| Promoted Job Posts | $150.00 |
Review:
CloudPeeps is a user-friendly platform with over 20,000 customers and a talent pool of freelancers specializing in content creation, design, marketing, and public relations. Clients can post jobs and message freelancers for free and then set their own budgets and rates with their chosen professionals.
While the platform offers many great features such as live chat, payment facilitation, and detailed profiles, CloudPeeps does not get involved in conflicts between clients and peeps and charges an opt-out fee. Be aware that your subscription renews automatically.
Pros:
Job posts are free.
Messaging peeps to invite proposals is free.
Clients can set a time zone preference in job posts.
The platform has a helpful live chat function.
Facilitates payments between clients and peeps.
The platform is easy to use.
Freelancer profiles are very detailed and easy to navigate.
Cons:
CloudPeeps does not help to solve conflicts between clients and peeps.
Client subscriptions renew automatically unless personally canceled.
Candidate matching costs extra.
To work with a freelancer off the platform, you'll have to pay an opt-out fee of $1,500.00.
Reputation:
CloudPeeps has a positive reputation online among freelancers. One review on Reddit says it is better than Upwork if you're a freelancer.
Employers seem to like the platform, with one reviewer on workfromhomehappiness.com noting that it has better freelancers than most.
How to Post a Job on CloudPeeps: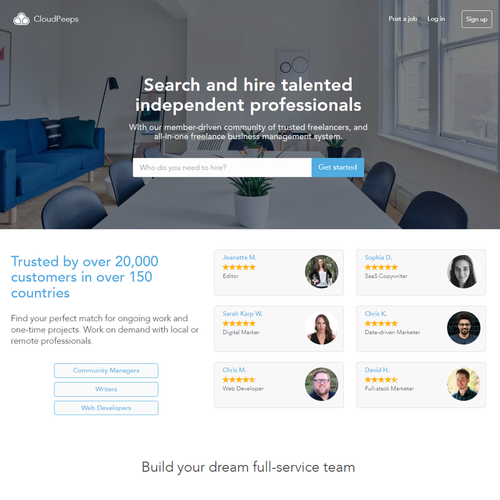 Three easy steps for posting a job on CloudPeeps.
1.
Posting a Job on CloudPeeps.
1.1
Create an account with CloudPeeps.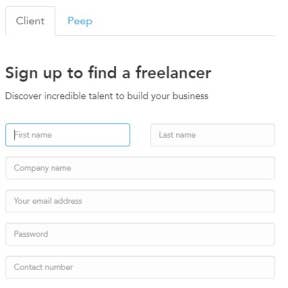 Navigate to the CloudPeeps' website and click on "Sign up" in the top-right corner. Alternatively, if you're already a member, you can click on "Log in."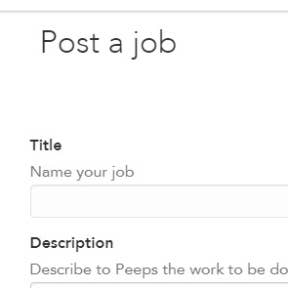 Once you've logged into your account, click on "Post a Job" from your personal dashboard. Complete the online job description form with details about the position, including compensation, location, and responsibilities, among others.
You can opt for the site's concierge service or upgrade your job post by ticking the applicable boxes toward the bottom of the job posting form.
1.3
Preview your ad and publish it.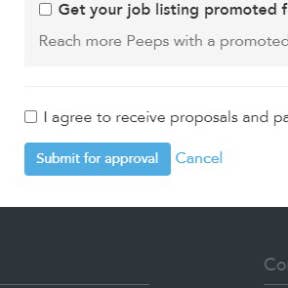 Before finalizing your ad, make sure that you preview it. This should help you identify any misinformation or grammatical errors. When you're happy with your ad, click on "Submit for approval."
If you selected to the concierge service or job post upgrade, you'll be contacted by a representative to complete your purchase.
CloudPeeps vs. Upwork:
While Upwork offers employers a basic free job post plan and paid options starting at $49.99 per month, CloudPeeps doesn't charge for job posts and employers only pay $150.00 to promote their job postings. Upwork, however, offers access to a far greater range of freelancers, which may be better for hiring talent faster.
CloudPeeps vs. Fiverr:
Fiverr does not match freelancers with projects like CloudPeeps does, so it takes longer to find the right professional for the job. However, Fiverr does offer access to a wider range of freelancers and different job categories. Unlike Fiverr, rates can be negotiated between client and freelancer on CloudPeeps.
CloudPeeps vs. Communo:
Communo and CloudPeeps both offer access to freelancers with the same skills and host a similar range of features.While Communo's posting plans start at $99.00, CloudPeeps can be used for free and a job post upgrade will cost you $150.00. CloudPeeps also allows the client and the freelancer to negotiate rates.
Key Information
| | |
| --- | --- |
| Legal Name | CloudPeeps Inc. |
| Founder | |
| Founding Date | Jan 01, 2015 |
| Address | 156 2nd St., San Francisco, CA 94105 |
| Email | |
| Website | |
FAQs:
What is CloudPeeps?
CloudPeeps is a freelance marketplace and an online community that connects employers with local and remote freelancers and professional service providers on one platform. CloudPeeps' talent specializes in content creation, design, marketing, and public relations.
How can I create a CloudPeeps account?
On the CloudPeeps home page, click on "Sign up" in the top-right corner.
Select "Client" and fill out the online form.
Click on "Sign up" to create an employer account.
How can I edit a CloudPeeps job posting?
You can manage your CloudPeeps job postings from your dashboard. Select "Jobs" and click on the job you would like to edit. After you have made your changes, click on "Save."
How can I delete a CloudPeeps job posting?
Select "Jobs" and click on the listing you would like to delete. Select the "Delete" icon next to the post.
How do I find the best freelancers on CloudPeeps?
There are a number of ways to connect with "Peeps" to work with, like job requests or messaging via Peep search. If you need more help getting started, email the company for more tips on how to connect with candidates on CloudPeeps.
What are some CloudPeeps alternatives?