CareerBuilder is a well-known platform and has been used by thousands of job seekers and employers since the 90s. Linkedin Talent is an offshoot of the professional networking site and is a widely-used resource for both employers and job seekers alike. If you're wondering which is the best platform to use, we take a look at what these two have to offer side by side.
Special Offer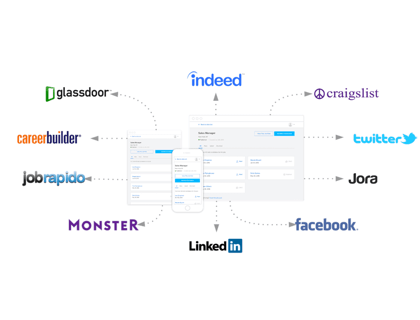 Post Jobs for FREE
Completely free trial, no card required.
Reach over 250 million candidates.
Features:
| Feature | CareerBuilder | LinkedIn Talent |
| --- | --- | --- |
| Phone Support | Yes | No |
| Online Support | No | No |
| Resume Database | Yes | Yes |
| Resume Search | Yes | Yes |
| Free Trial | No | No |
| Credit Card Required for Trial | No | No |
| Free Plan | No | No |
| Accounting Management | No | No |
| Budget Control | No | Yes |
| Activity Dashboard | Yes | Yes |
| Social Advertising | No | No |
| Social Recruiting | No | No |
| Built-in Database | Yes | Yes |
| Database Access | Yes | Yes |
| Communication Management | Yes | Yes |
| Customizable Branding | Yes | Yes |
| Real Time Notifications | Yes | Yes |
Price Comparison:
| CareerBuilder | LinkedIn Talent |
| --- | --- |
| Pay per post. | Pay per click. |
| From $219.00 per month for 1 posting. | From $0.00 per posting. |
| Costs up to $599.00 per month for 5 job postings. | Maximum cost depends on the daily pay per click budget that you set for a sponsored post. |
Bottomline:
Both CareerBuilder and LinkedIn are trusted by millions of employers around the world to find and hire the best talent in every industry. Your preference may depend on the scale of your business, your hiring needs, and your budget. We recommend taking a careful look at all of the features of each platform and try both products for yourself to determine which one you like best.
Similar Comparisons:
FAQs:
How much does CareerBuilder cost?
CareerBuilder costs between $199.00 and $599.00 per month.
Which platform is easier for job applicants to use?
Both CareerBuilder and LinkedIn Talent are easy-to-use. CareerBuilder allows applicants to upload their CVs and apply for jobs with one click, while LinkedIn allows you to apply with your profile.
Which one between LinkedIn Talent and CareerBuilder is better for employers?
According to our research, LinkedIn Talent has a better track record when it comes to securing qualified talent across the board. Small and medium-sized businesses may also find that posting jobs on LinkedIn Talent is a more affordable option owing to the pay-per-click method. As an employer, you can set your budget to whatever amount you can manage per day, and only pay when a candidate clicks on your job posting. The higher you set your daily budget, the more views you'll get.
Do CareerBuilder and LinkedIn Talent post jobs in different cities?
Yes. CareerBuilder allows you to post a job in any city within the United States. If you would like to post your listing to attract talent outside of the US, CareerBuilder offers national, regional, and state postings. LinkedIn will share your job across the platform and through email to candidates whose skills and location match your job. You can also share your posting on social media.
Which job boards are best for employers?
LinkedIn Talent and CareerBuilder are excellent job posting options for employers. For more options, check out our article where we rank the best job posting sites for employers.
Is it free to post a job on LinkedIn?
You can post a job on LinkedIn for free without promoting it. You can also search for potential candidates on your own and contact them for free, if your network is big enough. This could be a very effective way to hire employees for minimal cost.