Pricing:
| Plan | Monthly Pricing | Details |
| --- | --- | --- |
| Free | US$0.00 | 3 resume views per day. No featured job postings. |
| Starter | US$29.00 | 50 resume views per day and 2 featured job postings. |
| Standard | US$59.00 | 100 resume views per day and 5 featured job postings. |
| Pro | US$89.00 | 150 resume views per days and 10 featured job postings. |
Pricing discounts are available when billed quarterly or yearly.
Review:
Jobvertise is a U.S.-based job portal that allows job seekers from Canada, as well as international candidates, to upload their resumes. Canadian employers can use the site to browse resumes and post jobs completely free with the basic plan or select one of the paid plans for additional features.
Only the paid plans include features such as promoted job postings, the option to view resumes in different file formats, resumes email alerts, and resume database filters. While the platform is user-friendly and affordable, it does not have a big footprint in Canada, making more popular local options such as Job Bank better choices.
Highlights:
The basic plan is free and allows for job postings and resume searches.
The site includes international resumes and job postings.
Featured jobs are promoted with premium partners, listed at the top of search results, displayed in bold, and sent to Jobvertise's mailing list.
Employers can view resumes posted within the last 30 days, receive resume alerts, view resumes in various file formats, and filter these by category and title.
Job seekers can subscribe to have their resumes featured towards the top of relevant resume searches and mailed directly to recruiters and employers through the Jobvertise Resume Distribution Service.
Shortcomings:
The user interface looks a bit dated and could be more appealing.
Jobvertise is directed at the U.S. market and doesn't have much of a presence in Canada, making local alternatives like Job Bank and Talent.com, both of which attract more than 2 million monthly page visits, better options for recruiting within the country.
The majority of features are only available with a subscription.
The platform offers limited features and lacks basics like employer profiles or the display of company logos in search results.
Pricing is only available in U.S. dollars.
There is no French language option.
Reputation:
Jobvertise is accredited by the Better Business Bureau and has an A+ rating. No other reviews could be found at this time.
How to Find Employees on Jobvertise: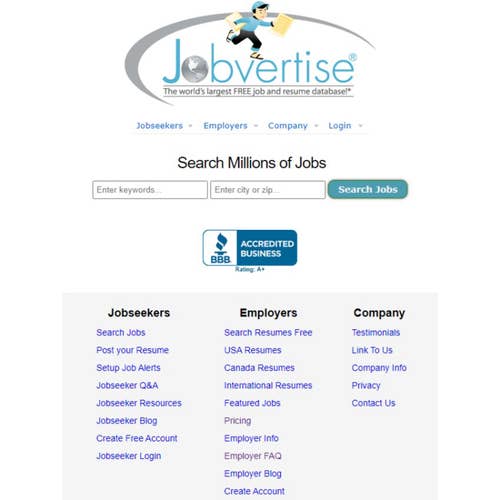 Easy-to-follow steps for posting a job and searching resumes on Jobvertise.
1.
Posting a job on Jobvertise.
1.1
Register a free account.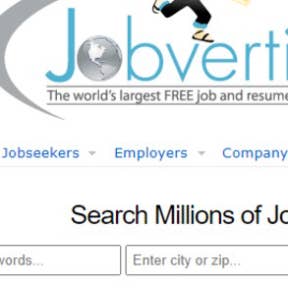 Hover over "Employers" at the top of the home page under the Jobvertise logo and click on "Create Free Account." Enter your company information, user ID, and password, and create your account. Confirm your email address and log in to your account.
1.2
Click on your chosen link to post a job.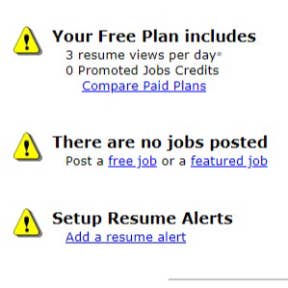 On your dashboard, you can select to post a "free job" or "featured job." Click on your chosen option.
1.3
Complete the online form to post a free job ad.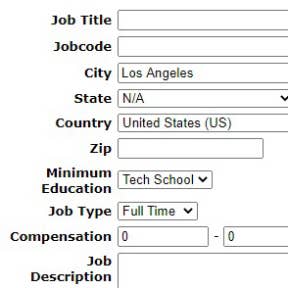 When posting a free job, you will need to add your job title, description, and location to the form on the next page. Your contact information should have been added automatically, but if not, you will need to fill that in too. Click "Add" and you're done.
1.4
Click "Post a Featured Job."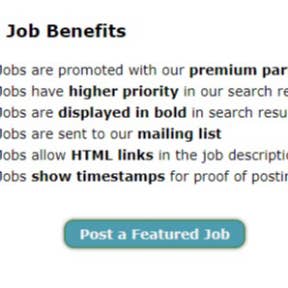 If you chose to post a featured job by clicking on the link on your dashboard, you will be taken to a page that lists the benefits of featured listings. Click "Post a Featured Job" to continue.
1.5
Complete the online form to post a featured job.
As with the free job, you will need to provide your job title, description, and location, as well as your contact information. Then, choose your preferred package and whether to pay with your credit card or PayPal. Complete your payment and post your job ad.
2.
Searching resumes on Jobvertise.
2.1
Click "Search Resumes" on your dashboard.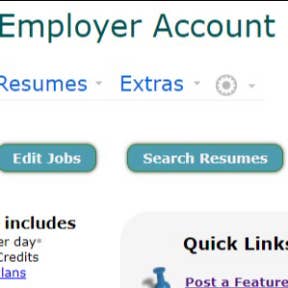 You will find this on your account dashboard under the main banner.
2.2
Choose your location.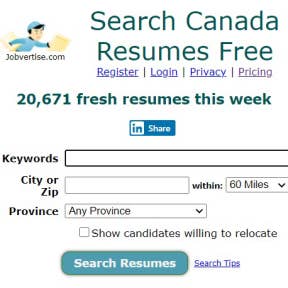 You will be taken to the U.S. Resume Search database. Select Canada resumes by clicking on the appropriate link under the Jobvertise logo.
2.3
Use the search filters.
On the resume search page, enter a keyword such as your job title, as well as your city or zip code, mile range, and state. Tick the box titled, "Show candidates willing to relocate," if applicable, and click on "Search Resumes." A list of CVs in reverse chronological order will appear on your screen.
If you need help, click on "Search Tips" next to the "Search Resumes" button.
Jobvertise vs. Job Bank:
Job Bank is Canada's national employment service and one of the most visited job portals in Canada. Unlike Jobvertise, Job Bank offers an extensive range of resources for both employers and job seekers, from career planning to information on employment standards, but it does not offer a sponsored tier or a resume database.
Jobvertise vs. Talent.com:
Talent.com is a Canada-based job site with global reach. The platform has a much more appealing user interface than Jobvertise, is available in French, which Jobvertise is not, and attracts far more traffic than Jobvertise. Both platforms offer free and paid options.
Jobvertise vs. Indeed:
Indeed is the most visited job site in Canada and attracts a far larger target audience than Jobvertise, which hardly has a presence in the country. Indeed offers more resources and tools than Jobvertise, along with more attractive features for employers, such as company pages and candidate assessments, as well as a French-language option.
Key Information
| | |
| --- | --- |
| Legal Name | Jobvertise, Inc. |
| Founder | |
| Founding Date | Jan. 01, 1997 |
| Address | 2280 Woodland Lane North, Riverwoods, IL 60015, USA |
| Email | |
| Telephone | |
| Website | |
FAQs:
What is Jobvertise?
Jobvertise is a job posting site that offers a searchable resume database and free and paid job postings. Employers can also purchase a monthly subscription to unlock additional features.
What does it cost to post a job on Jobvertise?
Jobvertise has a basic plan that is free. Pricing of Jobvertise's subscription plans ranges from US$29.00 to US$89.00 per month, with featured job postings starting at US$49.95 for one month.
How do I create a Jobvertise account?
Navigate to the Jobvertise employer registration form.
Enter your details and create a free account.
You will be emailed a link to activate your free Jobvertise account. Click "Activate your Jobvertise Account."
Next, click "Login."
Sign in with your MemberID and password. Click "Access Account."
How can I edit a Jobvertise job posting?
You can manage Jobvertise job postings by clicking "Post a Free Job" and then "Edit Jobs" at the top of the page.
Does Jobvertise have a database of candidates that I can access?
Yes, Jobvertise has a comprehensive candidate database that is available to all users. Only registered users are able to view the contact details of the candidates.
How can I delete a Jobvertise job posting?
You can delete and manage Jobvertise job postings by clicking "Post a Free Job" and then "Edit Jobs" at the top of the page.
Can I batch import job posts on Jobvertise?
Yes, you will need to provide Jobertise with a file formatted to XML specification that they can download via a web link.
Can I search resumes free on Jobvertise?
What are some alternatives to Jobvertise?