Pricing:
A job posting on WeldingJobs.com costs $125.00 per ad for 120 days. Employers interested in posting their listing to any of the other job boards in the NicheJobs.com network will need to pay an additional $50.00.
Review:
Founded in 1998, WeldingJobs.com is a basic job posting site where positions for welders, fabricators, welding professors, and more can be advertised. The job board offers a standard posting plan with no advanced features or add-ons available.
At the time of writing, very few welding jobs were listed on the site, which is perhaps indicative of a small audience. Employers that would like their postings to reach a large talent pool might be better off using general job boards that offer increased exposure.
Pros:
WeldingJobs.com forms part of the NicheJobs.com network, which has been featured in the LA Times and Washington Journal.
The job board reportedly has been used by universities, small businesses, fortune 500 companies, and more.
A variety of positions in welding can be found on the site, including jobs for welding instructors.
Jobs remain active on the platform for 120 days.
There are a wide variety of payment methods available, including check and wire transfer.
There are multisite discounts and special packages available on request.
Job postings are promoted through LinkedIn groups and reach over 40,000 members.
Cons:
The site only offers basic postings and no discounts for bulk packs.
There is no resume search, advanced analytics, or additional recruitment tools on offer.
Employers cannot post jobs directly to the site.
The job board feels clunky and outdated.
There is no trial or free posting option available.
Job post syndication is not available.
Reputation:
We were unable to find any online reviews of WeldingJobs.com.
How to Post a Job on WeldingJobs.com: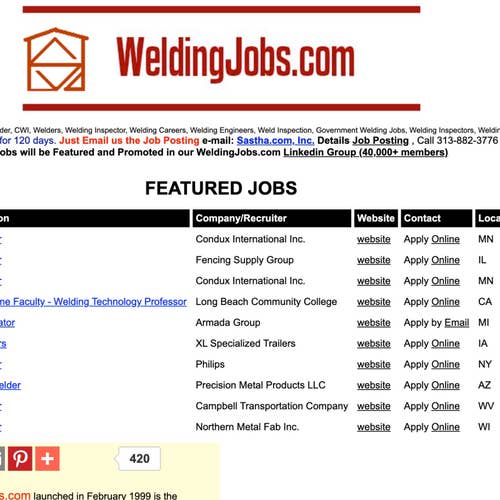 Four easy steps for posting a job on WeldingJobs.com.
1.
Posting a Job on WeldingJobs.com.
1.1
Visit the WeldingJobs.com home page.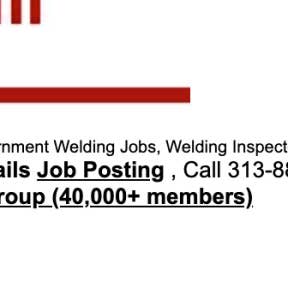 Navigate to the home page and click on "Job Posting," near the top of the screen.
1.2
Submit your job posting.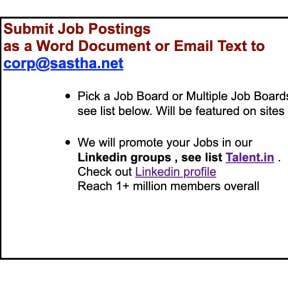 Draft your job posting and send it to corp@sastha.net in the body of the email or as an attached Word document.
1.3
Pay for your posting.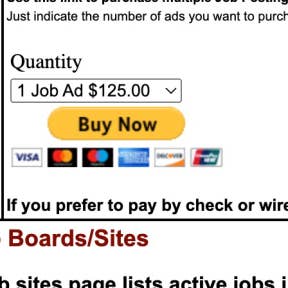 From the job posting page, under the heading "Quantity," select the number of job ads you'd like to purchase from the drop-down menu. When you are done, click on the "Buy Now" button.
You can also contact the company via email to find out about multisite discounts and prices on special hiring packages.
1.4
Complete your payment.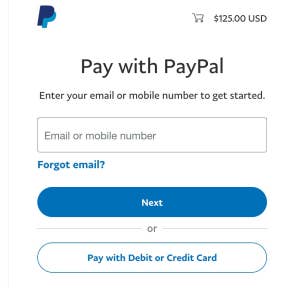 Fill in your email address, then click on "Next" to complete your PayPal payment. If you prefer to pay by check or wire transfer, contact the company.
WeldingJobs.com vs. Roadtechs.com:
Roadtechs.com is a more affordable job board with higher traffic than WeldingJobs.com, and has all of the advanced features that the latter lacks, such as a resume database, banner ad packages, and more. However, if you are looking to target only welding professionals, WeldingJobs.com is the better choice.
WeldingJobs.com vs. JobsInWelding.com:
JobsInWelding.com offers a broad range of price plans and additional recruitment tools, while WeldingJobs.com is a no-frills job board with a single plan. Employers who'd like control over their postings may opt for JobsInWelding.com as they can post and manage their own listings.
WeldingJobs.com vs. RoadDogJobs:
RoadDogJobs is a construction job board that offers a 14-day free trial, resume search access, and premium job posts, all of which WeldingJobs.com lacks. Those who need increased exposure would benefit from RoadDogJobs, but employers who just need a basic job board might prefer WeldingJobs.com.
Key Information
| | |
| --- | --- |
| Legal Name | Sastha.com, Inc. |
| Founder | |
| Founding Date | Jan 01, 1998 |
| Address | 131 Hall Pace, Grosse Pointe Farms, MI 48236 |
| Email | |
| Telephone | |
| Website | |
FAQs:
What is WeldingJobs.com?
WeldingJobs.com is a niche job board where employers can reach professionals skilled in the welding trade.
What does it cost to post a job on WeldingJobs.com?
There is a standard price of $125.00 per job ad, but you can contact the company via email to learn more about special packages.
How do I create an account on WeldingJobs.com?
There is no option to create an account on WeldingJobs.com.
What are some alternatives to WeldingJobs.com?