Software Testers are quality assurance specialists who are responsible for performing assessments on newly-developed software. Ensure your application stands out by creating a software tester resume that showcases your technical skills and ability to interpret data.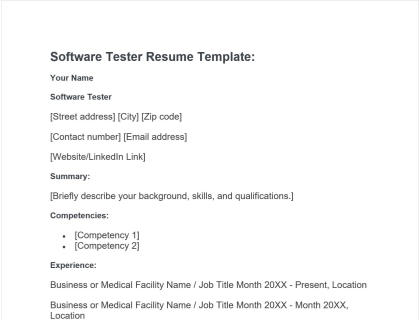 Software Tester Resume - Free Template
Create a software tester resume with our generic template in Word format.
Software Tester Resume Template:
Your Name
Software Tester
[Street address]
[City]
[Zip code]
[Contact number]
[Email address]
[Website/LinkedIn Link]
Summary:
[Briefly describe your background, skills, and qualifications.]
Skills:
Technical Skills.
Soft Skills.
Experience:
Business or Medical Facility Name / Job Title Month 20XX - Present, Location
Business or Medical Facility Name / Job Title Month 20XX - Month 20XX, Location
Business or Medical Facility Name / Job Title Month 20XX - Month 20XX, Location
Education:
School Name / Qualification Month 20XX - Month 20XX, Location
School Name / Qualification Month 20XX - Month 20XX, Location
Certificates:
[Certificate 1]

[Certificate 2]
Notable Achievements:
[Achievement 1]

[Achievement 2]
Awards:
How to Write a Software Tester Resume:
1. Write a summary.
Your summary should be 2—3 sentences long and only focus on your key strengths and expert knowledge in software testing. Focus on writing about your technical abilities and notable milestones that have shaped your software testing career. Ultimately, you want your resume to be a short, motivational summary of what makes you the best candidate.
2. List your technical skills.
Screeners will be most interested in your critical thinking and technical skills. Therefore, you want to highlight these traits first and then work your way down, ending with soft skills that are relevant to software testing. For instance, Software Testers are required to complete review reports and meet with various IT departments. This means the ideal candidate should have excellent written and verbal communication skills.
3. Add your professional experience.
In reverse chronological order, list your entire professional experience as a Software Tester, as well as any other relevant job experience that required testing-related skills and knowledge. You'll want to ensure that screeners are able to gauge the type of expertise you've gain over the years by mentioning the type of tasks and tests you've completed. Software Testers should have a minimum of three years' experience in a similar field.
4. Add your qualifications.
Under the education heading, add your qualification name, date of attendance, location, and institution name. List your qualifications in reverse chronological order. If you're studying towards a degree, write "in progress" instead of the official dates. To be successful in this role, you'd have to obtain a bachelor's degree in computer science or a similar field.
5. Include certificates.
List any additional training or certificate courses you completed to better your software testing capabilities and knowledge. Screeners and potential employers will see these as an added benefit, as it showcases your preparedness and willingness to continuously educate yourself.
Consider completing the following courses:
Foundation Level Certification (CTFL).
Advanced Level Agile Technical Tester (CTAL-ATT).
Advanced Level Test Analyst Software Testing Certification.
6. Write about your achievements.
The last section of your resume should be dedicated to your career milestones and noteworthy achievements. These could be in the form of an award or recognition from a prestigious institution or a personal growth story about the type of projects you've worked on.
FAQs:
How do I become a software tester?
Obtain a bachelor's degree in computer science.
Gain at least three years' experience in a similar role.
Stay up-to-date on the latest software developments.
Check niche job boards.
Create an informative software tester resume.
Apply to jobs that suit your skills set and qualifications.
What do you do as a software tester?
A software tester conducts various tests on newly-developed software to assure it means industry standard.
What should I include in my software tester resume?