Fill your vacant positions with help from our list of the best 10 job portals in Florida. Florida has a combination of local sites that target the Florida job market and world-renowned job sites that do well in this market.
Special Offer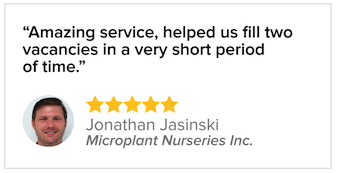 Post Jobs for FREE
Completely free trial, no credit card required.
Reach over 150 million candidates.
Top 10 Florida Job Posting Sites:
| Our Rank | Website Name | Posting Options |
| --- | --- | --- |
| 1. | Indeed | Free and paid options. |
| 2. | Glassdoor | Free and paid options. |
| 3. | Google for Jobs | Free job posting. |
| 4. | Employ Florida | Free job posting. |
| 5. | Miami Herald | Paid, staring at $293.00. |
| 6. | Just Orlando Jobs | Paid, starting at $25.00. |
| 7. | craigslist | Paid, starting at $7.00. |
| 8. | JaxJobs | Paid, starting at $19.00. |
| 9. | Careerbuilder | Paid, starting at $375.00. |
| 10 | Monster | Paid, starting at $199.00. |
FAQs for Florida Job Postings:
I haven't gotten many applicants to my Miami job postings. Any tips?
Be sure that you've advertised it adequately, especially with free posting sites that have a wide reach like Indeed, Glassdoor, and Google for Jobs, and with local Miami Dade job postings outlets like the Miami Herald and Refresh Miami.
If you've done that and still aren't getting much of a response, make sure what you're offering for pay and benefits is in line with the market. If that's not the problem, then take a look at your job posting. Try re-writing it to focus on reasons an applicant will love the job, rather than just posting a list of requirements.
You can read more details on writing better job posts here.
What are some good sites to list Orlando job postings?
If you want to post a job in Orlando locally, start with the Orlando Sentinel newspaper. You might also try OrlandoJobs.com, and jobs section of the local craigslist. It's advisable to try some of the more popular big job boards as well, such as Indeed, Glassdoor, and Google for Jobs.
My Gainesville job postings get too many unqualified responses. Any advice?
First, make sure you've got a great job posting that really sells the job. This may seem counter-intuitive, but you want to make sure there are some good candidates left when you filter out the bad.
Also, be sure you're getting this job out to several of the sites for job postings Gainesville FL offers. At least hit craigslist, Indeed, and, Glassdoor.
Now, everytime someone applies for your position, send them an email asking 5 questions. The questions should be tough enough to require some knowledge of the job and take at least a 20 minutes to answer.
Typically the low-quality candidates won't even respond to the questions. The answers you do get will be easy to compare because they've all answered the same questions, and you should quickly be able to zero in on the quality applicants who are motivated to take the job.