A code of ethics outlines the ethical principles that govern decisions and behavior at a company or organization. They give general outlines of how employees should behave, as well as specific guidance for handling issues like harassment, safety, and conflicts of interest.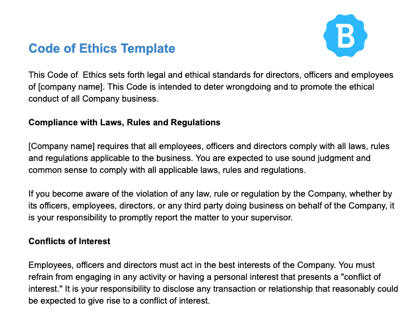 Code of Ethics Template - Free Download
Customize our free Code of Ethics template in Microsoft Word format to create your own business code of ethics.
Special Offer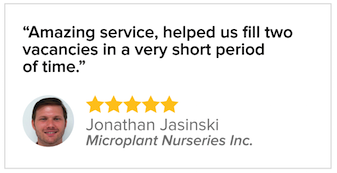 Post Jobs for FREE
Completely free trial, no card required.
Reach over 150 million candidates.
Code of Ethics Sample Template:
This Code of Ethics sets forth legal and ethical standards for directors, officers and employees of [company name]. This Code is intended to deter wrongdoing and to promote the ethical conduct of all Company business.
Compliance with Laws, Rules and Regulations
[Company name] requires that all employees, officers and directors comply with all laws, rules and regulations applicable to the business. You are expected to use sound judgment and common sense to comply with all applicable laws, rules and regulations.
If you become aware of the violation of any law, rule or regulation by the Company, whether by its officers, employees, directors, or any third party doing business on behalf of the Company, it is your responsibility to promptly report the matter to your supervisor.
Conflicts of Interest
Employees, officers and directors must act in the best interests of the Company. You must refrain from engaging in any activity or having a personal interest that presents a "conflict of interest." It is your responsibility to disclose any transaction or relationship that reasonably could be expected to give rise to a conflict of interest.
Confidentiality
Employees, officers and directors must maintain the confidentiality of confidential information entrusted to them in their capacity with [Company name]. Unauthorized disclosure of any confidential information is prohibited. Additionally, employees should take appropriate precautions to ensure that confidential or sensitive business information, whether it is proprietary to the Company or another company, is not communicated within the Company except to employees who have a need to know such information to perform their responsibilities.
Honest and Ethical Conduct and Fair Dealing
Employees, officers and directors should deal honestly, ethically and fairly with the [Company name]'s suppliers, customers, competitors and employees. Statements regarding the Company's products and services must not be untrue, misleading, deceptive or fraudulent. You must not take unfair advantage of anyone through manipulation, concealment, abuse of privileged information, misrepresentation of material facts or any other unfair-dealing practice.
Protection and Proper Use of Corporate Opportunities
Employees, officers and directors must advance the Company's legitimate interests when the opportunity to do so arises. You must not take for yourself personal opportunities that are discovered through your position with the Company or the use of property or information of the Company.
Accuracy of Books and Records and Public Reports
Employees, officers and directors must honestly and accurately report all business transactions. You are responsible for the accuracy of your records and reports. Accurate information is essential to the Company's ability to meet legal and regulatory obligations.
Reporting and Compliance Procedures
Every employee, officer and director has the responsibility to ask questions, seek guidance, report suspected violations and express concerns regarding compliance with this Code. Any employee, officer or director who knows or believes that any other employee or representative of the Company has engaged or is engaging in Company-related conduct that violates applicable law or this Code should report such information to his or her supervisor or to the General Counsel. Such reports should be made without any fear of retaliation. The Company will not discipline, discriminate against or retaliate against any employee who reports such conduct, unless it is found that the report was made with knowledge that it was false, or who cooperates in any investigation or inquiry regarding such conduct.
What to Include Your Code of Ethics:
A code of ethics consists of four key sections detailed below. You can cover all of them in a short summary Code of Ethics as we have above, or expand on them in detail so employees are clear on how to handle many common situations.
1. The work environment.
Employees should act with integrity, comply with laws, maintain a professional work environment and comply with company policies. They should treat customers, colleagues, and partners ethically at all times.
2. Conflicts of interest.
A company's reputation depends on the actions and integrity of its employees. It is essential that they avoid relationships and activities that hurt, or appears to hurt, their ability to make objective and fair decisions.
3. Protecting company assets.
Employees should always act to protect company assets, including physical, intellectual, and electronic or digital properties.
4. Anti-bribery and corruption.
A company's integrity is essential for maintaining trustworthiness and reputation. Employees should always do their work fairly, honestly, and legally.
5. Attendance and punctuality.
Employees are expected to be regular and punctual in attendance. This means being in the office, ready to work, at starting time each day. Absenteeism and tardiness burden other employees and the company.
6. Absence without notice.
Employees who are unable to work due to illness or an accident should notify their supervisor. This allows the company to arrange for coverage of their duties and helps others continue to work in their absence. If an employee does a report for work and the company is not notified of an employee's status for 3 days, it is typically considered a job abandonment.
7. General harassment and sexual harassment.
This company is committed to providing a work environment free of discrimination and unlawful harassment. Actions, words, jokes, or comments based on an individual's sex, race, ethnicity, age, religion, or any other legally protected characteristic are not tolerated.
Personal cell phone usage during work hours is discouraged, except in extreme cases such as an emergency.
A professional appearance is important when employees work with customers or potential customers. Employees should be well groomed and dressed appropriately for the business and for their position.
10. Substance abuse.
The manufacture, distribution, possession, sale, or purchase of controlled substances of abuse on company property is prohibited. Being under the influence of illegal drugs, alcohol, or substances of abuse on company property is prohibited. Working while under the influence of prescription drugs that impair performance is prohibited.
11. Tobacco products.
The use of tobacco products on company property, outside of permitted areas, is specifically prohibited.
12. Internet use at work.
Employees may use the Internet when appropriate to access information needed to conduct a business company business. Use of the Internet must not disrupt or injure the company computer network. Use of the Internet must not interfere with an employee's productivity.
How to Write a Code of Ethics:
1. Review your mission statement and core values.
The goal of a code of ethics is to help employees make decisions that are in line with what the company or organization values. This should be distilled into your mission statement and core values, so it's a good place to start.
2. Talk to stakeholders.
What do management, employees, and clients think are the most important values of the company to uphold? Get input from everyone involved to be sure your code reflects what the company stands for. You can have them all look at a template to get ideas for how their own might look like.
3. Review past ethical issues.
Where has your company faltered with ethics in the past? Where has it shined? Call attention to problem areas and reinforce the strengths you already have.
4. See where other companies have faltered.
Have other companies in your industry had recent ethical failures? Avoid the same pitfalls by covering these issues in your code.
5. Create a draft code for input and discussion.
Give everyone a chance to help decide on the contents of the code of ethics by inviting them to discuss and give input on a draft.
6. Create a final draft and share it.
Once you've got a final draft approved, share it throughout the organization. Also, make sure that a copy of it is added to your employee handbook.
FAQs: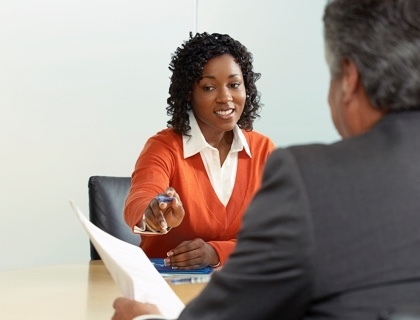 Is there a difference between a code of ethics and a code of conduct?
A code of ethics is broad, giving employees or members a general idea of what types of behavior and decisions are acceptable and encouraged at a business or organization. A code of conduct is more focused. It defines how employees or members should act in specific situations.
Can I combine my company's code of conduct and code of ethics?
Yes, in most cases businesses will combine both of these documents into one as there is significant overlap between them. It is rare to find businesses that have two separate policies. Whilst they are technically different documents, employees will have less difficulty recalling important points around conduct and ethics if they have a single document to refer to.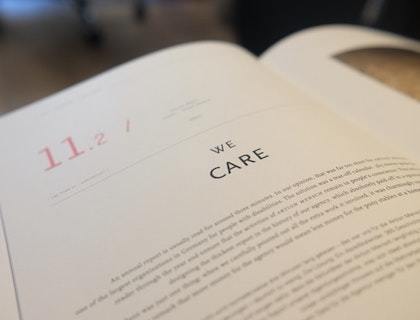 What are some examples of a code of ethics?
Alphabet - Employees of Alphabet and its subsidiaries and controlled affiliates ("Alphabet") should do the right thing – follow the law, act honorably, and treat co-workers with courtesy and respect.
Hershey - No matter what job you do or where you do it, you are Hershey. Think about that as you watch over every business relationship, every transaction, and every product, and make sure your actions always reflect our values.
Starbucks - Starbucks empowers all partners to make decisions that impact our reputation. Individual actions at work shape how the world views Starbucks, which is why it's so important that we each take responsibility for Our Starbucks Mission and acting ethically in all situations.
Under Armour - Make the Right Call. It's as simple as it sounds. Whenever you're faced with a decision—big or small—always do what you know is ethically right, and, of course, always follow the law.
Verizon - We know that bigness is not our strength, best is our strength. Bureaucracy is an enemy. We fight every day to stay "small" and keep bureaucracy out.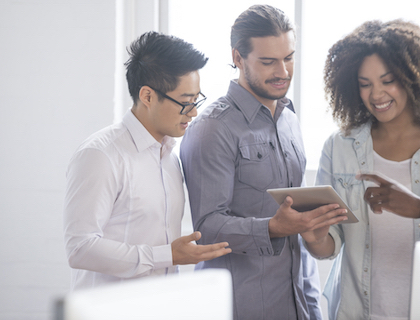 Why is code of ethics important for my business?
A code of ethics is important because it helps employees or organization members make decisions that are in line with company values in the absence of a clear rule or direct supervision. A code of ethics can improve decision making at a business, and make it easier for employees to be autonomous.
How is the code of ethics different from a code of conduct by definition?
A code of ethics, or professional code of ethics, is usually a set of general guidelines or values. A code of conduct policy is typically more specific, giving guidelines for how to respond in certain situations. A code of conduct example would be a rule expressly prohibiting accepting or offering bribes.
Does code of ethics vary by profession?
While there may be similarities between a code of ethics for different industries/businesses, they will also be differences based on the unique working environments that exist. For example, a code of ethics for nursing will likely address different issues than a code of ethics for engineering, but there will still be some overlap.
What is the purpose of a professional code of ethics?
A code of ethics helps to guide ethical behavior in the workplace. Anytime an employee or group of employees need to make a decision, they can refer back to the code of ethics. The code of ethics also communicates values and expectations to new employees.
What are the five codes of ethics?
Integrity.
Objectivity.
Professional competence.
Confidentiality.
Professional behavior.
What should be included in a code of ethics?
This depends on your business policies and industry. Generally, a code of ethics should include the six universal moral values, where you state that you expect an employee to be trustworthy, respectful, responsible, fair, kind and good citizens. Honorable mentions include adding that your business celebrates diversity, green practices, and proper dress codes.