Pricing:
Fiverr freelancers charge between A$5.00 and A$1,200.00 per project. There is no subscription or sign-up fee. The freelancer keeps 80% of each transaction.
Review:
Fiverr is an online marketplace where employers can find freelancers. The site has varied pricing as price packages are set by freelancers, allowing employers to filter their search results by budget. The platform itself is free to use.
The Australian page allows employers to browse through those freelancers who specialize in Australian services, such as Australian accents, taxes, building and planning codes, and more. Employers can also pay freelancers in Australian dollars.
Pros:
Employers can browse through dozens of Australian-based or experienced candidates.
Most freelancers have a function on their profile to compare packages offered.
The website administrators offer support if a freelancer has not completed an order or if there is a dispute.
It is free to use the platform. Employers only pay the freelancer for services provided.
Payment can be done in Australian dollars.
There is a variety of pricing options available as freelancers set their own prices.
Fiverr holds your payment until work is completed by the freelancer.
Cons:
Employers must do a lot of preliminary research to find someone who is adequately qualified.
The site lacks a secondary filter so employers must search through all the fields offered on the Australian page.
Pricing is set by the freelancer and no negotiations can be made unless ordering a custom package.
While customer support can be contacted for disputes, not much can be done if the freelancer's skills are inadequate.
Reputation:
Fiverr has mixed reviews on Trustpilot, with some employers stating that they have had a good experience with the site's structure and others saying that they were "scammed" by underqualified freelancers. The website has a 3.8 out of 5-star rating with more than 60% of reviewers rating the site as excellent, and just under 30% of reviewers rating the site as bad.
How to Hire Freelancers on Fiverr: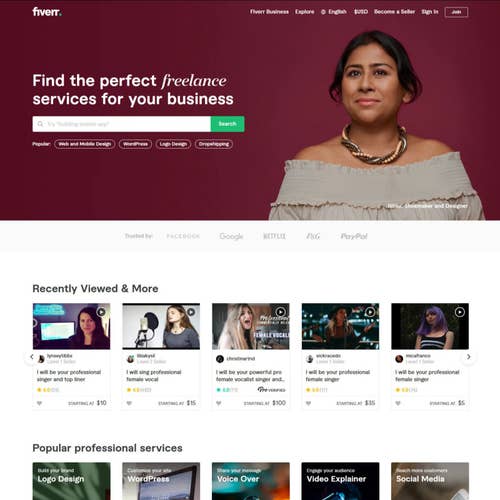 Three easy steps for hiring freelancers on Fiverr.
1.
Hiring freelancers on Fiverr.
1.1
Navigate to the Fiverr Australian page.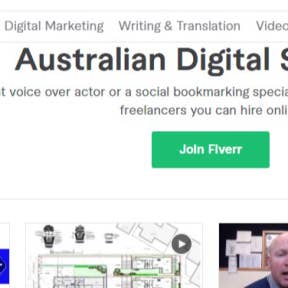 Go to the Fiverr Australian page.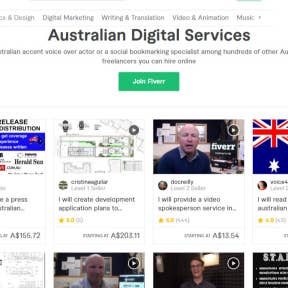 Scroll through the available freelancers who specialize in Australian services.
1.3
Pay for your freelance service.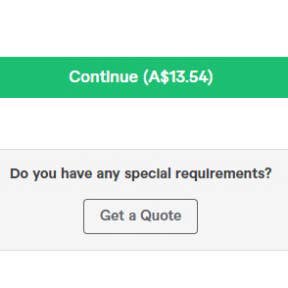 Choose from a selection of extras, then pay for your service. Once payment is made, your freelancer will get in touch with you directly.
Fiverr vs. OzLance:
OzLance is a dedicated Australian freelance job board that employers can post on for free. Fiverr also allows employers to use the website for free, but they are an international site with a page dedicated to Australian-based freelancers. OzLance allows employers to compare freelancer profiles while Fiverr only compares packages.
Fiverr vs. Airtasker:
Airtasker started out as an Australian-based freelance website but is now also available in New Zealand, the U.S., and the U.K. Fiverr, by contrast, is an international site. Airtasker is the better option for Australian employers, as the majority of traffic comes from Australia. Both platforms allow employers to use them for free.
Fiverr vs. Upwork:
Upwork is a freelancing platform that connects employers with freelancers from around the world. While the site works in a similar way to Fiverr, Fiverr has a more attractive user interface that is easier to use. Fiverr has a clearer display of a freelancer's rating, packages, and work samples.
Key Information
| | |
| --- | --- |
| Legal Name | Fiverr International Ltd. |
| Founder | |
| Founding Date | Jan 01, 2010 |
| Address | Eliezer Kaplan St. 8, Tel Aviv, Israel |
| Website | |
FAQs:
How does Fiverr work?
Fiverr is an online marketplace for freelance services beginning at a cost of A$5.00 per project. The platform allows employers to connect with talented freelancers from a wide range of industries around the globe.
Does Fiverr really work?
Yes. Buyers like Fiverr because they can get small tasks done quickly and for an affordable price, with the bonus of minimal risks.
How do I log in to Fiverr?
Go to Fiverr's home page and log in at the top-right corner.
Is Fiverr safe?
Yes, Fiverr is safe for buyers.
Does Fiverr charge buyers?
Fiverr charges you a processing fee of US$1.00 for purchases up to US$20.00. They charge you 5% of the total for orders more than US$20.00.
How can I create a Fiverr account?
To create a Fiverr account, click on "Join" at the top-right corner of the home page and fill in the online form.
How can I edit or delete a project on Fiverr?
Buyers don't have to post a project themselves. This is done by the freelancer or "seller."
What are some Fiverr alternatives?