Fill your vacant positions with help from our list of the best 10 job portals in Manchester, New Hampshire. Manchester has a combination of local sites that target the local job market and world-renowned job sites that do well in this market too.
Special Offer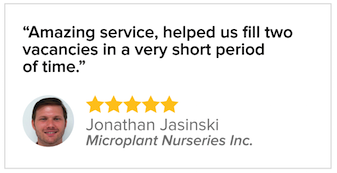 Post Jobs for FREE
Completely free trial, no card required.
Reach over 150 million candidates.
Top 10 Manchester Job Boards:
| Our Rank | Job Board Name | Pricing Options |
| --- | --- | --- |
| 1. | | Free and paid. |
| 2. | | Free. |
| 3. | | N/A. |
| 4. | | Paid, $50.00 for members and $175.00 for non-members. |
| 5. | | Paid, starting at $39.00. |
| 6. | | Paid, starting at $25.00. |
| 7. | | Paid, starting at $159.00. |
| 8. | | Paid. |
| 9. | | Paid, starting at $39.00. |
| 10. | | Paid, starting at $49.00. |
FAQs:
Is there anywhere to post jobs in Manchester for free?
Yes. Go to Locanto, Free Classified Ads, and NewHampshireSuperAds.com, post your job ads, and wait to hear from talent.
It's taking a long time to fill my jobs in Manchester. Any recommendations?
Get in contact with the University of New Hampshire at Manchester and Southern New Hampshire University to learn about advertising jobs to alumni. Also, post your job in different parts of New Hampshire, or even in larger cities out of state to attract talent.
What else can I do to fill jobs in Manchester?
Place ads in local newspapers, such as the New Hampshire Union Leader and Hippo. Contact local colleges, including Manchester Community College and Hesser College to share jobs with students and alumni.
Also, find more advice in our job posting template article.
What are the labor laws in New Hampshire?
In New Hampshire employers must pay an overtime rate of 1.5 times the employee's regular rate of pay for every hour over 40 hours worked in a single week.
What is the minimum wage in New Hampshire?
The minimum wage is $7.25 an hour in New Hampshire.
What is the legal working age in New Hampshire?
For employees under the age of 16, a New Hampshire Youth Employment Certificate is required. Employees aged 16 or 17 must have written permission from a parent or legal guardian.
Manchester Employment Statistics:
| | |
| --- | --- |
| Unemployment Rate | 2.6% |
| Annual Mean Wage | $53,660 |
| Median Hourly Wage | $19.96 |
| Minimum Wage | $7.25/hour |
| Tip Credit Allowed | Yes. |
New Hampshire Job Boards:
Find More Regional Job Boards: