Pricing:
| Plan | Pricing |
| --- | --- |
| Single Job Posting (4 months) | C$150.00 |
| 2 Job Postings (4 months) | C$300.00 |
| 3 Job Postings (4 months) | C$450.00 |
| Unlimited Job Postings (1 year) | C$600.00* |
| Single Ad with Featured Spot | C$225.00 |
| Volunteer/Unpaid Positions | Free. |
| Medical Student Shadowing/Elective | Free. |
| Resident Shadowing/Elective | Free. |
| IMG Shadowing/Elective | Free. |
*Unlimited postings only apply to one clinic or department. Employers looking to fill vacancies at multiple clinics or other types of facilities can contact MDWork for more information.
Review:
MDWork.com features a niche job board that helps Canadian employers recruit physicians and residents. Services for employers include free and paid job posting options, an array of candidate management tools, and job post distribution to a partner site. Job seekers benefit from free resume uploads, job applications, and emailed job alerts.
This platform was the first to provide a physician job registry in Canada and it still remains comprehensive, offering employers high job post visibility.
Pros:
MDWork.com has helped Canadian employers fill over 15,000 vacancies.
Free job postings to recruit medical students, residents, and international medical graduates seeking volunteer, shadowing, or elective opportunities are offered.
Employers can choose between paid single or bulk job posting options.
MDWork.com's single job posting prices are more affordable than other local options, such as Healthcarejobs.ca and Dr. Careers.
Employers are provided with access to over 7,000 residents in training for locum and moonlighting positions or full-time employment after graduation.
The site attracts thousands of job seekers every month.
Job postings are emailed to active job seekers who can opt for daily or weekly new job notifications.
Job adverts are distributed to GlobalCareWork.com — the platform's partner site for global healthcare recruiting.
Employers are offered easy job feed integration.
Job posting description lengths are unlimited.
The platform allows unlimited updates to employers' job listings.
A selection of job postings are distributed via social media, such as MDWork.com's Facebook and Twitter pages.
Job postings are localized via Google Maps.
MDWork.com is available in English and French.
Cons:
No free trial is offered for the platform's paid job postings.
Job postings exclude healthcare specialties other than physician and resident jobs.
Employer branding is not featured.
Candidate matching and applicant tracking system integration are not offered.
Job post distribution is limited to a single partner site.
No job ad reach or performance metrics are featured.
The platform does not include candidate screening and live interview options.
Reputation:
We were unable to find reviews submitted by employers who made use of MDWork.com's job board, but site visitors can read what physicians say about MDWork.com.
How to Post a Job on MDWork.com: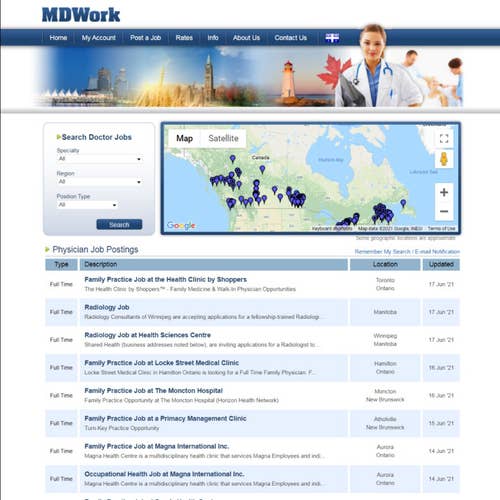 Four easy steps for posting a job on MDWork.com.
1.
Posting a job on MDWork.com.
1.1
Navigate to the MDWork.com home page.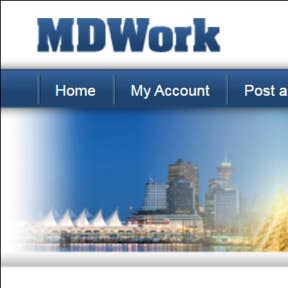 From the home page, hover over the "My Account" tab near the top-left corner of the page. Select "Employer" from the drop-down menu.
1.2
Log in to your account.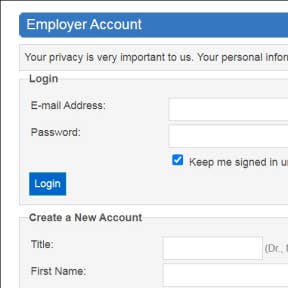 Employers with existing accounts can proceed to log in. New employers will first need to create an account by filling in the required information, clicking on "Save," and following the onscreen prompts to activate their accounts.
1.3
Click on "Post a Job."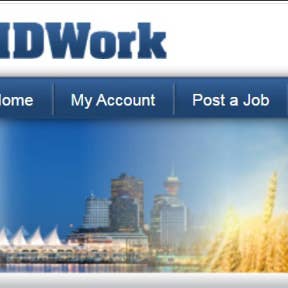 Navigate back to the home page and click on the "Post a Job" button located just to the right of the "My Account" tab referred to in step 1.
You'll now need to fill in the required fields, some of which will already be prefilled based on the information you've provided prior to account activation. Create your job ad by filling in the details.
1.4
Post your job advert.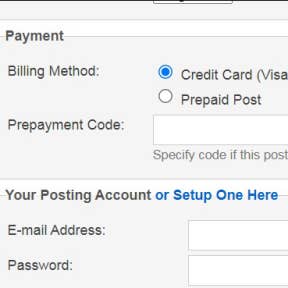 Once you've filled in all the details related to your job posting, scroll down to either enter your prepaid code or provide your billing details by ticking the relevant box.
Next, click on the blue "Step 2: Verify Ad" button and then follow the prompts until you've completed "Step 3: Confirm." Once done, your job advert will be published.
Any fee, if applicable, is paid immediately following the submission of your post.
MDWork.com vs. Dr Careers:
MDWork.com is a niche job board for physicians and resident vacancies, whereas Dr. Careers is affiliated with the Canadian Medical Association and advertises physician jobs. MDWork.com offers free and paid options, with a single job posting priced at C$150.00, compared to Dr Careers's C$300.00 for a 30-day advert. Both offer featured job postings.
MDWork.com vs. Canadian Family Physician (CFP) Careers:
MDWork.com is a physician and resident job board, while CFP Careers, despite its name, features jobs in a variety of specializations, roles, and fields. MDWork.com offers free and paid job posting options, while CFP Careers only has paid plans. Only MDWork.com shares postings via a partner site.
MDWork.com vs. Healthcarejobs.ca:
MDWork.com features physician and resident jobs, while Healthcarejobs.ca has a wider healthcare industry focus. MDWork.com offers applicant tracking, whereas Healthcarejobs.ca job postings are more basic, but it does feature employer branding. MDWorks.com's prices for a single job advert start at C$150.00, whereas Healthcarejobs.ca charges C$325.00.
Key Information
| | |
| --- | --- |
| Legal Name | MDWork.com |
| Founding Date | Jan 01, 2008 |
| Address | 535-4438 W 10th Ave., Vancouver, BC V6R 4R8 |
| Number of Employees | 22 |
| Telephone | |
| Website | |