Internship job boards will help you find motivated prospective interns who are hunting down an internship that they're ready to throw themselves into.
Interns are a valuable hiring resource for any company and are often overlooked as being too much trouble to hire and train. When your team is large enough, a steady flow of interns will help your senior team members delegate so they can focus on more complex tasks.
Special Offer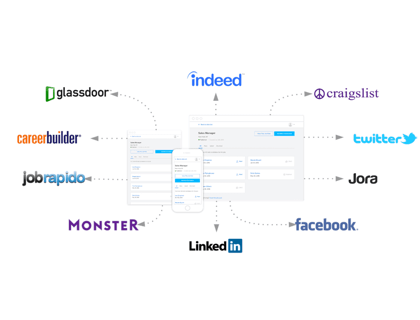 Post Jobs for FREE
Completely free trial, no card required.
Reach over 250 million candidates.
Best Internship Sites:
| Our Rank | Job Board Name | Description |
| --- | --- | --- |
| 1. | | You can't bring up internships without mentioning Youtern. It's one of the best known sites for finding internships, and has won numerous awards from Forbes Inc., Mashable, and The Wall Street Journal for its work. If you're hunting for a great internship to kick off your career, this a great place to start. |
| 2. | | Another impossible-to-ignore site in the search for internships online. In our most recent check, internships.com boasted nearly 200,000 internships from more than 100,000 companies. They've also got a handy tool for helping you find your ideal education internship. |
| 3. | | This student job board can help you find internships as well as entry level jobs and careers. It's focused on college students and recent college grads. Companies such as Spectrum, Darden and Thomson Reuters use it for their hiring and intern recruiting. Great site for both student job and internship searches. |
| 4. | | Handshake is one of the top free posting sites for employers to connect with students and young alumni from over 500 colleges across the US. Handshake software offers an end-to-end platform for sourcing, engaging, and hiring the right talent for your business. |
| 5. | | GradLeaders assists students by providing student recruitment technology and career services to universities and career centers across the U.S. Students are able to register via their school-branded GradLeaders Career Center portal and connect with employers. |
| 6. | | Graduatejobs.com promotes jobs and internship opportunities throughout the UK in a variety of industries, including advertise roles in a variety of industry sectors including engineering, sales and management. |
| 7. | | GradConnection is a large job board for university students and recent graduates to search for career opportunities and jobs in a number of countries including Australia, Hong Kong, Singapore and South Africa. |
| 8. | | Symplicity features jobs and internships for students and recent graduates from universities and colleges around the world. Students are able to register via their campus career center portal and engage with employers via the platform. |
| 9. | | WayUp enables early-career candidates to discover and be discovered by employers. From landing paid internships throughout college to your first or second job, WayUp uncovers opportunities for your future. The site is used by top companies such as L'Oreal, Facebook, Unilever, Dell, and Nasdaq. |
Pricing:
| Job Board | Price |
| --- | --- |
| | $39.00 per job posting. |
| | Free. |
| | $75.00 per job posting. |
| | Free and premium plans. |
| | $495.00 - $795.00 depending on the number and type of posting required. |
| | £199.00 - £399.00 per job posting. |
| | From A$65.00 per job posting. |
| | Quote only. |
FAQs:
What is the best website to find interns?
You can find the best internship job boards here.
How do I recruit an intern?
Outline a clear internship process.
Don't use standard resumes and interview questions.
Talk to students at college campus recruiting events.
Consider the candidates' willingness to learn.
Give your interns real work to do.
What is an internship site?
Internship sites help you find motivated prospective interns who are hunting down internships.
How do I hire a good intern?
Here are some tips to attract good interns to your company:
Understand what is important to interns.
Offer a modest compensation.
Offer appealing perks (such as free coffee).
Give the interns meaningful work.
Include the interns in employee activities.
Ensure the interns have access to a supervisor.
Give the interns detailed direction.
Offer effective evaluations.
Be honest is what the interns can expect.
Can you hire interns for free?
Even though this is common practice, this may violate state and federal labor laws. You need to check your state's particular labor laws before you do so. Also, if it is in your budget to offer interns a modest wage, you will attract more candidates.
What are the best Internship job sites in 2020?
What are some alternatives to internship job websites?
What are the other niche job boards available online?
Where can I find good internship job descriptions?